This Is How To Make Cross-Training Less Daunting
Runners hate to stop running, but cross-training is just as important to our training.
Heading out the door? Read this article on the new Outside+ app available now on iOS devices for members! Download the app.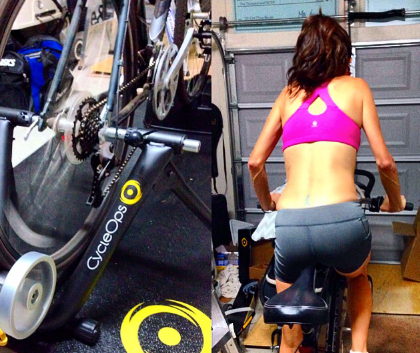 @Kevin_DC on Twitter asked: Cross training—isn't cycling part of your routine?
Cross-training…can't we all just run? I am sure if you are like me, cross-training seems like a death sentence. We were born runners, so every fiber of our being wants to do just that. However sometimes our bodies don't cooperate with what our minds want to do. If you can learn to embrace cross-training electively instead of as punishment, it could add more benefits to your training than you realize.
Years ago when I began running post-collegiately. While trying to make it as a professional runner, I was plagued with reoccurring injuries and recovery issues. I discovered a few years later that I had Celiac Disease, which was contributing to my body's lack of recovering. After handling that condition, my injuries healed. I became stronger with time and consistent training. During the time I was injured, I became the cross-training champ. Not by choice, but by necessity. If all my competitors were out training each day, I had to find a way to maintain my fitness, so when I did transition back to running, I wouldn't be starting at square one.
Bring on the pool. I'll admit aqua jogging was my least favorite form of cross-training. Often you had to drive to a pool, buy some passes, obtain an aqua belt and then actually get in the pool. Those first two minutes I found were the hardest part. Once your heart rate was up and you committed, there was no turning back.
To make it interesting I would assign each day as if I were running. So the schedule might look like this: easy 45-60 minutes on Monday, Wednesday and Friday, then workouts on Tuesday and Thursday and a "long run" on the weekends. Workouts could vary however you wanted. An example: 8 x 1 minute hard, one minute easy, followed by 10 minutes of "steady" jogging. The way you translated this to the pool was to just pump your arms and legs faster and keep your heart rate elevated for "on" portions of the workout. Pool running isn't for everyone, and as my career has progressed I have taken up some other form of cross-training.
These days (especially while I have been pregnant and unable to run) I alternate my cross-training methods between riding a bike on the trainer and riding the ElliptiGO. I no longer despise cross-training, as I've been able to view it as a way to stay healthy and sane when I can't run. The thing about cross-training is your heart doesn't know the difference whether you're running, swimming, biking, climbing, ElliptiGOing, etc. If your heart rate is elevated, you're working on your fitness. The difference is the impact on your joints, ligaments, and muscles. If you were to put cross-training methods in order of lowest impact to easing your transition back to running, it would be swimming/aqua jogging, then biking, then elliptical, then finally riding the ElliptiGO.
When coming back from injuries, it's important to be aware of these so you can properly transition your body back to the pounding of running. I cross-trained all the way to 34 weeks during this pregnancy. I've have taken the last few weeks completely off to let my mind and body rest and prepare for what's ahead. I know my cardiovascular fitness will be ahead of my musculoskeletal system when I return to training post-baby. Meaning my lungs will be burning those first few runs, back but my legs and joints will most likely be screaming louder to go slow and take my time.
So yes I cross-train and no longer dread it. If you can schedule it into your training as a regular weekly session or a few times a month, it will seem less daunting than if an injury pops up, and you are forced to take the day off and cross-train. A planned day off from running is so much more welcomed than one due to injury. The benefit to cross-training is also that you can't exhaust the amount you do because you are not loading work on your joints and ligaments, just working your cardio system and other muscles that might get ignored a little when we are hitting the pavement so often. So grab a friend, some tunes if you need and voluntarily skip the run every once in a while. You'll stay fresh, injury free, and possibly appreciate your runs a little more.
Related: 
One Runner Says This Happens In The First 7 Minutes Of A Run