Speed Work: An Important Training Component For Any Runner
Though often considered a training tool for elites, speed work can be a valuable training strategy for every runner.
Heading out the door? Read this article on the new Outside+ app available now on iOS devices for members! Download the app.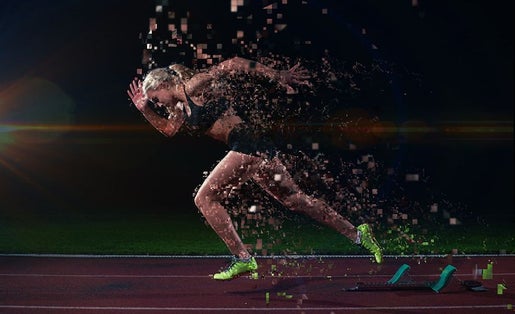 It is no secret that in order to run faster you need to actually practice running faster. Cue speed training. I am currently chasing a lofty goal of getting my 5K time down to under 30 minutes. Since I started running three years ago, this has been my big goal. My first 5K was completed in around 48 minutes. My most recent attempt was right at 30:50. To say I have gotten faster over the last few years is an understatement. Increased training loads, track days, improved form and a crazy-amazing support team have helped me get where I am today.
The most important words offered to me throughout this time have been, "If you are going to chase this goal, you have to run fast. It's just that simple." The concept in general is simple: to go faster, we have to move out bodies faster. But the process of actually getting faster takes a lot of hard work and dedication. The ability to dedicate a workout to speed work, getting into the mental headspace to push ourselves and learning our paces for specific distances are all part of the process of getting faster.
Related: 9 Stages Of Speed Work–As Told By Olivia Pope
The biggest thing I have done to increase my speed is incorporate a weekly track day into my workout routine. Testing out how fast I can run 400 meters on the track has significantly helped me gauge where I am on my speed training. The process of repeating this multiple times has created repetition in me that produces an overflow on race days when I become fatigued. I am creating a mindset that reminds me that I can run 400m in two minutes flat, regardless of where I am in my track workout or in a race. It's the extra push and reassurance I need to make it through tougher days.
Another thing I have started doing is incorporating strides into my shorter runs. Somewhere in the middle of my run I will start doing 20- to 30-second strides, really picking up the pace and pushing the limits of what I can do. Yes, my body is tired from going at my normal pace, but the ability to increase the speed for a short amount of time helps me remember that I still have more to give on my runs, especially when it comes to race day.
Finally, I am taking time to visualize myself going faster and getting into the mindset that I can do anything. A huge part of going faster is the mental game involved. If we do not believe that we can run faster, how are we actually going to do it? Our mindset plays one of the biggest roles in chasing goals and getting faster in running. Work on visualizing yourself running faster, remind yourself that you can do anything you set your mind to and encourage yourself when you do big, scary things. Everyone else may believe in you, but it means nothing until you truly believe in yourself.
Along the journey to moving faster and chasing dreams, remember that you hold all the power to push yourself to your very best. Speed is a relative term; putting forth your best effort is all that really matters.
Related:
8 Tips To Take The Fear Out Of Speed Work
What's More Important–Speed Work Or Long Runs?