Rowing: One Of The Most Valuable Cross-Training Tools Available
Take advantage of your gym's rowing machine to build whole-body strength and improve your running.
Heading out the door? Read this article on the new Outside+ app available now on iOS devices for members! Download the app.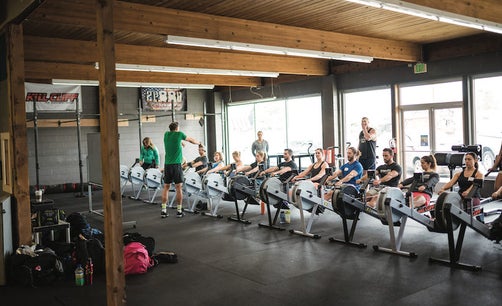 Row This Way
Outdoor running in late winter or early spring can be treacherous once you add a little snow and ice. Sure, there's the treadmill, but day in and day out, any other kind of workout is a welcome retreat from inclement weather.
That's where rowing can come in—it's an intense workout, building muscles that can help you run better and faster. One of the first Olympic sports and the oldest intercollegiate activities, rowing is a pastime with origins dating back to ancient Egypt. But you don't have to hop in a boat to get the benefits of this exercise. A rowing machine, or ergometer (often abbreviated to "erg" or "ergo"), provides the same whole-body experience.
Michelle Jarc, a high school teacher in Ohio, incurred a stress fracture in her pelvic area after having twins. An avid runner, she had to find an alternate exercise regimen while in recovery. That's when she dusted off her gym's rowing machine and got hooked. "It's such a good workout," Jarc says. "It's the best cross-training you can do—it uses 80 percent of your muscle mass."
When she returned to running, Jarc noticed an immediate improvement in her leg strength, endurance and speed. Now, she regularly uses rowing as part of her workout—she runs four days a week and uses the rowing machine once or twice each week.
Jarc highly suggests hiring a trainer or watching how-to videos to make sure you're using the rowing machine properly. Too often, people get back pain because their stroke is inaccurate.
Esther Lofgren, an Olympic rower who won the women's eight in the 2012 London Games, agrees, adding that there are plenty of instructional videos on YouTube. "Rowing is a strength and endurance sport," Lofgren says. "You can jump in and start doing it, but it's helpful to know what you're doing."
Lofgren has been rowing since high school and comes from a rowing family (both parents trained for the U.S. rowing team). While running was always part of her workouts, rowing is her passion. She even got her husband to give it a try. Simply adding a 10-minute erg workout before jumping on the treadmill took several minutes off his overall time and gave him better leg rotation.
"[Rowing] is something you can improve in really rapidly," she says, unsurprised by her husband's pleasant discovery. "It's the machine that will burn the most calories in the gym."
Sandra LaFlamme was a rower in high school and college. As a mother, running became an easy way to stay fit. There's no need for a boat when all you have to do is slap on your sneakers and go.
"I've been running a lot of marathons," LaFlamme says. "Rowing is a steady workout and helps you with endurance." Even so, LaFlamme points out that a rowing machine can only simulate what it's like to row on water. Since the machine doesn't have the instability of a boat, the rocking motion of any fluctuation in the water is missing.
There are essentially four basic moves in proper rowing technique: the catch, the drive, the finish and the recovery. The catch involves sitting with your feet in the stirrups, legs bent, arms fully extended, gripping the handle. The drive means pushing your legs back while the seat slides, maintaining a tight core. The finish comes when your arms are pulled back with the handle at your lower ribs, your core is still engaged, your back has moved from a one o'clock position to an 11 o'clock position and your legs are straight. The recovery—the opposite of the drive—involves your body pulling back to the catch position.
Jenn Junk, executive director of ROW, or Recovery On Water, co-founded the program that teaches women surviving from breast cancer to row. Junk says that exercise has been shown to clinically reduce the recurrence of cancer in survivors. "Most of these women weren't around for Title IX," she explains, "so this is their first experience being on a team."
Junk, a rower who recently ran the Chicago Marathon, says rowing on a machine is more accessible than rowing on water because it typically requires more than one person. Fitness facilities often have ergometers, but if you wish to purchase, the price range can be anywhere from a few hundred dollars to well over a thousand.
"Rowing is really great because it has minimal joint impact," Junk says. "It's a great way to cross-train and a great HIIT tool."
Like these women, Shane Farmer, founder of Dark Horse Rowing in San Diego, Calif., caught the rowing bug in college. He'd dabbled in every other sport imaginable, eventually becoming a CrossFit competitor and certified rowing coach. But rowing's intensity stuck with him. "I'm seeing more rowing studios popping up worldwide," he says. "It's certainly not a sport that's exploding, but it's definitely got steady growth."
Doug Welling, a rowing coach at Bowdoin College, founder of The Sustainable Athlete in Brunswick, Maine, and an avid triathlete, acknowledges the steady increase in popularity.
"I'd say it's growing," Welling says. "We're starting to see more indoor rowing gyms popping up everywhere."
Welling cautions that those who only run can lose upper-body and core strength by not working out those areas. Rowing addresses those weaknesses. Like cycling, the push-off of the drive in rowing is similar to running and gives phenomenal aerobic stimulation.
The next time you run into a rowing machine at your local gym, stop, sit down and give it a try. You'll be glad you did.
Rowing Workouts To Try
Shane Farmer, founder of San Diego, Calif.'s Dark Horse Rowing and an avid CrossFit trainer, says rowing is one of the greatest workouts you can do without incurring much impact. It adds the element of upper-body control and midline stability work that doesn't necessarily happen in running. "I usually start with a good warm-up and some 'pick drills,'" he says. "That's where I pick a stroke apart into smaller pieces and then put it all back together in one big movement."
He offered a few staple workouts to try:
6×500 meters: Row 500 meters with a two-minute rest between each rep.
3 minutes on/3 minutes off: Row for three minutes, strength train for three minutes off the machine, and repeat for six rounds.
10×250 meters: Row 250 meters with a one-minute rest between reps.
Add sandbag work for posture, which builds core strength more than any stiff-legged plank.
Doug Welling, founder of The Sustainable Athlete in Brunswick, Maine, says rowing focuses on strength more than running does. That's one of the reasons his company offers indoor rowing classes that run from early December through March. Winters in Maine can be pretty brutal, so there has to be some way to keep fit during those frigid months.
Welling has a few go-to regimens that work best for his clients:
Shorter chunks: A 10-minute row with a one- to two-minute rest. Repeat three to four times.
Rowing "fartleks": One minute row as hard as you can, then two minutes easy. Repeat eight times.
8×500: Row 500 meters, which takes about two minutes. Repeat eight times.
Bust it out: Set the machine for 2,000 meters and give it all you've got.
Related:
8 TRX Moves That Increase Strength