Real Runners: Group Fitness Makes Me A Better Athlete
One Real Runner explains how taking and leading group fitness classes led her to become a better runner–and a better athlete overall.
Heading out the door? Read this article on the new Outside+ app available now on iOS devices for members! Download the app.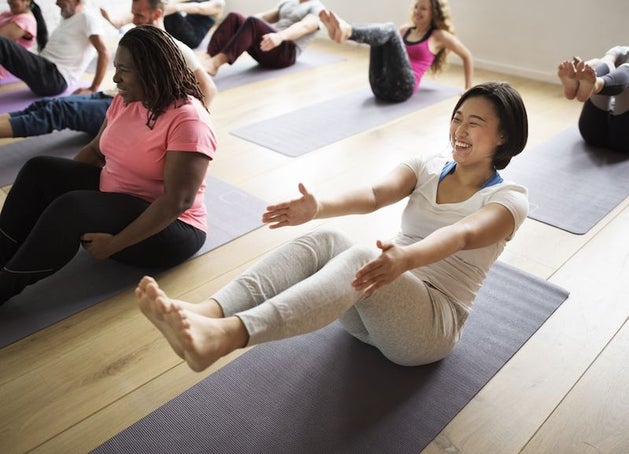 How One Group Fitness Class Transformed My Life
I remember the first time I walked into an indoor cycling class. I was there alone and was so nervous that everyone in the room would take one look at me and know I was a rookie. I was terrified of the judgment I'd feel if I wasn't able to keep up. But as soon as the instructor came up to me, that fear began to go away. For 45 minutes, we sprinted, climbed and jumped to the rhythm of the music. Let me tell you: after that first class, I was hooked. I started taking spin religiously, at least three times each week. From there, I began finding songs for spin. (Yeah, I was that girl that always requested songs to be played in class.) Then I bought my first pair of spin cleats (for $20 from a friend who had used them for years, so they weren't necessarily pretty). Two years later, I am an indoor cycling instructor and an avid group fitness-er.
Related: Become A Better Runner Through Exercise Classes
I enjoy group fitness for many reasons, the first being that it keeps my body guessing. I'm constantly changing my routine to work every muscle from a cardio class to an abs class. Mixed with running, I am always finding different ways to get my heart rate up. It helps me prevent plateauing. I'm also finding that cross training helps me with my overall endurance–having more muscle tone helps me run faster and spin harder.
I typically run two or three times each week, mostly because I love how I feel after a good run. But my body often craves more: more cardio, more strength training, more pushing me out of my comfort zone. Everyone is different, and every body works differently. I found that extra sense of motivation in group fitness. I teach spin, so I may be biased. However, I strongly believe that I push myself more when I am surrounded by likeminded people. In a group fitness class, whether it's spin, bootcamp, Body Pump or TRX, I find a sense of teamwork that I don't necessarily get from running.
It is through group fitness that I found not only my passion, but an amazing group of friends. Together, we hold ourselves accountable, hit milestones and bond over how much we hate burpees. Together, we tone and strengthen our bodies to be able to run–farther and faster. Together, we get our asses out of bed at 5 a.m. for 6 a.m. classes or force ourselves to go to a class at 5 p.m. on a Friday. (Who needs happy hour?) Ultimately, working out is about finding what works for you, but I urge you to try swapping your thick-soled running shoes for some cross-training sneakers…or better yet, some spin cleats. I promise you won't be disappointed.
Related:
3 Things To Know For Your First Yoga Class
Why Every Runner Should Get To A Barre Class
I Tried ClassPass And It Helped Me Get To The Boston Marathon