Easy Workouts You Can Do From Home
This circuit based workout is perfect for the time-crunched runner.
Heading out the door? Read this article on the new Outside+ app available now on iOS devices for members! Download the app.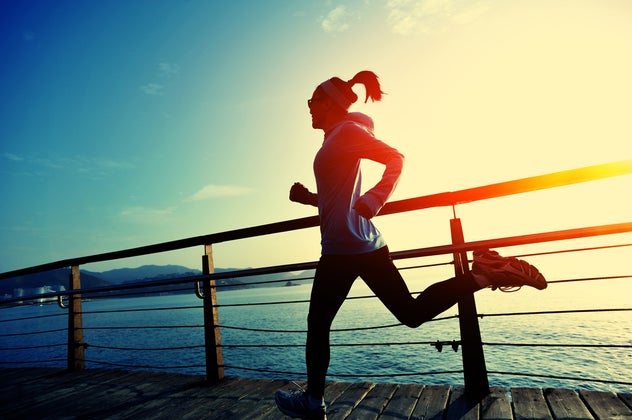 Women know how to get stuff done. We're the first ones back in Congress after a blizzard. We make super effective leaders, because we tend to take the most initiative in resolving problems. And we still tackle the majority of household chores. Basically, yeah, we run this mutha.
But after a long day of butt-kicking, it can be tough to think about dragging your own butt out to the trails. That's where circuit training can be your best friend. Seasoned runners are probably already familiar with the benefits of circuits: they increase strength, help you up your mileage, and can ease the transition back to running after an injury. But they also make a good time-crunch workout, especially when a loaded to-do list imprisons you at home (or the office, ugh).
Easy, Medium, Hard
It's easy to get caught up in workout fads that encourage you to do it faster, harder, and more xtreme! After all, exercising should be challenging, right? But truthfully, your body responds best to a variety of workout intensities. Celebrated track and field coach Bill Bowerman, who helped kick off the American obsession with jogging, first pioneered this idea as a series of easy and hard workouts sprinkled throughout the week: do a certain amount one day, double it the next day, then repeat. His idea was that training should be fun, not grueling drudgery. It's a relatively simple plan that had fantastic results—his teams went on to win four NCAA championships.
Another theory is that many runners can benefit from integrating a third, moderate routine into their weekly schedule. When you're planning your home-bound workouts, we recommend following this model and setting up separate easy, medium, and hard plans. That way, you can match your exercise to your energy level—most days will be middle-of-the-road, but there's some leeway to push yourself, plus a lighter option for those days that will not quit. With circuit training, you can vary your intensity level by increasing the amount you spend on each exercise (thirty seconds, a minute, or two minutes, for instance) and decreasing your resting time between intervals.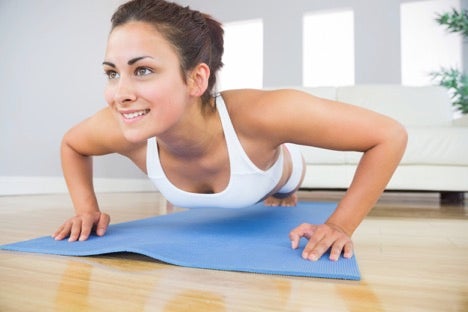 Pick One: Warm Ups
We see you, warm up slackers! If you're not preparing your muscles for activity, you're putting your body at risk for injury—but you may be hampering yourself psychologically, too. If you go bounding out at too brisk a pace, you could tire out early, which is a real downer. To avoid this, make sure to put in 5 to 10 minutes of one of the following at the top of every work out:
Jumping jacks
Jogging in place
Grapevines
High knees
Pick One of Each: Circuits
Time to get that body moving, girl! The intervals below are the meat and potatoes of your indoor workout. This circuit set is adapted from Steve Kamb, owner of Nerd Fitness, who says that performing one exercise from each of the following areas will give you a good, quick workout that touches each major muscle group of the body:
Quads: Squats and lunges are the old standards here, but you can mix things up with pistol squats, squat jumps, and mountain climbers.
Butt and hamstrings: Perk up that booty with hip raises, step ups, deadlifts, pliés, and sun salutations.
Chest, shoulders and triceps: Regular push ups and chair dips will get you part of the way, but you can up your game by incorporating wide and diamond push ups as well.
Back, biceps, forearms: It's never too early in the year to get your arms tank-top ready. Supermans, bridge pose, wall pull ups, and half circle arm rotations are all great here.
Core: Already a plank master? Have you tried side planks? Circle planks? How about bicycles, v-ups, or just regular old crunches?
Pick One: Cool Downs
Ever wonder why you're always told to cool down after a run or workout? You might think it's to minimize soreness, but experts say that's not it. Actually, stopping short after intense exercise can cause blood to pool in your body, resulting in lightheadedness or even fainting. And there's no time for that! Put in a few minutes of one of these after every exercise sesh:
High knees, at an easier pace
High skips
Jogging in place, slower
Sun salutations
Of course, like any workout, you only get out what you put in. If you're really having trouble motivating yourself to even rise from the couch (and it happens to all of us), pacify your inner sofa monster by offering yourself a treat for afterwards. Whether it's a hot fudge sundae or just a few precious minutes to yourself, you'll feel like you absolutely earned it.
Erin Vaughan is a professional writer for Modernize.com and also an aspiring homeowner based in Austin, Texas.