12-Week Plan To Your First Sprint Tri
Train for a sprint-distance (aka short!) triathlon with this 12-week swimming, cycling and running plan.
Heading out the door? Read this article on the new Outside+ app available now on iOS devices for members! Download the app.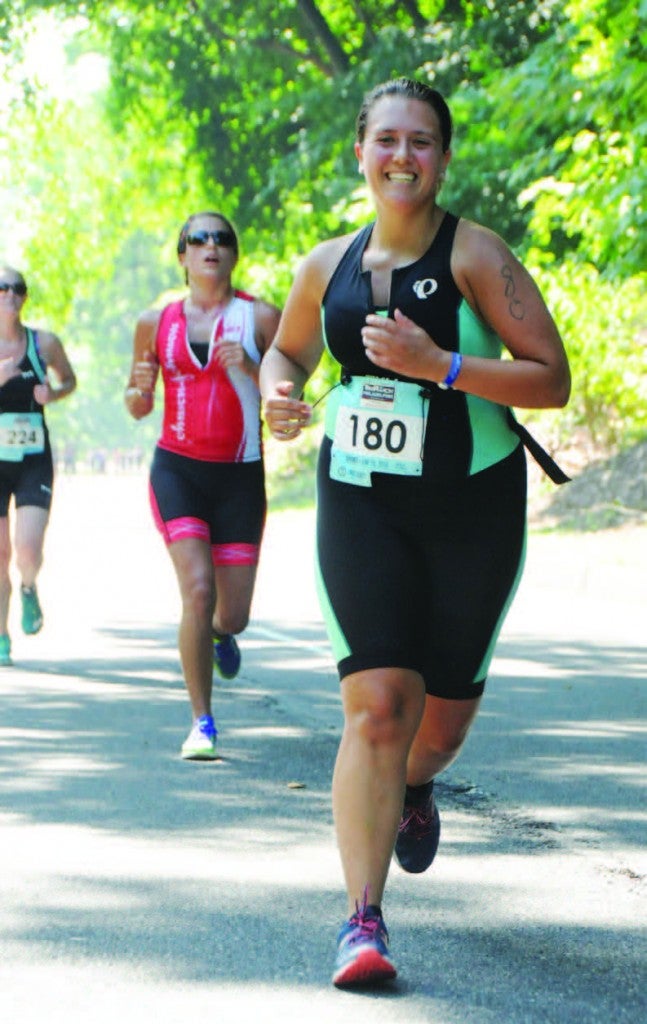 "I could never do a triathlon," the mother of three said to me in the checkout line of the grocery store, eyeballing my race T-shirt with the swim, bike and run stick figures prancing across it. This is the second most common phrase to cross my 37-year-old ears. The first is: "You did a triathlon?"
You see, I look like an average mom of two with a job and bills and stress. I am a size 10 on a great day, a size 12 on the average day and a solid 14 during the holidays. There's nothing overly athletic or special about me, and I certainly don't look like most people's idea of a triathlete. But like a duck on the surface of the water, what is underneath, paddling, is not always easy to see and is even easier to underestimate.
I am here to tell you that if your heart desires to do a triathlon, then, yes, you absolutely can. Not because it's trite, but simply because it's 100 percent true.
When I decided to tackle the sport, I had two children under the age of two, worked full time as an attorney, commuted 12 hours a week, and on and on. (Did I mention that I weighed about 250 pounds?)
Little by little, I kept work-ing and I did, in fact, become a bona fide triathlete. I finished my first short-distance triathlon with very little skill, even less speed, but a whole lot of heart. I have now completed dozens of tris, including four of the really long and hard ones—the Ironman distance (2.4-mile swim, 112-mile bike and a 26.2-mile marathon run).
Truly, if I can become a triathlete, so can you.
First swim, then bike and then run?
Correct. This is the typical order of the three events that make up a triathlon, which means you get out of the swim portion (usually in a river, lake or ocean—sometimes a pool) and hop on your bike—soaking wet. Then you get off your bicycle and run. You have a space in between each event called "transition," which is both a noun and a verb. It is a place (the "transition area") where you change shoes or equipment (but not outfits)— as you "transition" (the verb) from the swim to the bike, and then later, from the bike to the run. A "sprint tri," as they are frequently called usually encompass a 300–800 yard swim, a 10–15 mile bike and 5K (3.1 miles) or shorter run.
How do I become a triathlete?
Even if you can't run for a mile right now, swim the length of a pool or ride your bike without swearing your rear end will break—step one is believing that you can and knowing that you will. Make the decision that you will become a triathlete, and the next step is to take small, but consistent action toward that goal. So let's get started!

Swim How Far?
Most lap pools are 25 meters (or yards) in length. So, 50 meters is two lengths, or one time down and back; 100 meters is four lengths, or twice down and back. Traditionally, you want to use the freestyle or front crawl stroke in the swim; however, for your first race, if you are comfortable doing a combination of the breaststroke and freestyle (and are competent doing this), you will be fine. If you cannot swim at all, seek out a few swim lessons. Yes, adults absolutely do take swim lessons, and it will do wonders for your confidence.
What do you need to tri?
Don't let the gear talk discourage you. You can learn more about everything about racing at triathlon, cycling and running stores; in books and online; on YouTube and by reading the USA Triathlon rules. Truly, you need very basic equipment and can do a triathlon on the very cheap. The super-quick, bare checklist is this:
Goggles, swim cap, swimsuit
Bike, helmet, sunglasses
Running shoes
How can I find time for all of the training?
Basically, you want to swim, bike and run twice a week for each. The best thing to do is pick a doable schedule for you, as this sport thrives on consistency. For example, if you have a pool by your office, you might swim at lunchtime. Do not set your expectations so high that it's impossible to meet them. As you get further along your journey, you can add distance and frequency.

RACE DAY!
On the morning of the race, stay positive. Sure, you may be nervous, but never let doubt creep in—you've got this! Stay focused on your finish. No matter how slowly you go—just go. Thank the volunteers and those who made your journey possible. Smile for the cameras. (And later, do not speak badly of your race photos! Because no matter how funny they may be, those puppies are proof of your amazing accomplishment.) Enjoy your hard work, your day and the fact that you did something amazing. You are a triathlete! Congratulations.
12-Week Basic Sprint Triathlon Training Plan
I recommend a minimum of 12 weeks of training, if you are a beginner who can run/walk a 5K, and who is fairly new (but capable) in the swim and bike. More advanced people may do a little less, and others may extend the training length. This is all about making your life and your training work for you! Go at your pace, be consistent and you will love it.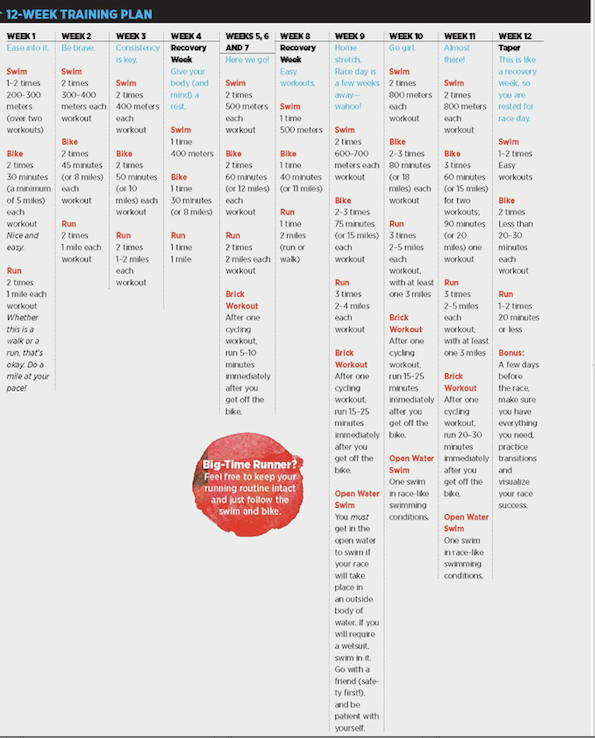 GET A PRINTABLE COPY OF THE 12 WEEK TRI PLAN HERE.
Meredith Atwood (@SwimBikeMom) is an attorney and author of the book Triathlon for the Every Woman. She is also a coach, a member of the Ironman and Lifetime Women For Tri advisory board, co-founder of the Swim Bike Fuel nutrition program for women and co-founder of Tri*Fe women's triathlon race clothing in sizes XS to 4XL. She lives in Atlanta with her husband and two children, and blogs at SwimBikeMom.com.