Ask The Coach: Compression Socks and Track Workouts
Do compression socks work? What to expect during a track workout? Our coach answers!
Heading out the door? Read this article on the new Outside+ app available now on iOS devices for members! Download the app.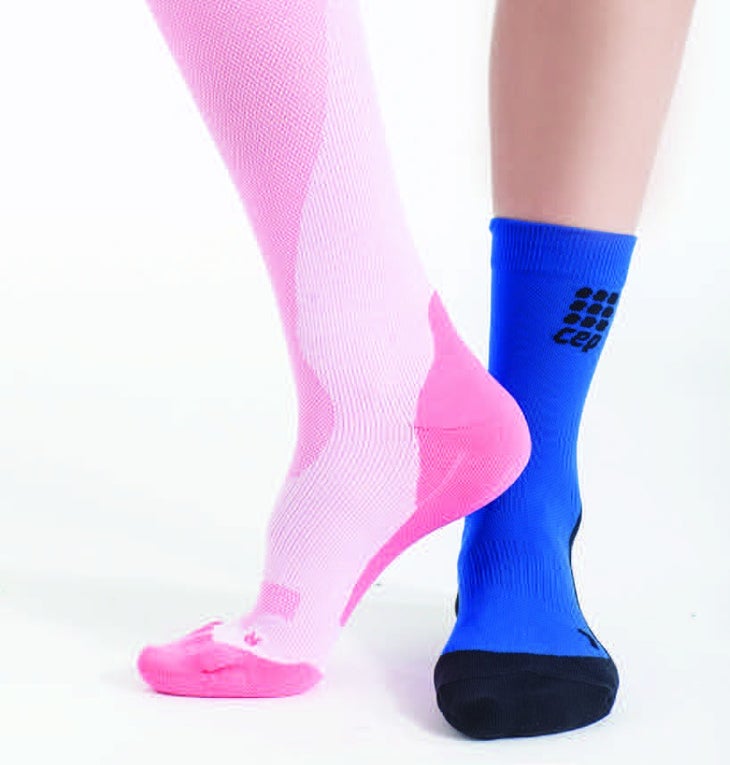 NCAA runner turned high school coach Hillary Kigar has an answer for all things training!
Q: How do I know if I should try compression socks and if they are even working?
It doesn't matter how much or how little you run: If your legs ever feel sore or tired and heavy after a workout, give compression socks a try. Buy a pair that fits moderately tight. There are full socks and calf sleeves—both are good options.
Wear them during or after a run—or even to bed. You might not feel a dramatic difference, but many runners find that their legs recover faster with the help of the compression, which increases blood fl ow to the legs. Compression socks are also helpful during travel. Slip them on when you are flying or on a long car trip, and your legs may not feel as sluggish when you go for your run after all that sitting around. Plus, you can find them in every color from black and white to neon pink or green.
Related: Head To Toe Reflective Gear
Q: I've never been to a track workout, but I hear there's one at the local high school once a week. What should I expect, and do I need to do any prep before showing up?
Every group does things a little differently but mostly likely you can expect some kind of an interval workout on the track. This means faster repetitions with rest in between. Find out if the group does a warm-up routine together or if you already should have stretched and completed an easy jog by the time the workout starts.
There will likely be runners of many different skill levels going at various paces. If it's your fi rst time, be sure to join a pace group that is appropriate for your fitness so you're not over your head. Remember, you are the boss of your body! Do as many or as few repetitions as you like. Be sure to perform an easy cool-down jog after the main part of the workout, so you aren't too sore later on. Get into the groove and have some fun!
Related: Why You Should Hit The Track
Q: Is it a bad idea to run with my dog?
Before you grab Buster's leash and head out the door for a run together, just be sure of a couple things: Pick a route where the trails and streets are wide and not crowded with people or cars. Also, know your dog. If Buster likes to pull on the leash during a walk, running with him might not be the best idea—you wouldn't want him to start sprinting and drag you into a neighbor's plants or, worse, a busy street! Start out with a shorter run to test Buster's fitness and see if he matches your pace. You might find you have a new running buddy who never complains!
Related: 4 Tips For Running With Your Dog
Light Up Your Life
Now that it's the middle of winter, it's extra tough to get out from under the cozy covers to go for a run in the morning. Plus it's still so dark! Be sure that cars see you and don't leave the house without a light. There are many different styles of running lamps that you can wear on your head, around your waist as a belt or even gloves that have little lights on the knuckles so you can stay safe AND warm.
Try: Princeton Tec Sync Headlamp, $30
Have a question for Coach Kigar? Email editorial@womensrunnning.com or tweet @womensrunning with the hashtag #AsktheCoach.