Heading out the door? Read this article on the new Outside+ app available now on iOS devices for members! Download the app.
At Women's Running, we're concerned about taking care of our readers and we're always looking for ways to kick it up a notch. We created the "Ask A Coach" blog feature to put you in touch with professional running coaches, who can answer your questions and guide you on the right path. Read below to find advice on tackling your long runs!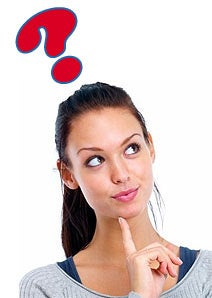 Question: I'm training for my first marathon and struggling mentally and physically to get through the long runs. My main concern is that I'm only running 20 miles. How will I make it through 26.2 miles if I only train up to 20 miles in training?
Answer by Coach Jenny Hadfield: Although there are mental benefits to tackling the marathon distance during training, the risks definitely outweigh the benefits. Running up to the 20 mile distance is enough to build the endurance to get through the marathon, but not too much to risk fatigue, exhaustion and inadequate recovery.
Here are some quick tips for improving your long runs:
Slow your effort to a pace where you can talk and hold a conversation. Every long run places stress on the body. The faster you train during your long runs, the longer it can take to recover. In essence, if you are running fast during these runs, you are racing every week, which can decrease you performance over time. Aim to finish every long run feeling as if you could run a little farther.
Mentally break the distance down into smaller, more digestible pieces. You can do this with time, distance or landmarks on the path. Once you do this, your mind only has to think about the next mini-goal. It is an effective way to ease your mind and develop solid mental strategy for race day.
Include a few negative-split runs (one per week) during the final six weeks of training. Cut the distance or time of the run in half and run the first half slightly slower (10-15 seconds per mile) than the second half. A negative-split pacing strategy will decrease the risk of going out too fast.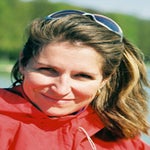 Coach Jenny Hadfield is the co-author of Marathoning for Mortals and Running for Mortals. She is a nationally recognized speaker and writer. Learn more about Jenny at jennyhadfield.com.
What running question do you want to ask a professional coach? Tweet your questions to @karadeschenes. Selected questions will be answered and featured here next week!
50 DAYS OF GIVEAWAYS – DAY 49
Today's prize. . .
20 RoadID $20 VOUCHERS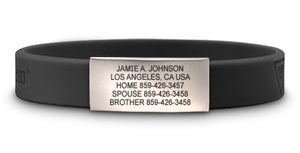 Win 1 of 20 vouchers to go toward any RoadID product. This includes the new Wrist ID Slim (pictured), a light and stylish bracelet that can be laser engraved with your contact information to give you peace of mind on every run. Worth $20 each, roadid.com
How to enter. . .
Comment on this post to be entered to win.
If you share our post on Twitter or Facebook, mention this in the comment and your entry will count twice. One comment per email address will be allowed each day.
Winner(s) will be announced the following day at the bottom of the blog post. Check in tomorrow to see if you won.
Good luck!!
Yesterday's winner. . .
Congratulations to Candra Evans who won 1 Ultimate Six Kit and DVD, and the all-new GRID 2.0 Foam Roller by Trigger Point. Please email Jessica@womensrunning.com with your mailing address to claim your prize!