8 Tips To Become A Morning Runner
It is possible to become a morning person—it just takes a little work.
Heading out the door? Read this article on the new Outside+ app available now on iOS devices for members! Download the app.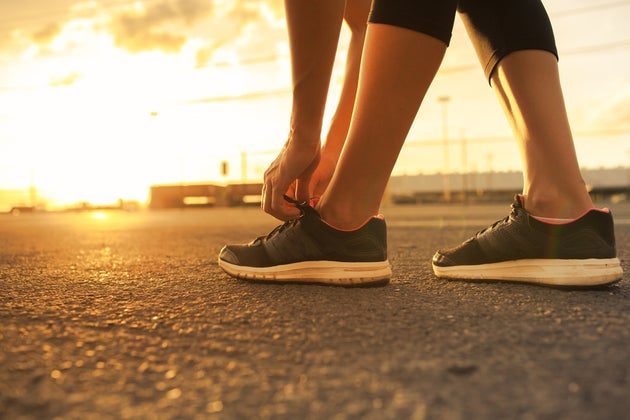 Published with permission from RatherBeRunnin's blog.
In case you were not aware, I am NOT a morning person. In fact, I hate mornings.
I have written about this a few times.
I decided at the end of August to starting running in the morning.
There were a few reasons for this:
It was too damn hot to run at night.
I had way too much time during the day to think of an excuse to not run.
I was too "tired" at the end of the day to go running.
Excuses 1-3 brought me to the point where I was running two, maybe three days a week. That's completely unacceptable.
This change in schedule has played a pretty significant role in my overall success these last few weeks.
It proves that one small step can seriously make a HUGE difference.
Are you like me? Do you hate mornings, but need get up early so that you will actually run? Maybe you just need a kick in the pants?
If so, consider yourself kicked…here are 8 tips to become a morning runner:
Tell yourself the night before that you ARE going to wake up and run. No exceptions. I personally, have to tell myself this at least 5 times.
Lay your clothes and running gadgets out the night before (if you can, sleep in them). If they are in your face, you are less likely to chicken out.
Set multiple alarms. If you have an alarm going off every 4 minutes, you are probably not going to be able to go back to sleep.
Go to sleep early. This one should be a "Duh", but it must be said. If you stay up until 2 AM watching Dr. Phil, waking up 3 hours later to run isn't going to be easy.
Start slowly. Gradually set your alarm to wake yourself up earlier and earlier every day, until you reach the right time. This way it is less of a shock to your body.
Stick with it, even on the weekends. It is going to be virtually impossible to get your body into a rhythm if you get up at 5 AM on weekdays and 9 AM on weekends. Try to get up no later than 1.5 hours after your weekday start time.
Think about why you started. What is really important to you? Is getting that extra 45 minutes of sleep really worth not achieving your goals? If the answer is yes, then don't cry when the guy next to you runs faster than you. He probably runs in the morning.
You are only one workout away from a good mood. It is true! Working out in the mornings can help you be more productive, happier and set you up to eat healthier too.
Now, stop making excuses and get up and run.
Related:
On Becoming A Morning Person
How You're Sabotaging Your Morning Workout