8 Items To Help You Recover After A Killer Workout
Don't get steamrolled—use these items to get back to the grind in no time.
Heading out the door? Read this article on the new Outside+ app available now on iOS devices for members! Download the app.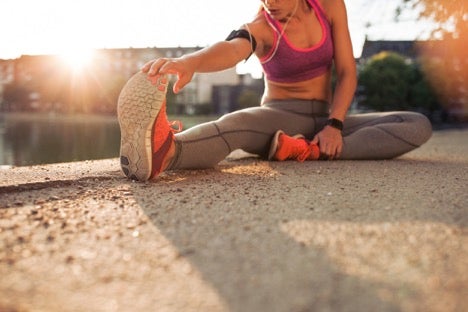 A hard workout is good for the body and soul, but not without a solid recovery plan. Pushing yourself too hard without taking good care of your body can result in days or even weeks of soreness. Whether you're working out to get in better shape, to feel faster or both, limiting your activity due to sore muscles can set you back. Don't get steamrolled—use these items to get back to the grind in no time.
Stretch Rope
Take early preventative measures and stretch at the end of every workout. This means more than a few toe touches. Take your time with your cool-down; use a band like the Thera-Band Stretch Strap to control movements and track your progress as you really dig into each position.
Tip: Don't try to tackle long stretches at the beginning of the workout. Save the extended stretching for after the action, and hold each one 20 to 30 seconds before releasing.
Soft Tissue Roller
If only we could all have a personal massage therapist waiting to pamper our muscles after a hard workout! That's not the case for most of us, but fortunately we can use soft tissue rollers to get at those tight muscles that might otherwise be neglected after a workout. The practice of self-myofascial release can help your muscles return more quickly to their normal functions.
Tip: Don't worry about the discomfort or pain. It's part of foam rolling, just like it's part of stretching. However, if you're experiencing sharp and unexpected pain, make sure to talk with your doctor before continuing.
A Protein Snack
Taking in protein and light carbs is an ideal post-workout practice. They help your body take advantage of the hard work you just did and repair damaged tissue. Try snacks or mini-meals like a protein shake blended with a banana and almond milk, white meat chicken with sautéed veggies, or quinoa with berries and nuts.
Tip: Make sure to eat a little something before your workout. Otherwise your body will take fat from your muscles rather than your liver and kidneys, which can result in muscle loss—and no one wants that!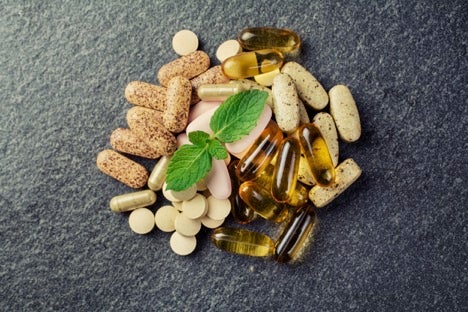 Supplements
Your diet should be doing the heavy-lifting when it comes to getting nutrients in your body, but a 100 percent well-rounded diet is hard to maintain. Make sure to take supplements to aid recovery and get your system everything it needs. Be sure to take a multivitamin. Consider the unique needs of women, like a proper intake of iron, Omega 3, calcium, magnesium and vitamin D.
Tip: Tart cherry juice is a natural inflammatory. Try this supplement before reaching for the ibuprofen.
Skin Care Products
Pesky hormones make many women vulnerable to acne issues. This is especially true among athletes, who are more likely to be exposed to heat, friction, oils, sweat, and those lovely communal workout mats. Take good care of your skin by cleansing heat rash and turf burn, washing areas prone to breakouts before and after every session and moisturizing.
Tip: On the topic of cleanliness, bring antibacterial wipes with you when you visit a gym, in case they run out. Wipe down your mat and other equipment each time you use it.
Compression Socks
For a particularly long runs, many runners swear by compression socks, in order to help stimulate blood flow and prevent muscle damage. Make sure to buy the right size to avoid discomfort and get the maximum benefit. Buying a size too small or too big can irritate your skin and cause blisters.
Tip: Despite some trials which show improved endurance and less muscle damage among their wearers, compression socks don't have conclusive evidence, mainly because there haven't been enough scientific trials to prove this. Make sure you like the way they feel before you go investing in a whole new wardrobe of compression garments.
Foot Massager
Unless your shoes miraculously hug every curve of your foot, your dogs will definitely be barking after a killer workout. Regular foot massages can decrease the risk of injury—plus, they feel awesome.
Tip: Rather than asking a family member or significant other to selflessly rub your post-workout feet, invest in a foot massager like the Moji 360.
Anti-Inflammatories
If tart cherry juice just doesn't do the trick, go with old faithful: ibuprofen. Long-term use of NSAIDs can interfere with your muscles' natural ability to repair, but taking them every so often after an intense workout won't hurt.
Tip: Try icing your muscles first to reduce swelling, then apply heat to decrease discomfort.
Bryn Huntpalmer is a mother of two young children living in Austin, Texas where she currently works as an Editor for Modernize. In addition to regularly contributing to Home Remodeling and Design websites around the web, her writing can be found on Lifehacker and About.com.