4 Ways To Squeeze In Short and "Sweat" Workouts
Don't have time for that two-hour jaunt? Try one of these quickies.
Heading out the door? Read this article on the new Outside+ app available now on iOS devices for members! Download the app.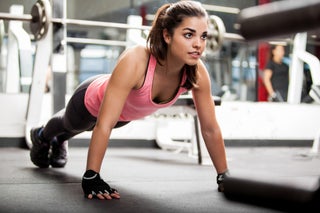 We've all had that day: You jump out of bed before the alarm goes off, have such a perfect run that you throw in an extra mile or two, and woodland creatures practically dress you before you get to work fifteen minutes early. Heck, maybe you completely crush it and even drop by a yoga class on your way home. But then we've all had that day too: You oversleep, fail miserably at your big presentation at work and get home late only to realize you wore your shirt inside out. All. Day. Long. And don't forget the grocery shopping and dry cleaning on the way home. By p.m., the last thing you want to do, let alone have time for, is work out. But even if you can't squeeze in a long run, you can still get your heart rate up in a few minutes and drown your sorrows in endorphins.
Hit The Bricks
You may think a 15-minute run isn't worth the effort of lacing up, but if you do it right, it can easily pack the punch of a half-hour jog. After warming up, run at a moderate pace for a minute, then ease up for a minute, repeating the pattern for a total of fifteen minutes. Increase your speed slightly every other minute as you progress, with your last minute at an all-out sprint. Not in the mood for speed? Play with an incline instead.
Related: High-Intensity Interval Training Workout
Play Games
Dust off a deck of cards and deal yourself a quickie workout. Assign each symbol an exercise (hearts are squats, diamonds are pushups, etc.), pick a card and work your way through the deck. Ten of hearts is ten squats, ace of diamonds means thirteen pushups. The workout will be quick but the constantly changing moves and reps will make it feel even faster.
Related: Indoor/Outdoor Quick Workout Swaps
Try A Tabata
When you are truly short on time, the tabata is your answer. This four- (yes, only four) minute workout may sound like a walk in the park but, when done right, can feel like a race around the track. Warm up briefly with a minute of jumping jacks or jog in place, and then go hard for twenty seconds followed by ten seconds of rest, repeating the circuit seven more times. The tabata can be done with any exercise you like—sprints on the treadmill, burpees, speed squats, mountain climbers, etc. Pick your poison and give it your all. It may feel like the longest four minutes of your life, but the high intensity will boost your endurance and burn fat long after you're done. Got a few more minutes? Rest briefly and go again, switching up the exercise to maximize your workout.
Press Play

While you likely keep a few favorite workout DVDs in rotation, consider adding a few new ones to your library. Your best bet are ones that are broken down into 10- or 15-minute circuits so you can pick and choose when you're short on time and double or triple up when you have room in your schedule for a full workout. Look for DVDs that call for minimal equipment to save time on set up—even better if it's a body weight-based routine.
So even when it seems like you just can't make it happen, remember that an effective workout is still within your reach, even on that day.
Alison Barsalona is a stay at home mom to one baby and one beagle.  She is working on getting her running and fitness groove back and perfecting the art of the jogging stroller.