3 Running Myths I Wish I Never Fell For
There is so much information out there for new runners it is sometimes hard to distinguish fact from fiction.
Heading out the door? Read this article on the new Outside+ app available now on iOS devices for members! Download the app.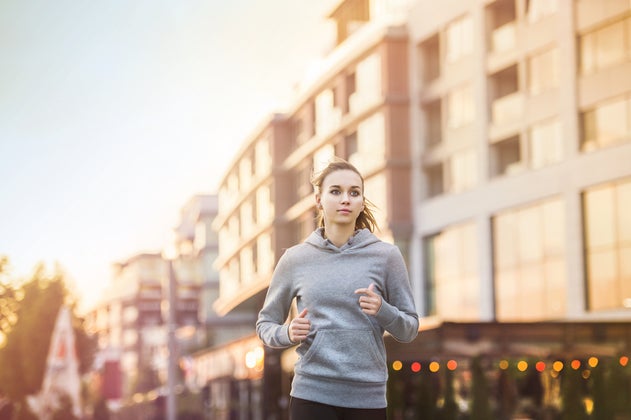 When I first started running, I had no clue what to do other than other than put one foot in front of the other. So I soaked up information wherever I could, watching other runners, thumbing through magazines, and browsing blogs. And while all that intel was very helpful when it came to fuel and form, there was also a bit of information overload that steered me in the wrong direction.
I bought into some common myths that derailed me from becoming a better runner, and although I've since set myself straight, I regret the time I wasted on all that misleading misinformation. Here are the running myths I wish I never fell for—do yourself a favor and don't believe any of these bogus claims.
Weigh yourself daily to track your progress
Man, did I waste a lot of energy (physical and emotional) on this one. I didn't get into running to lose weight, but I did kind of expect to drop a couple pounds and was sorely disappointed when the number on the scale went up instead of down. From there on it was straight-up mental warfare—Was I running too slow? Was I not doing enough incline or speed work? Was I just the worst runner ever?? And don't even get me started on the whole, "Why don't I have a runner's body?" mind game. It took some research and talking to other runners to fully understand the concept of muscle mass and get that it's totally normal to gain a little weight when you start a new workout routine. Now I'm a lot more forgiving when it comes to my body and I measure myself by my pace or how my clothes fit, but I really regret beating myself up over something so stupid when I should have been celebrating my progress.
RELATED: 4 Magic Numbers (Not Your Weight) That Matter For Running
It's not safe to run through pregnancy
When I became pregnant with my son, I was so tired that I barely exercised during the first trimester. After I got my energy back, I started to work out again but was hesitant to resume running. It was my first pregnancy and I was paranoid about doing everything safely; I was afraid to run and risk jeopardizing my baby somehow. I went for the occasional jog, but stuck to walking and workout DVDs I had done a million times and felt comfortable modifying as I got bigger. But I immediately regretted abandoning running after my son was born and I attempted my first postpartum jog around the block. Hormones and sleep deprivation aside, I was so out of running shape and felt like I was starting from scratch. I know now that running is not only safe during pregnancy, it's healthy for both mom and baby and can help ease delivery. As long as you're on the same page as your doctor and don't attempt any new speed or mileage goals, running is one of the best ways to keep a mama-to-be healthy and sane.
RELATED: Things I Learned From Running Through Pregnancy Three Times
All you need is cardio
Running is obviously an awesome source of cardio, and I was super psyched to find a workout I loved with all the heart-pumping action I could want built right in. I was definitely meeting my cardio quota on my runs and felt pretty damn good about how healthy I must have been; every other fitness article seemed to sing the praises of raising your heart rate, and I felt like the queen of cardio herself. But then I started to notice that a runner I admired at my gym would finish a lot of her workouts with some lunges and squats in the weight room. I started following suit and not only did I enjoy it, but after a little while I found that my pace improved slightly, running hills outside felt a lot easier, and I just felt overall healthier. Now I always incorporate bodyweight or cross-training into my weekly workout routines to stay strong and well-rounded, and I really wish I hadn't gone so long without it.
RELATED: The 3 Strength Moves Runners Should Be Doing (And When)