2 Post-Run Workouts That Torch Calories
These exercises take no time at all and can help you lose weight.
Heading out the door? Read this article on the new Outside+ app available now on iOS devices for members! Download the app.
Tacking on a mini workout to the end of your run can make a huge difference—especially if you're a runner trying to lose weight. Trainers often use "finishers," bouts of short, intense exercise, as the finale of a sweat session, to help clients get in shape.
Why? Allie Burdick, ACE-certified personal trainer and founder of VitaTrain4Life.com, explains, "Excess post-exercise oxygen consumption, or 'afterburn,' describes the calories burned as your body recovers from a workout. The longer you burn depends on the intensity level."
In other words, high-intensity exercise stokes your metabolic fire. Unless you are completing a speed workout or tempo run, you're not reaching a level that will encourage afterburn by running alone. (If you tried to do a tempo run every time your shoes hit the pavement, you might burn extra calories but you'd also burn out.)
The solution? Use a few minutes after your run to test your body in a controlled way. The trick is to constantly try new challenges. Burdick says, "Because your body is so good at adapting, it's going to quickly catch on to these afterburns, so you have to keep mixing it up to fuel that fire."
Photos: Craig Carpenter & Mike Christman
Workout 1: Thirty-Thirty
Complete 30 seconds of mountain climbers, followed immediately by 30 seconds of dips. Repeat without rest for 3–5 minutes.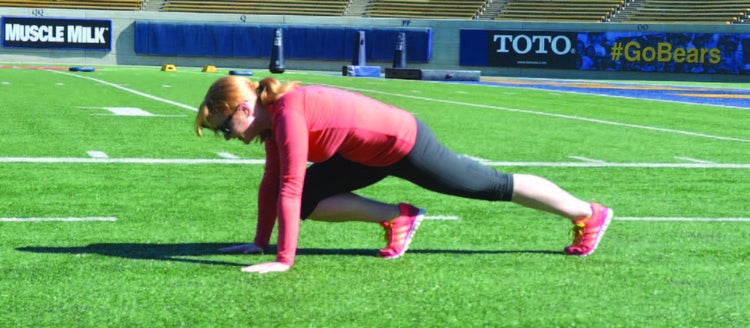 Mountain climbers: From a pushup position, lift your right knee toward your chest. Jump your feet to switch position so your left knee is up. Continue at a challenging pace.
Dips: (A) In a tabletop position, (B) bend your elbows so you feel it in your triceps, and then return to the start position. Continue at a challenging pace.
Workout 2: Circuit Work It
This is one of the most versatile finishers. Anything goes. Burpees, mountain climbers, pushups, bench jumps, squats and lunges all fit the bill. Here are four more ideas with instructions. Complete 20 reps each of five different bodyweight exercises without resting between sets. 
Tuck jumps: Jump as high as you can, tucking your knees into your chest at the top of the jump.
Frog jumps: (A) Squat down with your knees pointing outward (like a plié), touching your hands to the ground. (B) From this position jump into the air as high as you can, with your arms up. That's one.
High knees: Sprint forward, driving one knee up to your chest with each stride. One stride on both legs equals one rep.
Bodyweight deadlifts with hop: Stand on one leg. (A) Reach your lifted leg behind you, hinging your upper body forward until you form a T. (B) Drive this knee back toward your chest, hopping at the top of the movement. That's one rep. Do half your reps on one leg, then switch sides.
Related: Burn More Calories With These Short Post-Run Workouts