What "Healthy" Food Labels Really Mean
Before you hop on any food label bandwagons, find out what those words really mean.
Heading out the door? Read this article on the new Outside+ app available now on iOS devices for members! Download the app.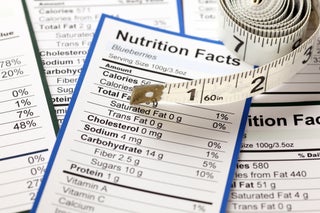 You hear, "Eat this, don't eat that, go gluten free, try Paleo, organic only"…the list goes on and on. It's overwhelming. While food labels might say something is sugar free, low fat or organic, the FDA does not regulate if the product is actually healthy for you. It's up to you to do your research to know what you need to look for in a food label and determine what to feed your body.
Professor Laurie Beyranevand, Associate Director at Center for Agriculture and Food Systems and Associate Professor of Law at Vermont Law School, says, "Research has shown that consumers are often confused by label claims, and marketing strategies can create additional issues for the consumer trying to find the healthiest options."
To help educate you toward healthier food purchases, follow these five tips from Beyranevand.
Low Fat
"Low fat" doesn't mean it's healthy. "According to the FDA, low-fat products contains 3 grams of fat or less per serving, and even though they may contain less fat than the regular version, there is often more fat in the 'low-fat' product recommended for someone trying to lose weight," explains Beyranevand.
Manufacturers not only alter the fatty oils used in making their products, but they also up the levels of sugar and salt to make sure the product you're buying tastes like the original item, according to Beyranevand.
When looking at low-fat items, compare the original product and look at the sugar and salt intake. Sometimes the regular product is a healthier alternative because of the extra sugar that's maybe added to the low-fat option.
Related: 4 Ways To Burn Fat
Sugar Free
Sugar free sounds appealing, right? But it's not 100 percent accurate. Sugar-free labels must only have less than 0.5 grams of sugar per serving to be labeled as such.
A box of cookies may include a sugar-free label claim, but upon further inspection, the label may also say, "This is not a reduced calorie food," explains Beyranevand.
"Some sugar-free products contain sugar alternatives that can be just as unhealthy for the consumer. Artificial sugars can still raise blood sugar levels, and if someone is trying to lose weight, then it might be a misleading dietary option," she says.
If you see "no added sugar," read beyond the front. See what other ingredients are listed. You may opt for the original because there aren't artificial ingredients added.
Gluten Free
Gluten-free labels have really increased sales for many brands. A gluten-free diet excludes the protein gluten, found in wheat, barley and rye.
Beyranevand says, "For those with gluten intolerance, they benefit from the access to a wide area of dietary options. However, many consumers without this intolerance have the perception that gluten free means the product is generally healthy and can contribute to weight loss, even though these products often contain considerably less fiber and are not fortified with vitamins and minerals that are essential for a healthy life."
To make these gluten-free products taste similar to their gluten-filled counterparts, manufacturers often increase the amounts of sugar and salt.
"Food labels can capitalize on dietary trends, and 'gluten free' is a perfect example. According to the New York Daily News, 'The $10.5 billion gluten-free food and beverage industry grew 44% between 2011 and 2013, according to market research company Mintel, which estimates sales will skyrocket to $15 billion by 2016.' Currently, there is no evidence to suggest that these products will help consumers lose weight or live a healthier life," Beyranevand explains.
Related: Is A Gluten-Free Diet For You?
High Fiber
A diet filled with fiber helps keep your digestive system on track, controls weight management and lowers the risk of diabetes and heart disease.
Many food labels suggest the item is high in fiber. "Some products use the high fiber claim, especially since the larger marketplace has recognized fiber as an essential part of a healthy diet, as a selling point. The sugar and sodium is added for taste. Clearly, high fiber on a label is beneficial, but it's essential to turn the product over and view the full nutritional contents, particularly if the consumer is on a sugar or salt restricted diet," says Beyranevand.
Stick to a diet full of whole foods like fruits, vegetables, whole grains and legumes.
All Natural
Are you shocked at this point that "all natural" might not actually be accurate? To be considered a "natural" product, there has to be zero colorings, artificial flavors or synthetic substances, according to the FDA. However, many products are filled with excess "all natural" sodium and sugar, giving the consumer the idea that what you're purchasing is all natural.
Food labels are meant to catch your eye and make you believe the item is healthy. But it's important for you to be a smart consumer and look beyond the label.
"Read the nutrition facts panel and ingredients lists to get a more accurate picture of the overall healthiness of a particular food product and not being sold on the front of package claims," suggests Beyranevand.