Here's Our 30-Day Wellness Challenge—With Tips From The Pros
This 30-Day fitness challenge includes tips from professional runners and coaches to help you step up your fitness.
Heading out the door? Read this article on the new Outside+ app available now on iOS devices for members! Download the app.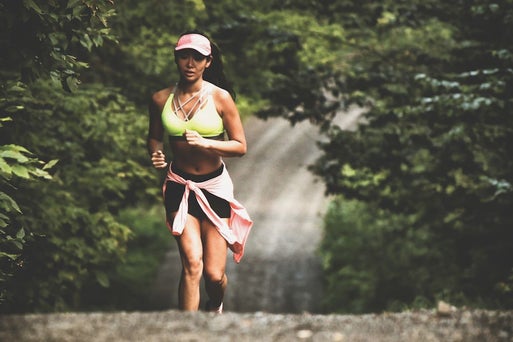 30-Day Wellness Challenge
All runners have a few things in common. We want to be our best, we work hard to get there—and sometimes, we a need a little help to do it. So we polled the pros—coaches, trainers and elites—for their go-to tips for becoming a better runner. Then we created a 30-day program chock-full of advice designed to take your run to the next level. Each tip only takes a small part of your day but will guarantee big results by the end of the month.
Related: The 3-Miles-A-Day-For-30-Days Challenge
Day 1: Write it down.
Start a training log; plan out and record your daily workouts. —Lauren Fleshman
Day 2: Start strong.
Establish a dynamic warm-up routine to make the mental transition from "couch mode" to "workout mode." —Hillary Kigar
Day 3: Start snacking.
Buy or make a few nutritious snacks to have on hand after every workout to jump-start recovery. —Lauren Fleshman
Day 4: Clean up.
Toss any excess sugar, carbs and processed foods and stock up on healthy, whole foods for maximum energy. —Greg McMillan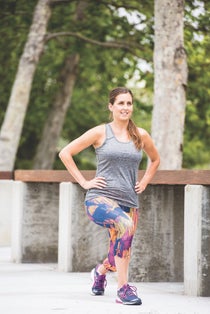 Day 5: Switch it up.
If you've plateaued at longer distances, create a training plan for a 5K or 10K training cycle; it will increase your speed when you return to a longer distance. —Greg McMillan
Day 6: Take it easy.
Do nothing today—really, nothing. It takes quality rest to absorb the intense efforts of your workouts, so a weekly rest day is a must. —Stephanie Howe
Day 7: Partner up.
Grab a pal and try a strength circuit with a medicine ball for all-over toning that will power you
through tough runs. —Molly Huddle
Day 8: Take ten.
Carve out 10 minutes to create a dedicated stretching routine; it's an easily neglected aspect of training but will go a long way in preventing injury. —Stephanie Howe
Day 9: Go (coco)nuts.
Try adding coconut oil to your coffee to add extra good fats and fuel for your long run. —Molly Huddle
Day 10: Get loud.
Buy a few pieces of brightly colored, quality gear to motivate you on rainy days. —Molly Huddle
Day 11: Go lateral.
Incorporate movements like sideways shuffles and lateral lunges to strengthen often-neglected muscles and prevent injury. —Sara Hall
Day 12: Go all out.
To increase physical and mental stamina, do a workout that completely drains your tank; try hill repeats until you can't do any more. —Greg McMillan
Day 13: Make a mantra.
Even something as simple as "just keep moving" can be enough to pump you up and get you out the door. —Stephanie Howe
Day 14: Pump up the protein.
Sprinkle protein powder into your oatmeal or yogurt to prevent hunger from derailing a tough workout. —Molly Huddle
Day 15: Get a boost.
Increase your weekly mileage by 10 percent for two to three weeks, then drop back to your original mileage to experience a boost in endurance and speed. —Greg McMillan
Day 16: Make time for meditation.
Imagine achieving your training goal while you practice positive affirmations. Mental strength is just as important as physical strength on race day. —Jax Mariash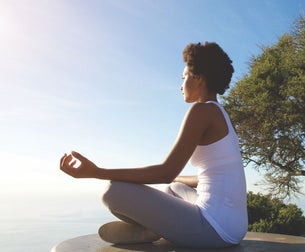 Day 17: Talk out loud.
Repeat your personal mantra or just tell yourself to get your butt in gear—you'll be surprised by how hearing it out loud can really change your attitude. —Stephanie Howe
Day 18: Say yes to sugar.
Though you may be tempted to avoid the sweet stuff, some sugars are what your body needs for energy and recovery. Try a glass of chocolate milk after today's workout to bounce back. —Stephanie Howe
Day 19: Move on up.
Ditch the flat surfaces and do a full workout of long hill runs to build power. —Sara Hall
Day 20: Add anti-inflammatories.
Spend an evening in the kitchen experimenting with different vegetables and wild Alaskan fish; those foods contain anti-inflammatory properties that will help with recovery and immune strength. —Sara Hall
Day 21: Be a chocoholic.
Try adding a few spoonfuls of unsweetened cocoa powder to your morning oatmeal or pancakes. The chocolate will give you a kick of caffeine before your morning workout. —Sara Hall
Day 22: Play with pace.
Experiment with speed play to increase your overall pace; the repetitive exertion and recovery will help you get faster over time. —Greg McMillan
Day 23: Take a knee.
Prevent the dreaded "runner's knee" by incorporating a lower-body circuit into your routine three to four times a week. —Alysia Montaño
Day 24: Crush a core class.
Try a class like Pure Barre to improve your overall stability and core, key for pushing through strenuous runs. —Jax Mariash
Day 25: Hit the hills.
Add short hill sprints to the end of an easy run to engage your muscle fibers. —Sara Hall
Day 26: Think bigger.
Incorporate calisthenics and dynamic moves to your strength routine; add burpees and skipping to become an overall more athletic runner. —Greg McMillan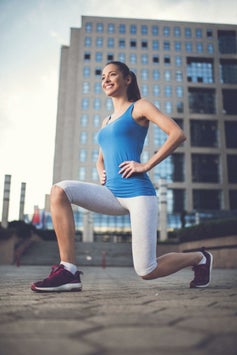 Day 27: Take it to the limit.
For maximum endurance, make today's workout one that leaves you completely fatigued. Try gradually increasing your pace over a long run until you're sprinting the last mile. —Greg McMillan
Day 28: Butter up.
Add a bit of grassfed butter to your morning coffee or meal for steady energy and satiety from your morning run through lunchtime. —Jax Mariash
Day 29: Prepare for the end.
Come up with a chant to push you through the last mile of your next race; try "pain is temporary, accomplishment is forever." —Jax Mariash
Day 30: Look back.
Review your training log. Taking the time to acknowledge your intentions, efforts and results will help you connect the physical aspect of running with the mental. —Lauren Fleshman
Meet The Pros
Here are the experts who want to help you be your best:
Stephanie Howe: Endurance runner, coach and sports nutritionist.
Molly Huddle: Two-time U.S. track champion and 13-time U.S. road champion.
Jax Mariash: Professional ultra runner, first woman to complete 4 Deserts Grand Slam Plus.
Sara Hall: Former All-American turned elite marathoner.
Greg McMillan: Exercise physiologist and running coach.
Alysia Montaño: Sprinter and six-time USA Outdoor champion.
Lauren Fleshman: Two-time USA Track and Field 5K champion, co-founder of Picky Bars.
Hillary Kigar: Former NCAA runner turned high school coach.
Related:
Social Media Fitness Challenges Are Everywhere–Do We Like Them?
I'm Doing The Tone-It-Up Challenge And It Is Insane
Why I'm Embracing Behavioral Change And A 30-Day Yoga Challenge