I Tried InsideTracker To See What The Big Deal Was
InsideTracker is slowly taking over the social feeds of all sorts of avid athletes.
Heading out the door? Read this article on the new Outside+ app available now on iOS devices for members! Download the app.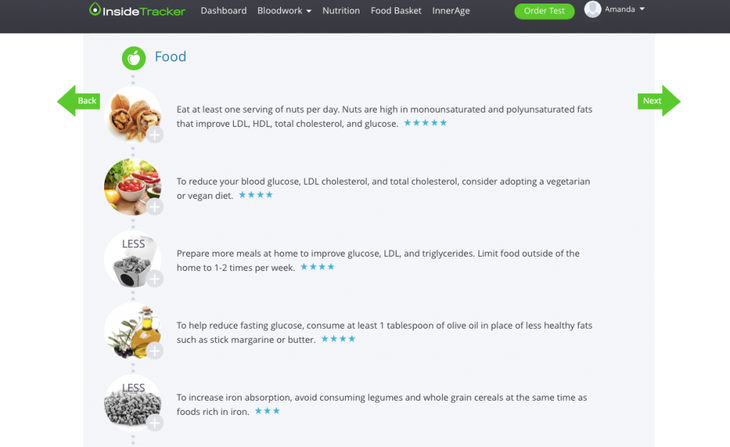 I had heard about InsideTracker before, but it sounded like something only elite runners should do, runners who didn't eat pepperoni pizza or miss workouts. It didn't sound like something for regular runners like me.
I was wrong. InsideTracker, a blood analytics product, provides an in-depth look at how the body is performing and allows you to take charge of your health, whether you're looking to enhance your race performance or improve your general wellness.
I took the Ultimate test, which looks at 30 biomarkers, such as vitamin D, cortisol and magnesium. The test works like any other blood draw. You can't eat or drink anything (besides water) for 12 hours before testing, and the testing is done at a diagnostic center near you.
When I sat down for the blood draw, the technician told me she'd be taking five vials of my blood. I made a joke about vampires, but she didn't laugh, so I explained that I was writing a story about the test.
"It's good that you're getting all this looked at," she said. "You'll be able to tell a lot." That's InsideTracker's promise. After all, their social media hashtag is #Blooddontlie.
About four days later, I received my results in my email. I was excited to see them. For the last year, I've been struggling with vertigo and lightheadedness, which has limited my training. I've undergone two MRIs, a range of tests and several diagnoses. The last diagnosis was vestibular migraine, but I had wondered if anything else was off that could be a contributing factor.
According to the test results, which were very easy to understand, two of my biomarkers were at risk. Ten needed work and the rest were "optimized."
One of the biomarkers at risk was LDL, which is sometimes known as "bad cholesterol." Mine was high, which didn't surprise me, since my mom also has high cholesterol.
The other at-risk biomarker did surprise me. The test showed my hemoglobin, which carries oxygen in red blood cells, was low. This made sense to me since the last few months I've felt like I'm maxing out earlier when I run and I can't get the turnover speed I had when I trained for a half marathon last year. Not to mention, low hemoglobin can make you feel dizzy.
Besides the InsideTracker test, I've had my blood tested at least five times in the last year when trying to pinpoint the cause of my vertigo—two of which were comprehensive checkups and none of those pointed out that my hemoglobin or LDL were not at their best for me. That's because doctors' blood tests usually test for disease and not for performance.
If you're gearing up for a fall race, an InsideTracker test is a good way to find your optimal zones to get you starting line in peak condition.
Along with you bloodwork, InsideTracker gives you suggestions on how to improve your biomarkers that need work. In my case, my recommendations included starting a high-intensity interval training (HIIT) program and incorporating more strength training into my workouts.
InsideTracker also gave me a long list of foods to eat to help with my LDL and iron levels (My husband was thrilled to see steak on my suggested foods). I'll also be following up with my doctor about my results. I'm hoping to test again in a few months and see some progress. After all, blood don't lie.