4 Ways To Train Your Body To Stop 'Leaking' On The Run
It's not just your pelvic floor that is working against you if you have this problem; there are three other areas to pay attention to.
Heading out the door? Read this article on the new Outside+ app available now on iOS devices for members! Download the app.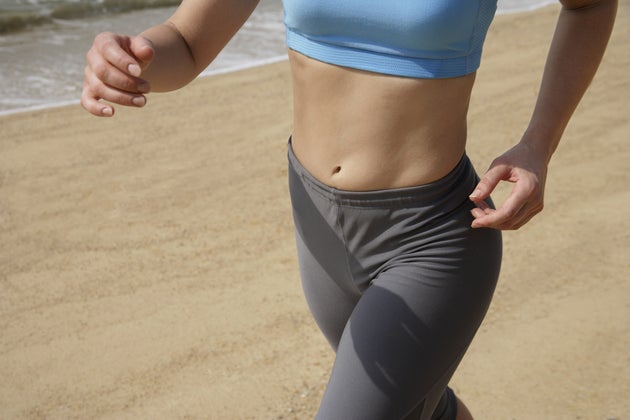 *This appeared in part on Swim Ride Mum
You may be familiar with the pee problem—and it can be super embarrassing. One out of three females have some leakage. The good news is, there is something you can do about it. And while most advice usually just focuses on the pelvic floor, it turns out there are three other areas that can help stop the issue, too.
1. Untuck Your Butt
Without boring you with an anatomy lesson, let me just say that your pelvic outlet is different at the front compared to the back. Tucking your butt means that most of the forces go toward the back of the pelvis, where the outlet is larger and has less reinforcement. The tucked bottom posture can therefore increase your chance of leakage. Your glues and pelvic floor are also designed to work together. 'Flat butts' are an indication of poor glute bulk. Try untucking your butt and allow your glutes to engage and do some work!
How do you do that?
You can try lying on your back, sitting in a chair or in standing. Gently rock your pelvic forwards and backwards until you find a position that is 'halfway' there. Try doing this in a mirror. Sometimes what you feel you are doing and what you are actually doing can be very different. Once you find this 'middle ground,' start trying to use that position in everyday tasks, as well as while you run.
2. Breathe Into Your Belly
Don't be afraid to let the abs go and let your breath go into the belly. Remember the core is a pressure system. Gripping your abs and not allowing your breath to go down into the tummy is only going to create excessive pressure within the system—and guess what—it's going down right where gravity leads it, increasing the chance of leakage. Let your belly go! Breathe.
How to practice belly breathing:
Lay down on your back with your knees bent. Place your hands onto your tummy. Think about taking a deep breath into your hands. Let your rib cage widen towards your hands, and feel your hands rise to the roof as you take a breath in. Keep your shoulders and face relaxed. Once you have mastered this, try it again in sitting and standing positions.
3. Allow The Pelvic Floor To 'Drop'
Okay, so you've heard all about doing Kegel exercises and that activating your pelvic floor is what stops you peeing yourself when you cough/sneeze/laugh/run…this is true! But, we also know that muscles work best when they are in their "mid range." For example, your biceps are strongest when your elbow is bent to about 90 degrees.
Your core muscles are also known as "postural" muscles. They are designed to be working at low loads for extended periods of time. They are not designed to be gripping or holding on for dear life just to keep us upright. In order for these muscles to play their role well, we need to let them work as they were designed to. So, lift and hold when the task requires, but trying to grip your floor while you run is not going to be comfortable—nor will it be effective.
The key really is to match the load. Consider how much effort you put into lifting a bottle of milk compared to lifting a television cabinet. How you position and brace to prepare for the lift is completely different depending on the task at hand. It is no different within the core. Don't overdo it!
Learning to do this:
Get into a comfortable position. As you take a breath in, feel your pelvic floor relax. Let your inner thighs, glutes and abdominal muscles relax. Feel your breath going down and feel your pelvic floor 'let go.' Don't try to force the pelvic floor muscles down;  just let them relax.
4. Lean Forward When You Run
There are a few reasons why thinking about leaning forward from the hips can help to stop you leaking while you run. First, you're in a better position for your core muscles to work together than you would be if you had your chest up high. Second, you should 'bounce less' to lower the impact with each time you land. Less impact = less leaking.
How to do it:
Stand with your feet together and lean forward, keeping your shoulder, hips and feet in alignment. Lean until you feel as though you would fall forward, then start running. Try to maintain that forward lean throughout the run. Alternatively try running hills. When you run uphill your body is 'forced' into a great position to allow you to breath into your belly and to get your ribs and pelvis into an optimal position for your piston to fire. Try it!
If none of these things work for you right now, don't feel that there is no hope. These are just the 'tip of the iceberg' when it comes to measures that you can take to help stop you leaking when you run. I encourage you to visit a women's health specialist that is keen to work with you and help you meet your running lifestyle goals.
Of course this does not replace consulting your doctor and/or OB-GYN to help resolve any concerning issues, and we encourage you to seek medical attention if needed!