Can The Timing Eating Carbs Actually Help Ward Off Colds?
This doesn't mean a pasta feast is in order. The timing and amount of carbs you eat are key in making this work for runners.
Heading out the door? Read this article on the new Outside+ app available now on iOS devices for members! Download the app.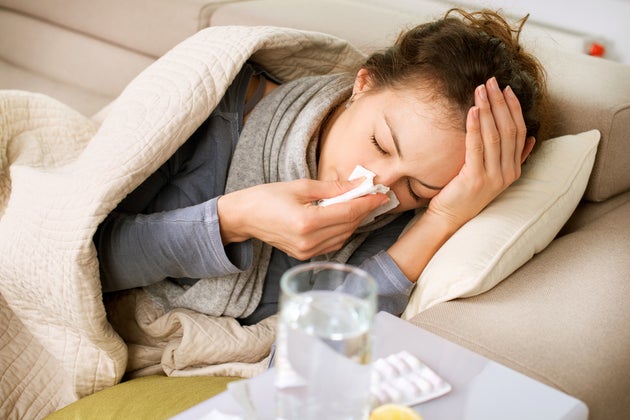 According to science, the timing of when you eat carbohydrates may actually help ward off colds! The good news comes from a recent study published in the Journal of Applied Physiology, where it was discovered that regular, moderate exercise actually protects against upper respiratory illnesses and, eating carbohydrates during vigorous exercise may actually help ward off colds.
Until recently, runners were cautioned to not overtrain and to be especially careful after epic endeavors like marathons or ultramarathons and the body's susceptibility to illness due to the increased stress. This new study uncovered that may not be the case.
Until now, it was widely regarded that vigorous exercise of up to 90 minutes resulted in a depletion of infection-fighting white blood cells in the bloodstream of those tested which suggested their immune response had been weakened. However, this new study discovered that is not the case when carbohydrates were consumed at regular intervals.
The reason eating carbohydrate-rich foods is beneficial to the immune system is because it helps regulate blood sugar levels. Having stable blood sugar levels reduces the body's stress response, which in turn, moderates any "undesirable mobilization of immune cells," which is what ultimately causes infection and colds.
When to Carb Up and How Much to Eat
The timing and amount of ingesting carbohydrates is critical to the benefits. Dr. Oliver Neubauer, Senior Research Fellow at the Queensland University of Technology in Australia and one of the authors of the review, was interviewed for a piece in the New York Times, and had this to say about timing and amount:
"Most people only need carbohydrates during high-intensity or prolonged exercise that lasts for 90 minutes or more. For them, between 30 and 60 grams—which is 1 or 2 ounces—of carbohydrates per hour during exercise could minimize immune disturbances related to exercise. Consuming carbohydrates in the first few hours immediately after strenuous exercise also helps to restore immune function."
Most runners already adhere to these rules but, in case you don't, this is one more reason to comply! Oh and, Dr. Neubauer also recommended washing your hands and staying away from sick people as other proven methods to staying healthy.