Avoid Tick-Borne Illnesses With These Tips And Tricks
The clinical co-director at the Dean Center for Tick Borne Illness offers advice on how runners can protect against ticks.
Heading out the door? Read this article on the new Outside+ app available now on iOS devices for members! Download the app.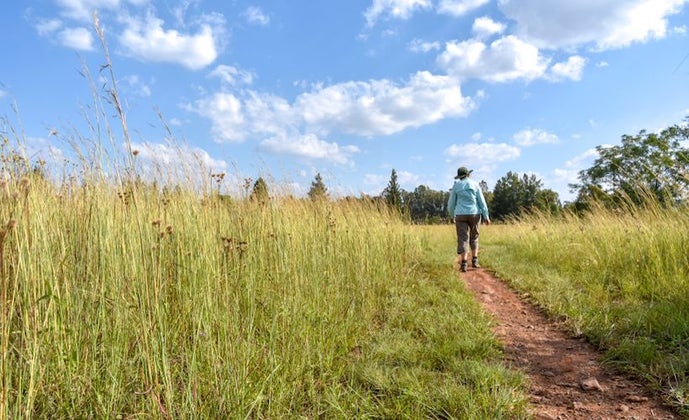 There are many reasons to embrace the warmer running season: sun dappling your shoulders as you head out in the morning, laundry diminishing due to the need for fewer layers and feeling the air against your legs and arms as you run, thanks to kinder temperatures.
But summer also comes with one heightened risk: it's tick season. During warmer weather, it's especially important for runners to pay close attention to the unwanted guests marring an otherwise great workout, especially if you're a runner who prefers to take it to the trail. Dr. David Crandell is the clinical co-director for the Dean Center for Tick Borne Illness at Spaulding Rehabilitation Hospital and says that the idea of "tick season" is particularly salient in the Northeast. In warmer climates like California, for example, runners are at risk for tick exposure year-round, but only in the late spring and summer does it warm up enough for ticks to become active.
"If people want to be accessing the woods or doing trail running in any sort of place that is endemic, you have deer, you have mice and you have ticks cohabitating. If you're interfacing in that environment, you have to understand that there are risks," Crandell said.
300% Increase In Tick-Borne Illnesses
The Center for Disease Control reported in May that vector-borne diseases more than tripled in the United States from 2004 to 2016. Those diseases are any illnesses transmitted by blood-feeding ticks and insects, which can transmit pathogens (i.e. bacteria, viruses or parasites) from one host to another. These pathogens then cause illnesses in the host, such as Lyme disease, West Nile virus and Zika virus. That increase makes it equally important for runners to pay heightened attention to precautionary measures this summer. Ticks are most active when the temperature rises above 40 degrees, meaning that the summer provides a perfect breeding ground for their activity.
How To Protect Against Ticks
There are a few measures that runners can take to avoid coming into contact with ticks. One is to avoid contact with any tall grasses or plants where ticks live. Runners can also prepare ahead of their workouts by using tick repellents on exposed skin and clothing. Crandell advocates for the "longs and longs rules," meaning using leggings and long sleeves to fully cover one's arms and legs.
"There are some manufacturers that make their clothing pretreated with permethrin, which we recommend to put on your clothes. That includes pants, leggings, socks and shoes. It's not to be applied to your skin. If you're going to be a trail runner, treat your shoes, treat your socks," Crandell said.
After the workout, runners should prioritize showering as quickly as possible, and then conduct a full-body tick check using a mirror. It's especially important to pay attention to small, hidden areas where ticks could hide (including inside the belly button or around the ears). Finally, drying workout clothes at a high heat setting could kill any ticks that have hitched a ride on the fabric.
Crandell also advocates for runners with dogs to pay attention to their companions. Dogs should be vaccinated against ticks and treated topically with Advantix or a similar medication, Crandell said, as well as potentially use a permethrin collar. "The dogs should be checked on exiting the woods, because when you take your nap together on the couch later, you might find some guests," Crandell said.
Tick-Borne Illness Symptoms
Even with precautions, it's important for runners to be aware of signs and symptoms of tick-borne illnesses. In addition to the well-known symptoms of Lyme disease, like a bullseye rash and flu-like symptoms, Crandell says to be on the lookout for any unexplained fatigue or malaise.
"If you're sore and achy and you didn't increase your mileage or the amount of hillwork you're doing, and people are starting to feel like they're off their game or something is affecting them and it's not their workout, that would be something to alert your [primary care physician] about," Crandell said.
Should a runner notice any of the above, it's essential to get to a doctor quickly for proper treatment. The bottom line, Crandell said, is that with proper precautions and attention to detail, runners should feel empowered to head outdoors—even during tick season.
"People should not be afraid to go into the woods," Crandell said.
Related:
Tips For Running Safely Around Wildlife
8 Snake Safety Tips For Trail Runners