This Pre-Workout Smoothie Can Fuel Your Next Run
Fuel your next long run or workout with this delicious recipe.
Heading out the door? Read this article on the new Outside+ app available now on iOS devices for members! Download the app.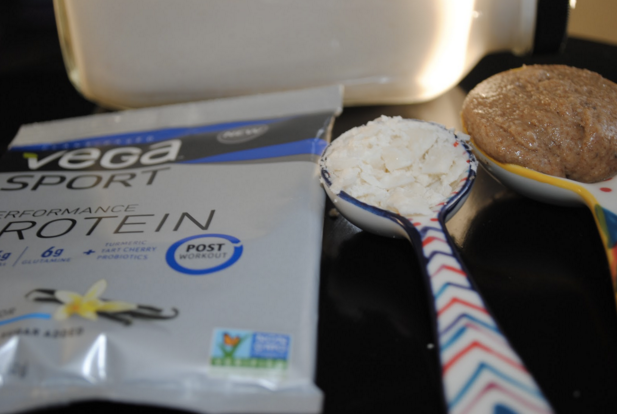 Read Kim's first post, introducing her post-baby journey to run the Boston Marathon. 
Last week we had #somuchsnow. Amidst the blizzard apocalypse, the first long run of my January ramp-up training was staring me in the face.
I was determined to make this last pre-training run a good one but was already feeling treadmill burn out. My general rule of thumb when race training is that long runs should happen on the road. I'm not running my marathon on a treadmill, so I should probably not do my meaningful training ones on there either.
I moved my run up from Sunday to Friday, which meant that it would have to happen when my husband got home from work. I can handle 4:30 a.m. training runs on a treadmill, but not on creepy dark streets where every minute of Making a Murderer runs through my head.
Here's the thing: I'm a morning runner. I think you can classify runners as morning or evening runners and I DEFINITELY fall into the morning camp.
For years, I have conditioned myself to feel best when I run after first waking up, usually just with a little coffee and nothing more. My stomach is sensitive and I find that the less I have in it, the better I feel. Now with a baby, I find that in the morning my brain hasn't processed just how little sleep I've gotten and therefore it continues to be my preferred workout time. The evenings are for epsom baths and baby snuggles—am I right?
Enter panic.
Enter real life as a mom.
Because today I was doing my long run and I was doing it at 4 p.m.
In an effort to make sure my stomach was on board with my mind (a surefire run-ruiner otherwise) I basically reversed my meals. I ate a big veggie-filled salad with eggs for breakfast and a smoothie for lunch. I'm sure there were handfuls of snacks and spoonfuls of nut butter in between meals and nursing but I honestly can't remember. What I do know is that I wanted a meal that would give me lasting energy plus easy digestion (with ample time to digest) leading up to my run.
So, about 2.5 hours before go time, I made myself the following smoothie. The ingredients were purposeful and the taste? BEYOND delicious.
I turned to matcha, a green tea powder loaded with antioxidants, for some constant-streaming non-jittery energy. I knew coconut butter & coconut oil would digest slowly but easily. Coconut is a high energy food that the liver can use to provide lasting, slow-burning energy, which makes it a perfect choice for runners. The protein powder was also key here. I used Vega Sport Performance Protein (Disclaimer: I work for Vega but, objectively, I am also partial to the taste over lots of others that I've tried) which is a plant based protein powder rich in branch chain amino acids as well as probiotics, tart cherry and turmeric. All those are ideal for maintaining lean strong muscles and fighting inflammation. I know the ingredients in Vega are minimally processed and clean. In my mind it's the next best thing to whole foods and when you need a significant nutrient boost, such as protein, this is a great choice.
The verdict? I sucked it down in record time and then had the run of my life. Maybe it was coincidence. I'm sure it had a lot to do with the other ways I had prepared myself, too, but that run felt awesome and my stomach? Perfect. The negative splits didn't hurt either.
#killedit.
Easily Digestible Pre-Workout Smoothie
1 cup almond milk

1 frozen banana

1 tablespoon almond butter

1 tablespoon coconut butter

1 tablespoon coconut oil

½ teaspoon matcha powder

1 packet

Vega Sport Performance Protein

(vanilla or chocolate)

ice (as much as prefered)
Combine the following in a blender and enjoy 2 – 3 hours prior to your run.
Kim McDevitt is National Educator for Vega and a Registered Dietitian, specializing in sports nutrition and lifestyle optimization. Work with her at kimmcdevittrd.com or  find daily support through social @foodierunnergrl.