7 Things Every Runner Should Do During The Off-Season
The operative word in off-season? OFF. Here is what you should be doing with the down time to gear yourself up for training.
Heading out the door? Read this article on the new Outside+ app available now on iOS devices for members! Download the app.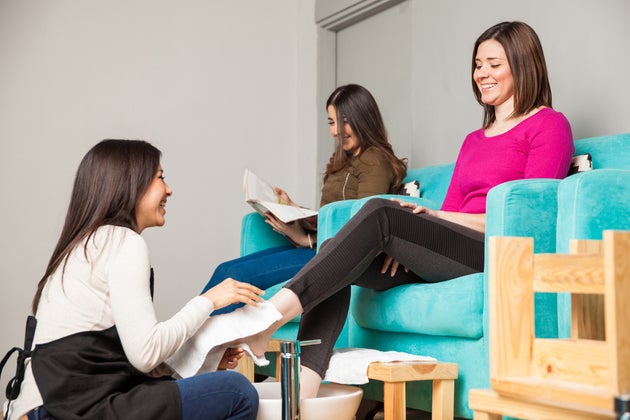 First, let me tell you what this article is not about: It's not about how you should do more yoga or strength training in your off-season. Don't get me wrong, yoga and strength training are amazing and can help your running in so many ways, however, I think those two practices get all the attention when it comes to what should be time to rest for your overworked mind and body.
Let's face it, when you come off of months of training for and then run a big race, the last thing you want to do is jump into more training and be dedicated to even more fitness. The purpose of an off-season is in the off—as in shut off, turn off and be off for at least a little while. Trust me, you need it.
Here are some original ideas to help you make your off-season a success.
Treat Yo' Self
Go ahead and get that massage, manicure and pedicure, because you have certainly earned it. This is the time for a little pampering and reward for the months of hard work that led up to your goal race. You did it and now you can relax (at least for a little while).
Focus On Weight Loss
Everyone now knows that weight loss and hard training do not go together. If you want to shed some pounds, this is your chance! You no longer need to fuel for long runs or make sure your recovery foods are doing their job. Now is the time to cut back on calories and focus on cleaning up your diet.
If funds allow, you may want to contact a registered dietitian (RD) to help analyze your food intake. A professional RD can not only help you reach a weight goal but, they will guide you in a healthy way, that will last until your next hard training cycle.
Plan Your Race Calendar
Wait a few weeks and then dive back in! Take some time to sit down and think about what you really want to accomplish next year and why, then chose your races based on those goals. Think outside the box with fun runs, smaller races, weekend getaways or maybe even your first 26.2 or ultra. Dream big and then recruit your friends.
Try Different Running Shoes
Your feet and running gait change over time, so if it's been awhile since you visited your local running shoe specialty store, now is the time to stop in. Most specialty stores will offer a free gait analysis and let you try numerous pairs of shoes that fit your form. Call ahead or check their website for special events or discounts.
Hire A Coach
If you have been toying with the idea of hiring a coach to take the guesswork out of your training log, you now have the time to do a little research. There are as many ways to be coached (online, in person, with a group) as their are coaches. Check out our tips for finding your perfect match and run happily ever after.
Get A Blood Test
A new trend is forming in the running community when it comes to overall health and fitness, and for good reason. Most primary care physicians do not know how to test and treat an endurance athlete, which is why companies like InsideTracker are being used by so many runners now (not just elites!). Their markers are designed specifically for athletes and are based on what a runner/endurance athlete's blood levels should look like for things like cortisol, testosterone, iron, cholesterol and much more.
If you have been struggling with fatigue or injuries, it may be worth it to see what is happening from the inside out.
Plan For The Worst
No runner wants to think about a season of injury but we all know it can happen. If you don't already have a team of physicians, physical therapists, chiropractors, personal trainers or massage therapists in your contacts, now is the time to seek them out and add them in.
When it comes to injury, prevention is key—but so is early treatment. Have a few professionals you can trust (and quickly get an appointment with) ready to go just in case the worst happens.
Most importantly, take enough time off. Everyone's offseason varies in length so choose yours based on how you feel. A good tip is to wait until you get really bored before you start running again. Your mind and body will thank you.