The 3 Things We All Beat Ourselves Up For—But Shouldn't
When working toward goals it's easy to beat yourself up when things don't go exactly as you envisioned.
Heading out the door? Read this article on the new Outside+ app available now on iOS devices for members! Download the app.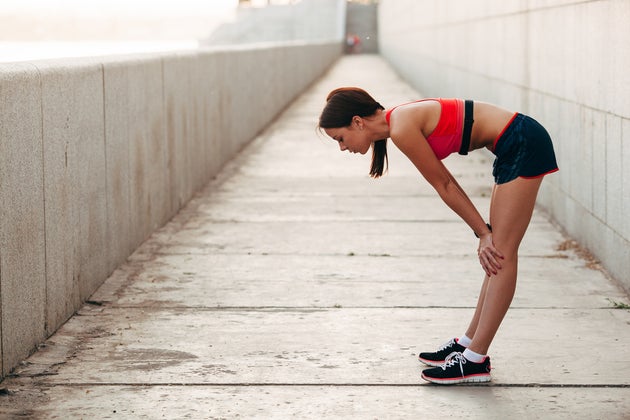 It is easy to get down on yourself when things don't go as planned—especially at a time of year when goals are at the forefront of the news and our minds. It is important to remember that life happens and not everything is in our control (something I have to constantly remind myself of as a Type A) and sometimes, you just need to cut yourself some slack.
Here are a few things I need to stop beating myself up about—and you should too.
Missing A Run
In the past when I would miss a run, it would often lead to missing two or three runs…all because I spent time wallowing that I messed up my whole training schedule. The truth is, missing one run isn't the end of the world. Sometimes, your body needs a break and it is great about telling you that. If you feel like you need to rest one day? Rest. Listen to your body. And if you really want to get moving, go for a walk, instead. You'll still feel like you're working toward a goal, while giving yourself a break.
Eating That Hamburger—Instead Of A Salad
Before I was seeing a nutritionist, I was the queen of eating way too much for a meal and feeling disgusting for hours afterward. Now I have learned it is all about balance—and that balance includes being able to not eat perfectly every meal and realizing it won't derail my goals. If I am making healthy choices 80-90 percent of the time, I am on track. If I am depriving myself of those meals I love (In-N-Out Burger is my vice) then I am more likely to go crazy when I can finally have it and feel bad about myself afterward. So if you have a hamburger for one meal because it sounded better than that salad you had planned? You are fine. Just eat clean the next meal. You'll be fine.
Pushing Yourself To Injury
It is easy to push yourself a bit too hard when working toward a goal that you really want. Not being able to run because you are injured is a bummer—especially if it is because you ran a bit too fast and a bit too far when your body wasn't ready. But the best thing you can do in that situation is to seek help. Be honest about why you got injured, follow the recovery plan and learn your lesson for the future; next time you want to push yourself beyond your limits, remember what can come of that and pace yourself.