9 Steps To Getting That Perfect Mid-Race Photo
"Photogenic runner" isn't an oxymoron! Follow these easy tips to look ridiculously awesome in all of your future race photos.
Heading out the door? Read this article on the new Outside+ app available now on iOS devices for members! Download the app.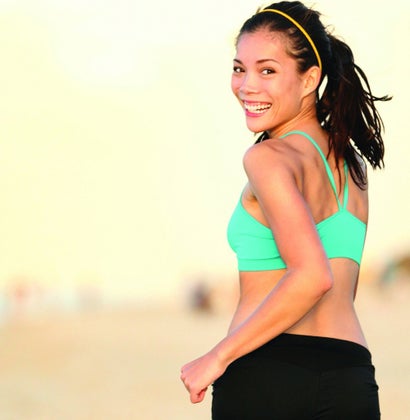 Some runners have all the luck when it comes to looking fab in race photos. The other 99.9 percent of us, however, look half asleep, super sweaty and utterly pain-stricken in every single shot from the racecourse. And that's totally cool—it's a race, not a fashion runway. But if you're interested in having a few framers snapped at your next half marathon, read on for pro advice to rock your race shot.
1. Skip the Kardashian look.
Go easy on the makeup. Gobs of thick foundation simply won't make it to the finish line. Instead of a heavy base that will smear, try a tinted moisturizer with SPF for coverage.
2. Curl your lashes.
Mascara can run when you sweat, not only giving you the raccoon look, but also stinging your eyes. Lauren Gott, runner and founder of Lauren Gott Makeup, says, "Instead, use an eyelash curler—I recommend the Shu Uemura brand—to help you look awake. If you have light lashes and feel like you really need mascara,  go with a waterproof one." She likes Benefit BadGal Lash Mascara ($19, benefitcosmetics.com).
3. Keep your hair simple and out of your face.
Flyaways are sort of a photo buzz kill. A baseball cap will do the trick, but if you don't like the hat look, go for a fun headband, like the ones from Sparkly Soul ($15, sparklysoul.com). "They keep my short hair out of my face, stay in place and are bright and sparkly—you can't beat functional and cute!" says Jen Matz, the blogger behind This Runner's Trials.
4. Smile early.
While a lot of runners will smile at the camera, many do it too late. "Keep in mind that the photographer starts snapping from a distance, so smile as soon as you see her or him," says Matz.
5. Consider heel clicks carefully.
If you want to go for the fun jumping shot, take heed. The popular heel click is a risky pose, according to experts. "I generally recommend against it. It requires perfect timing by the photographer, and as you jump up, the camera may lose focus on you and lock on the background," says Michael Skelps, founder of Capstone Photography, which covers races like the Hartford Marathon. Skelps adds that waving doesn't work well either.
6. Run closely with your partner.
If you have a running buddy, run close together when you spot the shooter. Skelps recommends a mere six inches apart to ensure you're in the same frame. Feel free to give yourself more breathing room once you pass the photog!
7. Run near the curb.
The photographer will be on the edge of the course, so it's easier to find you if you're there as well," says Jim Davis, founder of Marathonfoto, which covers major races like the New York City Marathon and the Boston Marathon. "Try to stay a few feet away from other runners. Also look to the side to see where the photographers with the bright-colored vests are and make sure there isn't another runner between you and the photographer."
8. Finish with your head up.
Your natural reaction at the finish of the race may be to look down and stop your watch, but your chip will record your exact finish. Instead, focus on keeping your head up. "This is important because the finish line photo is taken from the photo bridge behind the line," says Davis.
9. Remember: Safety first.
Don't risk your race—or safety—to get a perfect shot. "Never run across a course to make sure the cameraman catches you. You—or another runner—could get hurt, so it's not worth the risk. Just wait for the next photo opp!" says Matz.