You Have To Try This Sweet Potato Tot Recipe For Your Next Run
Sweet potato tots during your next run? Don't mind if we do!
Heading out the door? Read this article on the new Outside+ app available now on iOS devices for members! Download the app.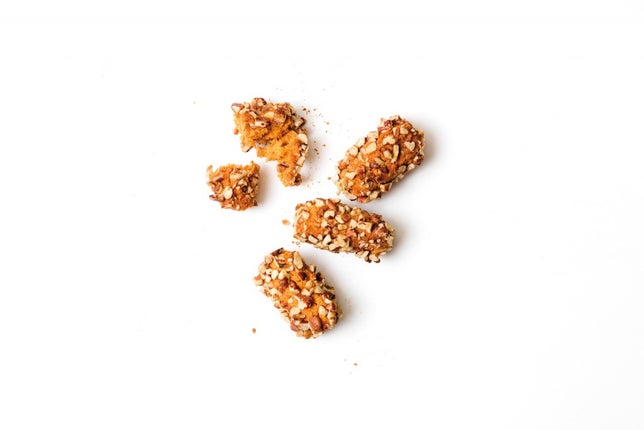 Republished with permission of VeloPress from Rocket Fuel: Power-Packed Food for Sports and Adventure by Matt Kadey, RD. See more recipes at www.rocketfuelfoods.net.  
Tender on the inside with a nutty crisp on the outside, these energy bombs flip a switch that tells your body to mover harder, faster, and longer. So grab a bunch and get out there. The secret ingredient is coconut flour, which works its magic to absorb some of the excess moisture from the mashed potato so the tots will firm up and better keep their shape during transport. To make these even more crave-worthy, mix a couple of tablespoons of molasses into the potato mash.
Dairy-free, Gluten-free, Paleo-friendly, Vegan or Vegetarian
Servings: 12
Active Time: 25 min.
Ingredients
1½ pounds sweet potatoes (about 2 medium-sized), peeled and cubed
¼ cup coconut flour
½ teaspoon cinnamon
¼ teaspoon salt
¾ cup finely chopped pecans
2 tablespoons coconut sugar or brown sugar
Directions
Steam or boil sweet potatoes until fork-tender. Place cooked sweet potato in a bowl and mash until smooth. Stir in coconut flour, cinnamon, and salt. In a separate small bowl, stir together pecans and sugar.
Preheat oven to 375°F and line a baking sheet with parchment paper or a silicone baking mat. Scoop out sweet potato mixture by the tablespoon and roll between hands into a cylindrical shape. Roll in pecan mixture and place on baking sheet. Chop more pecans if needed. You should have about 24 tots.
Bake for 40 minutes, flipping halfway, or until golden on the outside. They will firm up further upon cooling. Tots can be kept in the refrigerator for up to 5 days. If you want to enjoy them warm as a snack, simply microwave tots for about 30 seconds.
Game Changers: Season with allspice instead of cinnamon + Use finely chopped walnuts instead of pecans + Substitute date sugar for coconut or brown sugar
Related: This Apple Sweet Potato Mash Recipe Is Pre-Run Gold