It's Science: Imagining The Run Can Benefit The Actual Run
It may sound crazy, but recent studies show how you can improve your performance by imagining and picturing yourself at the gym or on a run.
Heading out the door? Read this article on the new Outside+ app available now on iOS devices for members! Download the app.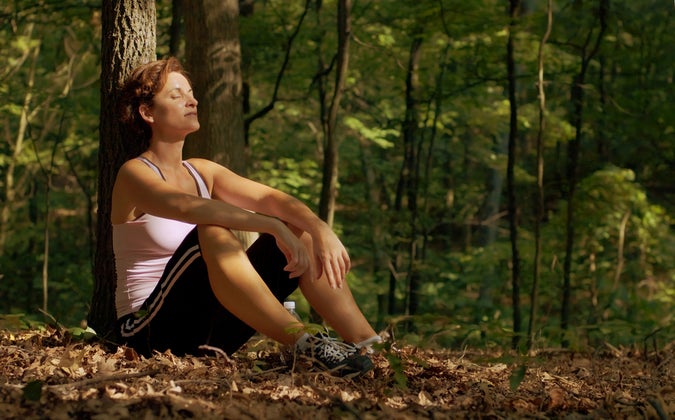 Thinking about going for a run? Good news: You're already improving.
While the traditional theory of physical activity tells us that the fastest way to improve athletic performance is through countless sweat sessions, scientists seem to have found a different approach to boosting your fitness—without even breaking a sweat.
Through a number of recent studies, sports scientists have shown that just imagining yourself exercising can mimic the effects of actual physical activity, setting you up for improved sports performance. And while there are limitations to this practice, it appears that using your mind as an aid to reach your goals is a real possibility.
Imagination Runs
According to Dr. Jim Davies, a cognitive scientist and the author of Riveted: The Science of Why Jokes Make Us Laugh, Movies Make Us Cry, and Religion Makes Us Feel One with the Universe, when you imagine yourself performing an action, your brain thinks your body is actually doing it and reaps the benefits of that supposed movement. For runners, picturing runs in your mind could even increase your endurance and better prepare you for workouts.
"Imagining exercise increases your breathing and heart rate," Davies says. "This could potentially increase your cardiovascular system, making physical activity easier."
While most of the studies on this topic focused on competitive athletes, Davies says that even amateur exercisers can use this theory to benefit their daily workouts, especially those you expect to be particularly difficult.
"Imagine difficult experiences—such as bad weather or a hilly part of your run—and then picture yourself pushing through it," he says. "Your mind is practicing that situation so you're not unprepared for it if and when you actually experience it."
In fact, while you're going through the workout in your head, your brain is actually developing muscle memory regarding how it should act in that particular situation. This means that your brain won't have to think about what your body should do when faced with difficult circumstances—your body will just follow what you know (or actually, what you think you know).
How To Brain Sweat Effectively
Like most forms of exercise, there is a right and wrong way to partake in mental workouts, and the most important thing to remember is that this practice is not a replacement for actual physical activity. While the brain can mimic the effects of a workout, there's a limit to those benefits. Research has shown that 20 minutes of imagination sweating is the sweet spot for optimum results. Any more or less than that, and you're not reaping any additional performance benefits.
And contrary to what you might think, Davies says you should avoid picturing yourself crossing the finish line of a race or winning a game and, instead, think about the process of getting there.
"You should imagine yourself putting in the work to overcome the hard times," he says. "When you imagine the accomplishment, your mind acts as if you've already done all the work when you actually haven't done anything yet."
Unfortunately, there hasn't been any evidence that suggest mid-run envisioning can benefit the remainder of your workout. This practice is best suited for pre-sweat timing to prime you for the hardships you're about to undertake.
Imagining Success
The awesome part of this theory is that it can be replicated across multiple aspects of your life, including your job or a home project. A big meeting at work or particularly difficult task at home can feel not so daunting by thinking ahead. Similar to the guidance for mental workouts, Davies recommends against picturing yourself getting the promotion or completing the project and says we should focus on what it takes to get there.
"Imagining achieving your goal can be counterproductive," he says. "Interestingly, this can lead your mind to not do the work you need to do."
From a promotion at work to that elusive 5K PR, it seems that pre-workout mental workouts could be key to achieving whatever goal you're trying to reach. With the combination of preparing your body for hard work and the sweating itself, you could be well on your way to achieving your toughest challenges.