A Runner's Guide To Managing Allergies
Spring is here, which means that allergies are, as well. Here are five things you can do to stay running strong amid the sneezes.
Heading out the door? Read this article on the new Outside+ app available now on iOS devices for members! Download the app.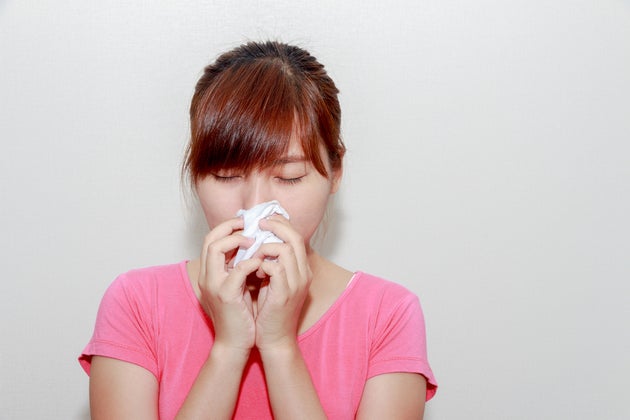 Finally! The weather runners have been waiting for has arrived! However, most of us could do without the accompanying sneezing, itching and watery eyes that too often accompany the change of season. If you battle allergies while running, this article will help teach you best practices for running outside while mitigating the symptoms of spring!
Medicate
With plenty of seasonal allergy medications to chose from, you should have no problem selecting one that works for you. Beware of allergy meds that may cause drowsiness (for obvious reasons) and perhaps take the medication before bed to mitigate the chances of it interfering with an early morning run.
Hide Your Head and Eyes
Hats and sunglasses should be worn to protect your skin and eyes from the sun but perform double duty in the spring, preventing pollen from getting into your hair, face and eyes. You also never know when a spring rain may pop up and you will be happy to have the hat!
Warm-up Inside
If you're especially sensitive to pollen or other allergens, you may want to warm-up where you can breathe best—indoors. You know how quickly you sometimes get out of breath at the start of your run as you go from stillness to a 9-minute mile? That lack of oxygen can only be exacerbated by inhaling pollen. Do yourself and your lungs a favor and do a dynamic warm-up indoors prior to your spring runs, at least for a few weeks.
Rinse Off, Repeat
After your run, start by leaving your running shoes in a garage or other covered area outside of your living space. Shoes and clothing can track pollen and other allergens back into your home and spread quickly. As soon as you can, strip off your running clothes and hop into the shower to rinse away anything you may have picked up on the run. And, the sooner you can get those clothes into the washing machine, the better.
Anti-Inflammatory Eats
A daily spoonful of local honey has long been known to help combat allergies but, did you know that foods like apples, broccoli, kale, citrus fruits, spinach, garlic and avocado can help as well? Well, now you do.
The one benefit to running with seasonal allergies? You have plenty of time to perfect that snot rocket! Aim well and breathe easy.