How To Run A Marathon Without Looking At The Clock
Sometimes you just have to run 26.2 for the experience.
Heading out the door? Read this article on the new Outside+ app available now on iOS devices for members! Download the app.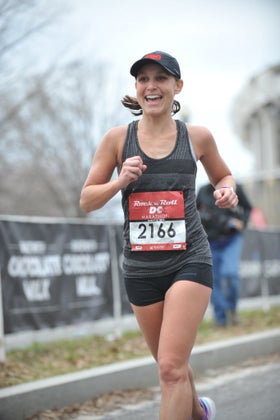 "Goooooo Dorothy." I heard it loud and clear. Though I had headphones in my ears, they weren't on. I wanted to save the music for a harder point and experience the energy from the crowds.
For a moment I thought, wait is my name on my bib? Nope. I squinted my eyes to see who it was in the distance cheering me on.
Oh my goodness, it was a friend. An instant smile washed over my face as I ran towards her. I opened my arms to hug her, a reaction that shocked me. The me of years past, the me who was so focused on the clock, would have never considered hugging someone during a race.
As I ran away from her, I thought, "Did you really do that? You hugged her. You stopped in a race and paused to hug someone. You thought nothing of the time clicking away on the clock, nothing of whether that momentary stop would mess with your stride. You let the joy of running work its magic."
That joy kept flowing as I found myself high-fiving little kids on course. I was losing seconds, but I was gaining more and more joy as the miles wore on. Maybe you only lose seconds if they take away something from you? I was trading these seconds in for more joy.
As the race wore on, I saw more people I knew. Instead of sticking to the side of the road I was on, I crossed over to say hi. Surely I lost more seconds there. "That's not running the tangents Dorothy." The old me would have tucked my head down and thought, nope I don't have time for that.
As I ran past water stops I strategically picked children to grab my water from. Children who smiled as I grabbed that water cup. They traded water for some of the joy that was oozing off of me.
When it got tough in the later miles, there were no negative thoughts. Those thoughts were replaced with ones of a sense of gratitude. "Wow this is so cool. I'm around so many people doing what I love. People who are struggling, enduring, pushing, conquering. I love running."
In the last miles of a marathon, there is a fight. An internal battle between the body and the mind.
A battle where my head says, "Body we are not done today—get yourself together." My body hurts and it wants to slow or stop, or give up on marathons all together. My mind tells my body, "Okay this is the last one. You don't have to run another one ever again if you just push."
My body knows better. It knows this is the same lie that the mind has told it before. It knows the marathons won't stop and it knows that pushing hard has never been enough. It's pushed hard before. It's pushed hard to squeak in under 4 hours. It pushed harder to run a Boston Qualifying time. It's pushed at Boston, only to have the mind tell it that re-qualifying at Boston wasn't enough—you should have pushed harder. It's pushed harder and run close to 3:30 and again the mind said it's not enough. It trained and pushed even harder after growing three humans and took the mind to a sub 3:30, then a sub 3:20. The mind said "We can run faster. You aren't pushing enough." The body ran a 3:11 and the mind was happy, for a moment. Then the mind said, "It wasn't the sub 3:10 you trained for. You gave up. You should have pushed harder."
The body is tired though, tired of pushing, pushing as it watches the joy leave the mind. The joy that got the body moving in the first place. The body wishes that the mind would realize that a faster time doesn't bring contentment. That contentment comes from a feeling separate from time. It allows the mind to be okay with whatever the body has that day and to find the joy on fast days, slow days, happy days, and sad days.
The body wonders if one day the internal thoughts of the mind will change. Will the battle ever end? Will what I the body do ever be enough?
On a beautiful March day, while running 26.2 miles for the 31st time, the body and the mind became one. The mind said I'm happy. Whatever the body gives me today I'm happy because I love running. The body smiled. Finally. Finally, I run this body.