What To Do When A Running Friendship Turns Sour
When a running friendship turns sour, follow these six tips to see if you can get it back on track.
Heading out the door? Read this article on the new Outside+ app available now on iOS devices for members! Download the app.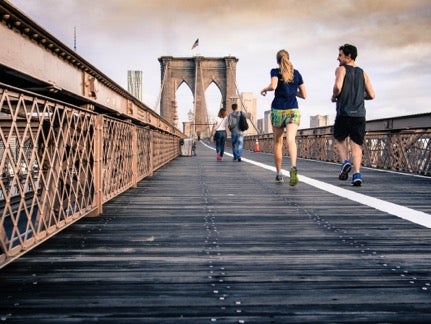 Running with a partner has a lot of benefits. You can help push each other if one of you is struggling, they can help you maintain your pace and they often provide good conversation and company. But sometimes people get competitive and become hard to deal with. What starts as fun and friendly competing can quickly turn into something else. When that happens, here are some tips on how to deal.
Related: How To Handle That Overbearing, Micromanaging Running Buddy
Take Notice When It Turns Toxic
There's a good chance this isn't going to happen right away. Toxicity builds and often stems from jealousy or envy. Maybe your time is slightly faster than theirs or your body has taken to running better. There's something they've found or noticed that they can't stop thinking about, so it just builds inside them.
You can tell when things start to turn. If your running buddy is suddenly pushing themselves extra hard to beat you or ignoring your attempts at friendly running conversation, these could be signs. Notice what's changing about their normal behavior. Envy can be a powerful motivator—but not if it alienates a friendship along the way.
Try To Get Them To Open Up
Understanding the root of the problem can help eliminate it. Tell your friend that you've noticed they haven't been the same lately and ask if something's wrong. It may take a little more to get them to open up to you, especially since they might be making you their problem.
If they do open up, talk things through. See if there's any way you can help. Envy often comes from an irrational place, so there may not be much you can do. Still, letting your friend know you're there and allowing them to vent and talk through their issues may ease the tension.
If your running buddy doesn't open up, don't pry. If you're always bugging them to talk to you, that's going to make them resent you even more. Just let them know that you're always there for them if they do ever want to talk things over.
Make Your Running Group Bigger
Instead of seeing running as something you enjoy doing together, it's possible your friend has turned it into a competition. See if you can get others involved or plan a running event to try to make things fun again. Put together a fundraiser or something to help the community while you do it. October is Breast Cancer Awareness Month—instead of a Pink Out party to raise awareness, try to put together a Pink Out 5K.
Coordinating a running group or focusing on running for a cause may help remove the competition aspect of your running relationship. Help your friend remember how much they enjoy the sport. Running with a bigger group also means that there are more people for them to match their pace with, so if your faster pace is part of their problem, this can help remedy the situation.
If you plan an event with your friend, it could also help them see what a great team the two of you are. Besides, that's why you run together—and are friends—in the first place. It can help open their eyes to the things they ignored while they were focusing on negativity.
Put The Plans In Their Hands
Are you the one who always picks where and when you run? This could be an issue. Make sure that there's equal input between the two of you. Let your friend pick some new routes they want to try out. You may have naturally fallen into the planner role without even realizing it, and that could be making your partner bitter.
Make A Change
Instead of running, try a new kind of exercise, maybe one that caters more toward your friend's strengths. Suggest basketball, yoga, a kickboxing class, swimming—anything new to shake up your routine. Your partner could find something that they truly excel at, which could quickly boost morale. This way, you can even the playing field by alternating between running and a new type of exercise.
Cut It Off
When all else fails, you know what you have to do. Sometimes friendships aren't sustainable—and that's part of life. Stop reaching out to plan your runs for the week. Switch up the times that you go so you don't run into your friend if you think they'll keep the same routine. There are times when it's best to halt communication.
If your running buddy asks why you aren't running together anymore, place the blame on yourself instead of them. Explain that life is busy, and you didn't want to ask them to work around your hectic schedule.
Running partners are great to have and it's important that they bring out the best in each other. One shouldn't drag the other down. See if the relationship can continue to be beneficial, and go from there.
Corinne Keating is a health and wellness writer based in Philadelphia, Penn. Check out her blog Why So Well to read her latest articles and follow her on Twitter @corikeating.
Related:
Why The Bond Between Running Buddies Is So Special
Who Makes The Best Type Of Running Buddy?