These Pumpkin Cupcakes Are Low In Sugar And High In Flavor
Why not swap out pie for some pumpkin cupcakes? With only 12 grams of sugar, you won't feel guilty one with any holiday dinner.
Heading out the door? Read this article on the new Outside+ app available now on iOS devices for members! Download the app.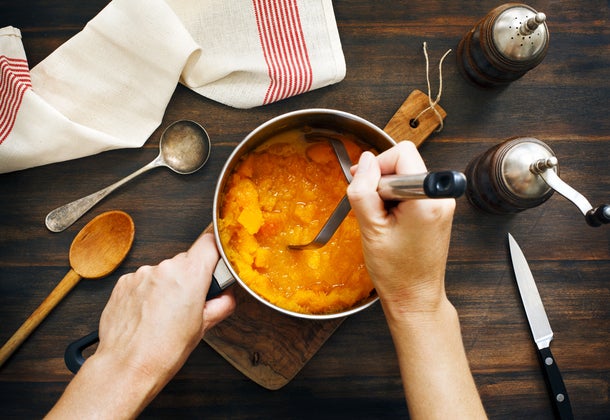 *This recipe appears in the Naturally Sweet cookbook from America's Test Kitchen
Many pumpkin-flavored desserts fall into the same traps: They're overly sweet and so heavily seasoned with pumpkin pie spice that the pumpkin flavor is completely hidden. To avoid the same mistakes, we started with unsweetened pumpkin puree, avoiding cans of overly sweet pre-seasoned pumpkin pie filling. This allowed us to completely control the sweetness level and the spices that went into our cake.
Cinnamon, allspice, nutmeg, cloves, and ginger are the go-to seasonings for anything pumpkin-flavored, but we wanted to keep the profile more simple and streamlined. We found that 1 teaspoon of cinnamon was plenty, while small amounts of allspice and ginger added the right background flavor.
With the pumpkin and spice flavorings nailed down, we turned our attention to the texture of our cupcakes. Perfect pumpkin cupcakes should be moist and velvety, but our cakes were ending up damp and leaden. To help open the crumb and make the cake more tender, we used 1 teaspoon of baking powder and ½ teaspoon of baking soda.
Achieving the right moisture level was a matter of finding the right combination of oil and eggs. Too much of either (or both) would weigh the cupcakes down further, but with too little the cakes would be dry and overly crumbly. We finally settled on a combination of two eggs and ½ cup of vegetable oil for cupcakes that were tender, fine-crumbed, and perfectly moist.
We prefer the flavor of Honey Cream Cheese Frosting on these cupcakes. You can skip grinding the Sucanat in step 1; however, the cupcakes will have a speckled appearance.
Pumpkin Cupcakes Recipe
Makes 12 Cupcakes
Ingredients:

1/3 cup plus ¼ cup (3 ounces) Sucanat
1 cup (5 ounces) all-purpose flour
1 teaspoon ground cinnamon
1 teaspoon baking powder
1/2 teaspoon baking soda
1/2 teaspoon salt
1/8 teaspoon ground allspice
1/8 teaspoon ground ginger
3/4 cup canned unsweetened pumpkin puree
1/2 cup vegetable oil
2 large eggs
1 recipe Half-Batch Honey Cream Cheese Frosting
Directions:
Adjust oven rack to middle position and heat oven to 350 degrees. Line 12-cup muffin tin with paper or foil liners. Working in 2 batches, grind Sucanat in spice grinder until fine and powdery, about 1 minute.
Whisk flour, cinnamon, baking powder, baking soda, salt, allspice, and ginger together in large bowl. In separate bowl, whisk Sucanat, pumpkin puree, oil, and eggs until smooth. Using rubber spatula, stir Sucanat mixture into flour mixture until combined.
Portion batter evenly into prepared muffin tin. Bake cupcakes until toothpick inserted in center comes out with few crumbs attached, 15 to 20 minutes, rotating muffin tin halfway through baking.
Let cupcakes cool in tin for 10 minutes, then transfer to wire rack and let cool completely, about 1 hour. (Unfrosted cupcakes can be stored at room temperature for up to 3 days.) Spread frosting evenly over cupcakes and serve.
Before: 22 grams sugar → After: 12 grams sugar