What Postpartum Runners Need To Know About The Pelvic Floor
Here's one of the most common issues after birth.
Heading out the door? Read this article on the new Outside+ app available now on iOS devices for members! Download the app.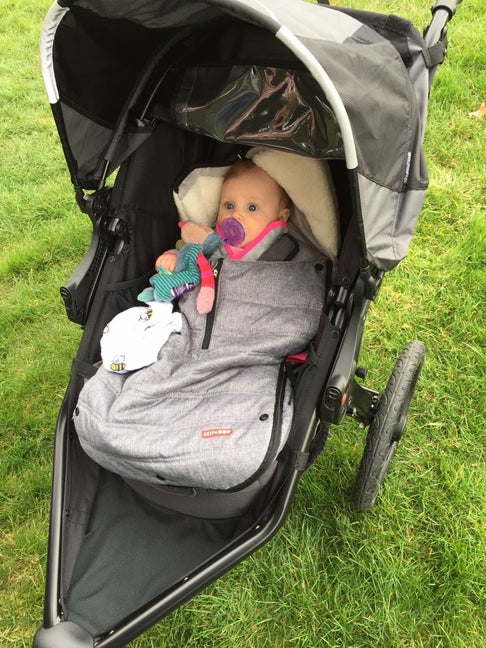 In my February post to you, I declared my ultimate goal of qualifying for Boston in 2017 and doing it at The Pocono Marathon this May. It was an ambitious goal, seeing as how I would be just 6.5 months postpartum at the time of the race. But, training was going really well. I was slowly getting stronger and faster and I was doing it smarter.
Then I got injured. It was an injury that can be so common and also so confusing to postpartum women out there.
I have a flare up of my pelvic floor. To be even more specific: The left side in one specific spot, VERY deep inside of me, is spasming and as a result is causing pain that radiates around what feels like my groin muscles.
The good news is three fold:
I identified it

I sought help, in the form of physical therapy, as soon as possible

I'm responding well to the therapy and in just 1 week have seen close to 80 percent improvement.
The bad news:
Yup, you guessed it. Not running the marathon. Actually, I'm currently not even able to run for 5 minutes without pain, so when I can run a mile, that will feel like a victory.
RELATED: Post-Natal Running—Rebuilding Your Pelvis After Baby
I've been through all the emotions. I moped like a sad sack for a solid week (I still have my moments). There have been tears, anger and worry. And then there was relief. And now hope.
See the thing is, I, like many women runners out there, dialed back the intensity of my running for close to a year in order to get pregnant with my baby girl. Six months into pregnancy, running no longer felt good and I stopped. So after "doing my time," getting the green light from my doctor and having no signs of pain or discomfort, I was celebrating with the best training cycle of my life. There was a fire lit under me and I had my beloved running back. Then, just when it started to feel oh-so-good, BOOM, gone again.
But I'm finding the silver lining in this. Pelvic Floor issues are MUCH more common than we hear about, and I'm on a mission to spread the word. Because even when you're feeling strong, healthy and ready to conquer the world again, your body might not be. The postpartum body is a crazy, crazy thing and I'm suddenly realizing that it's still not mine again (this is especially true with breastfeeding).
Here's the 411 on Pelvic Floor:
Your pelvic floor is one of the muscles that forms your "deep" or "inner" core.

It supports your

bladder, womb (uterus) and bowel (colon).

It is connected to your diaphragm, multifidus, and transverse abdominis and can be influenced and affected positively and negatively by tight hips, hamstrings, groin and glutes.
About Strengthening Your Pelvic Floor:
You can have a strong pelvic floor and still have issues. But, if you're pain free, typical exercises for "pre-hab" include kegels, hip and glute strengthening and core work.

Sounding counterintuitive, relaxation of the muscles is actually just as important.

Learn how to breath into your pelvic floor, expanding and relaxing the muscles.
Signs you may have pelvic floor weakness or dysfunction:
Deep pain in your groin/pelvic region.

Urinary or bladder incontinence. (Do you pee a little every time you sneeze?)

Pain during sex.
What to do if you suspect an issue:
Make an appointment with your OBGYN and get a referral to a PT.

Rest.

Avoid above strengthening exercises until pain subsides.
I had a very easy pregnancy and delivery. I had minimal tearing and few stitches. I healed well.  Did I expect this? No. Did my running cause this? Definitely not.
But what we need to remember is that even though our mind tells us we're ready to go, our babies are still little and our bodies may still be a step behind. It took 9 months to grow this sweet little thing and it will take at least 9 months for your body to be back functioning 100 percent at its pre-baby level, though typically longer.
RELATED: Body After Baby—How Pregnancy Affects Runners
So, alas, we set goals and we reset. We schedule races and we reschedule. One of these days, I'll get you one of these days, Boston. But for now, I'll remain grateful for a healthy baby and a clear diagnosis and focus on strength and recovery.
Read more about my story with Pelvic Floor Dysfunction and feel free to directly  reach out to me if you are looking for support.