There's One Trick That Made Me A Morning Runner
After struggling to become a morning person for years, one runner has finally found the key to success.
Heading out the door? Read this article on the new Outside+ app available now on iOS devices for members! Download the app.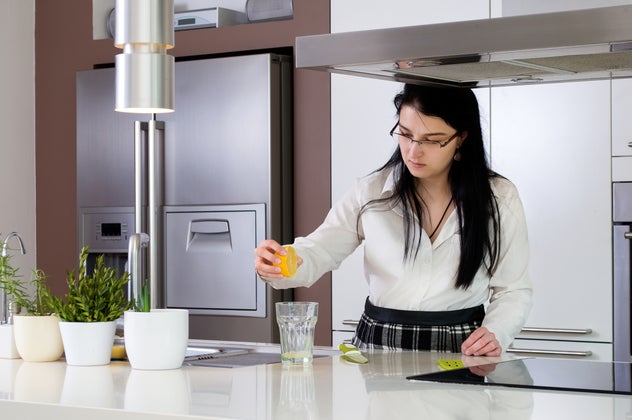 Let me start by saying that I am NOT a morning person. I dread waking up every day, keep a bottle of eye drops on my nightstand, and no matter what time I go to bed, I never feel rested enough to jump up and greet the day. So the thought of going for a run before my coffee's kicked in is the stuff of my nightmares—literally. But as the mom of a toddler, my energy only goes downhill as the day goes on, and the brutal summer weather doesn't leave much time to run before the pavement turns hot enough to melt my shoes. So out of sheer desperation, I decided to attempt to become a morning runner.
I tried all the tips I could find to be my perkiest self, from laying my clothes out the night before to waking up to an upbeat song, and while those were all well and good, there was only one thing that actually made a bright-eyed and bushy-tailed difference: lemon water.
To be specific, what worked for me was a mug of water, microwaved for exactly 70 seconds till warm, with half a lemon squeezed in, sipped first thing after waking up. I've been reading about the countless benefits of warm lemon water for years and have made it a habit on and off, although to be honest it was more to be a part of the trend whenever some celebrity would swear by it than for any specific effect. But after coming across the tip in just about every "morning person" article I read, I had to commit. And I'm so glad I did—after a couple weeks of adding this ritual to my morning, I was able to get out the door and get a few miles under my belt before the sun had a chance to get me. Some mornings—and this is huge for me—I was even able to do it without any coffee.
RELATED: 4 Foam Rolling Exercises For A Better Morning
If you're dreaming of becoming a morning runner too, try the lemon water trick. It has a few key benefits for runners, and I promise it's more than just the latest trendy celeb tip. It really does work for us regular people too—here's why:
It's insanely energizing
You know how when you use lemon-scented cleaners around the house, you just feel a little brighter (no? just me?)? It turns out the scent of lemon is known for its calming and stress-reducing properties, which can help you feel focused and concentrate on the workout in front of you. Lemons are also packed with potassium, which revs nerve and brain function, as well energy-producing electrolytes. Translation: tons of pep in your step.
It gets things going
Even if you manage to make it out of bed, it's still next to impossible to get going if you feel bloated or weighted down from last night's heavy meal. Not only does the acid in lemon help break down food in your stomach, drinking water, and particularly warm water, gets your digestive system up and running, so you can do the same.
RELATED: On Becoming A Morning Person
It's incredibly hydrating
After a (hopefully) long night of sleep, your body is in serious need of H2O. Making water the first thing you put into your system will jump start the hydration process, and those energizing electrolytes in lemon also help replenish your body's fluids. Any runner who's ever tried working out dehydrated knows how fruitless it is, so setting yourself up with plenty of water first thing is half the battle of getting yourself out the door and into an awesome a.m. workout.