Here's The Real Reason You Need To Wear Sunscreen All Year
We associate the need for sunscreen with bright, sunny days—here is why that way of thinking can be dangerous for your skin.
Heading out the door? Read this article on the new Outside+ app available now on iOS devices for members! Download the app.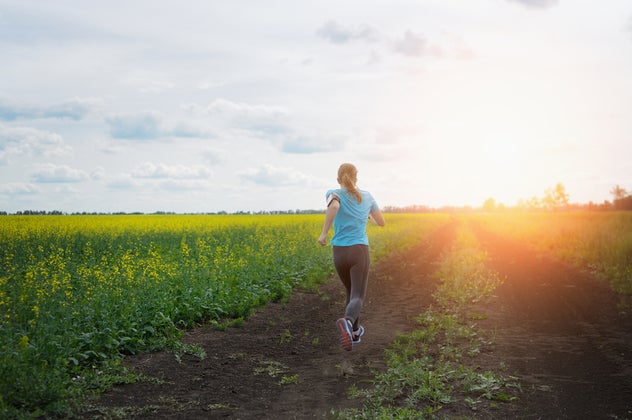 For all of the upsides of running, it's a given that you'll spend time in the sun—and that takes a toll on your skin. Exposure to damaging UV rays breaks down elastin, leading to accelerated signs of aging and a greater chance for skin cancer. Think you don't have to worry about this now that autumn has arrived, or you're safe because you hit the treadmill? Unfortunately, UV rays are a concern all year round regardless of the temperature, and sun exposure happens even as you drive to the gym. So what's a runner to do?
One thing is for sure—don't stop running! We took our skin care questions to Dr. Mitchell Chasin, a cosmetic surgeon and founder of Reflections Center for Skin and Body in New Jersey.
Is there a difference between generic sunscreen and name brands?
Dr. Mitchell Chasin: When it comes to sunscreens with physical block ingredients, the biggest difference people notice is the look and feel of the product on your skin. Many generic brands that contain zinc oxide tend to give a white cast and might have a gritty or greasy feeling. This doesn't have anything to do with the effectiveness of the product, but if a better-looking and-feeling product makes you more likely to wear sunscreen, go with that.
What do you suggest for those who sweat a lot?
Dr. Mitchell Chasin: So-called "waterproof" sunscreens are a good idea, but you've got to be mindful that no product is "rub-proof" or "drenched-in-sweat-proof." If you're wiping sweat off, you're likely wiping sunscreen off too. That means you need to think about reapplying. Also, be sure to apply a coat of sunscreen at least 20 minutes prior to your run, so it has time to absorb fully before sweat washes it away.
What SPF level do you recommend?
Dr. Mitchell Chasin: SPF 45 seems to be the new standard beyond which physicians agree there is little added benefit. I always let women know that the sunscreen in makeup, which is usually SPF 15 or less, is not enough. You need to layer a real sunscreen for daily wear. Also, don't neglect the neck, chest and hands—sun damage there is harder to correct or cover.