Natural Beauty Routines for Glowing Results!
Boost the health and appearance of skin, hair, hands and feet with a little help from your fridge!
Heading out the door? Read this article on the new Outside+ app available now on iOS devices for members! Download the app.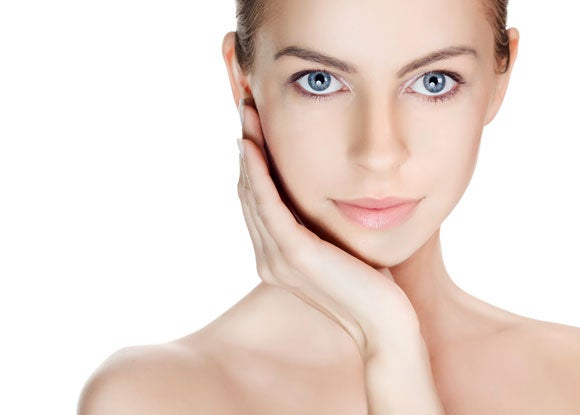 Give your beauty routine a fresh new look. We rounded up a team of experts, including a top dermatologist, spa director, skincare mogul and beauty blogger to unearth their best tricks for getting stunning—naturally. Start with fresh food ingredients right from your pantry and end with glowing skin and hair.
HEALTHY HAIR
Nourish hair back to life with easy-tomake masks created from kitchen essentials, courtesy of Ron King, celebrity hairstylist and owner of Ron King Salon in Austin, Tex.
CLARIFY: Apple cider vinegar has many tress-friendly benefits. It clarifies the scalp by unclogging hair follicles that hinder growth and create buildup.
Recipe: Mix equal parts water and apple cider vinegar and rinse hair with the solution.
TONE: Not only is milk good for your bones, it's also good for your mane. The enzymes in milk can tone down brassiness and refresh hair color.
Recipe: Heat 1/2 cup of milk until it is warm to the touch. Jump in the shower and pour warm milk on hair. Let sit for 10 minutes before rinsing.
SOOTHE: The daisy-like flowers of the chamomile plant have long been used to soothe all kinds of ailments affecting the body and scalp.
Recipe: Steep 2 chamomile tea bags in warm water. Rinse hair with tea while in the shower to soothe an itchy scalp.
MOISTURIZE: Bananas are rich in potassium and natural oils that help soften hair, while yogurt and honey contain rich emollients that provide hydration.
Recipe: Mash 1 banana and blend with 3 Tbsp. honey and 1/2 cup plain yogurt. Coat hair with the mixture and let sit for 10 minutes before rinsing.
RELATED ARTICLE: NATURAL BEAUTY
FRESH FACE
Revive skin with recipes from dermatologist Gary Goldenberg, M.D., assistant professor of dermatology and pathology at Mount Sinai School of Medicine in New York City.
EXFOLIATE: Oatmeal gently exfoliates without irritating skin and honey is a natural humectant, which locks in moisture.
Recipe: Combine 1 Tbsp. ground steel-cut oatmeal, 1 Tbsp. honey, 3 Tbsp. almond milk and a squeeze of lemon. Apply to skin, let sit for 5 minutes and then wash off.
TREAT: Soy is an excellent source of protein and antioxidants, which reduce the visible signs of aging. Cucumber clarifies and cools.
Recipe: Combine 2 Tbsp. honey, 1 Tbsp. soy milk, and 1 tsp. cucumber juice (make beforehand by whizzing cucumber in a blender). Apply to skin, let sit for 5 minutes and then rinse off.
TONE: Oranges are full of vitamin C, which improves skin texture and restores collagen. The antioxidants in black tea help detoxify skin, fight free radicals and prevent acne.
Recipe: Brew 1 cup black tea and let it cool. Combine with 2 Tbsp. orange juice and 1 tsp. grated orange peel. Apply toner to skin with cotton ball twice daily.
BODY BEAUTIFUL
Prepare your skin for swimsuit season with spa-inspired treatments from Josie Feria, director of Lapis Spa at the Fontainebleau in Miami.
SCRUB: Olive oil and sea salt gently slough away dry, dead skin to leave your legs and arms smooth, soft and supple.
Recipe: Blend together 1/2 cup olive oil, 3/4 cup sea salt and a few drops of your favorite aromatherapy oil. Next, step into the shower and moisten the body. Apply the blend by hand in a circular motion. Rinse off thoroughly.
MOISTURIZE: The oils and fats in avocado make it a skin-softening wonder. Extra-hydrating coconut oils, rich yogurt and an egg create a lush treat for dry skin, while baking soda works as a mild exfoliant.
Recipe: Blend 1/2 avocado, 1 egg, 1 Tbsp. plain yogurt, 1 Tbsp. coconut oil and 1 tsp. baking soda. Apply the mixture and leave on for 10 to 15 minutes, then rinse off with warm water.
POST-WORKOUT WONDERS
After a long run in the sun, treat your skin with a spa-like soak. Goldenberg shares bath recipes to soothe your muscles, skin and spirit.
DESTRESS: Refresh skin with eucalyptus and rose petals, which work double duty as aroma-therapeutic mood elevators. Epsom salts help relieve inflammation.
Recipe: Combine1 cup Epsom salts, 1/2 cup baking soda, 10 drops eucalyptus essential oil and rose petals in a warm bath.
HEAL SUN-BURNT SKIN: The probiotics, vitamins, minerals and lactic acid in goat milk balance skin's pH levels. Moisture-boosting honey and healing green tea help sun-damaged skin.
Recipe: Combine 1 cup organic honey, 1 cup goat milk and 2 cups freshly brewed green tea and add to bath water.
COMFORT POST-MARATHON: Clove essential oil increases the circulation in the body, thereby relieving sore joints and muscles. Cooling menthol soothes overworked, tired muscles.
Recipe: Combine 5 drops menthol essential oil, 5 drops clove essential oil and 1/2 cup Epsom salts. Add to bath water.