How Much Caffeine Is In Your Race Fuel?
How much caffeine is in the gels, bars, drinks, and chews you take on race day?
Heading out the door? Read this article on the new Outside+ app available now on iOS devices for members! Download the app.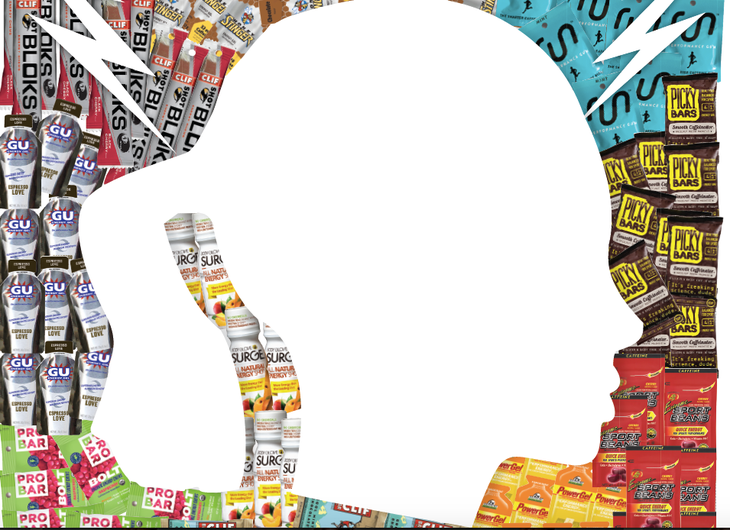 We've come a long way since the days of downing defizzed coke were de reigueur. Although flat soda was once the drink of choice for many elites in search of a mid-race caffeine boost, runners can now choose from dozens of products created with athletes in mind.
It is no wonder the market is growing when you consider the fact that caffeine is one of the few legal performance enhancers around.
"Caffeine is a proven ergogenic. There are thousands of studies showing that," says sports nutritionist and ultrarunner Sunny Blende. "Put simply, it decreases your perception of fatigue and allows you to exercise longer."
Since a cup of coffee isn't for everyone and can be particularly troublesome for those runners with sensitive stomachs, a wide array of brands have come to market with products aimed at endurance buffs and offering caffeine-infused gels, chews, beans, bars, powdered drinks, and even gum.
"Before races and workouts, I like my source of caffeine to come from gels," says Blende, who likes the fact that you can tell exactly how many milligrams of the stimulant you're getting from packaged eats.
But caffeine levels and sources do vary widely from product to product. While one might work for you, another could leave you dashing for the nearest portapotty. To give you a leg up on the competition, we've rounded up some of the most popular caffeinated sports eats to reference as you hone your race-day nutrition plan.
GELS
Gu Energy Gel
Espresso Love: 40mg caffeine from green tea
32g (1 packet), 100 calories
$12 for 8, guenergy.com
PowerBar PowerGel
Tangerine: 50mg caffeine from green tea
41g (1 packet), 110 calories
$30 for 24, powerbar.com
Honey Stinger Organic Energy Gels
Chocolate: 32mg caffeine from green tea
32g (1 packet), 100 calories
$33 for 24, honeystinger.com
CHEWS
Pro Bar Bolt
Raspberry: 20mg caffeine from yerba mate
30g (1/2 packet), 90 calories
$30 for 12, theprobar.com
Clif Shot Bloks
Black Cherry: 50mg caffeine from green tea
3 pieces (1/2 package), 100 calories
$36 for 18, clifbar.com
Jelly Belly Extreme Sport Beans
Cherry: 50mg from synthetic caffeine
28g (1 packet), 100 calories
$30 for 24, jellybelly.com
DRINKS
Nuun Energy
Lemon Lime: 40mg from synthetic caffeine
1 tablet (16 oz. prepared), 8 calories
$24 for 40 tablets, nuun.com
Skratch Labs Exercise Hydration Mix
Matcha Green Tea + Lemons: 16mg caffeine from matcha green tea
24g (16 oz. prepared), 80 calories
$20 for 20 servings, skratchlabs.com
Tailwind Caffeinated Endurance Fuel
Raspberry Buzz: 35mg caffeine from anhydrous coffee
27g (12 oz. prepared), 100 calories
$27 for 30 servings, tailwindnutrition.com
BARS
Picky Bars Smooth Caffeinator
Hazelnut Mocha Madness: 25mg caffeine from fair-trade organic coffee
45g (1 bar), 200 calories
$28 for 10, pickybars.com
Clif Bar
Cool Mint Chocolate:
50mg caffeine from green tea 68g (1 bar), 250 calories
$15 for 12, clifbar.com
SHOT
Body Glove Surge Energy Shots
Peach Mango: 140mg caffeine from green coffee beans and green tea
2.5 oz., 40 calories
$14 for 6, bodyglove.com
GUM
Run Performance Gum
Mint: 50mg from synthetic caffeine
1 piece, 0 calories
$18 for 12, getrungum.com