Who Doesn't Love A Tasty Stir-Fry?
Kids will love this tasty stir-fry recipe. Even better, it's a healthy dinner option that pushes preservatives aside!
Heading out the door? Read this article on the new Outside+ app available now on iOS devices for members! Download the app.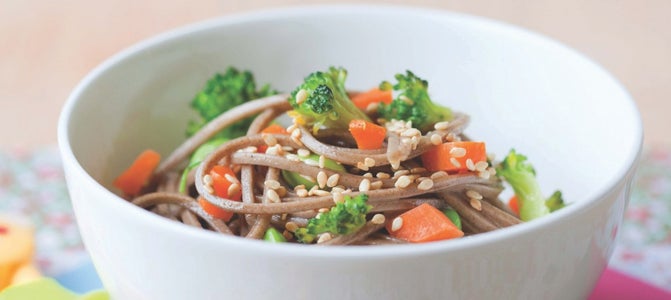 Inspired by Leah Garrad-Cole's new cookbook It All Begins With Food: From Baby's First Foods to Wholesome Family Meals, we collected recipes designed for kids that the whole family can enjoy. Here we offer a stir-fry veggie sauce that'll taste just as good over noodles as it will on rice.
Related: A Healthy Quesadilla Recipe You'll Love
Asian flavors tend to be very popular with children, in my experience, but many of the ready-made stir-fry sauces contain nasty preservatives that really have no place in little bodies (or big bodies, come to think of it). The sauce in this recipe is much cleaner and tastes just like the real thing. It can be stored in the refrigerator in an airtight container for at least a month.
Miso Soba Noodle Bowl
Serves 2 adults and 2 small children
Ingredients:
6 oz. buckwheat soba noodles
1 Tbsp. rice vinegar
1 Tbsp. miso paste (dark or light)
1 Tbsp. tamari or coconut aminos (or soy sauce in a pinch)
1 1/2 tsp. honey (maple syrup or coconut sugar)
1 1/2 tsp. toasted sesame oil
1 Tbsp. warm water
Pinch of ground ginger
Pinch of garlic powder
1 Tbsp. virgin coconut oil (or olive oil)
3/4 cup frozen edamame beans, thawed
3/4 cup diced carrot
3/4 cup diced broccoli florets
1 packed Tbsp. minced green onion
Directions:
Cook noodles according to package instructions. Drain. In a small bowl, combine rice vinegar, miso, tamari, honey, sesame oil, water, ginger and garlic powder. In a skillet, heat oil, then add edamame, carrot, broccoli and green onion. Cook for a few minutes, just until the carrot starts to soften. Turn off heat, add noodles and miso sauce to the pan, and stir until fully combined before serving.
Noodle Around:
If buckwheat noodles aren't your thing, substitute any other noodle or try rice. The sauce can also be used with other stir-fry combinations or as a dip, so make it up ahead of time and be ready for a quick meal.
Related:
The Meatball Appetizer Everyone Will be Talking About
Sweet Potato Turkey Chili is the Perfect Slow Cooker Recipe