I Can't PEAlieve It's Not Whey: Replenish Pea Protein Powder
Pea protein serves up some healthful benefits for runners before or after their workout.
Heading out the door? Read this article on the new Outside+ app available now on iOS devices for members! Download the app.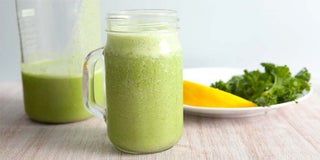 Pea protein serves up some healthful benefits for runners.
When it comes to protein supplements, the options often seem endless. One type of protein, derived from peas, is making a splash in the market. Dana Kofsky, licensed nutritionist and corporate wellness consultant for Nutrition Styles, recently launched her own protein powder line—Replenish Pea Protein. We caught up with Kofsky and get some expert insight on Replenish Pea Protein Powder, what makes it stand out and how to incorporate it into your existing nutrition regimen.
Women's Running: What was your inspiration behind creating Replenish Pea Protein Powder?
Dana Kofsky: I wanted to create a protein powder that could be accessible for almost anyone. Replenish Pea Protein is non-GMO, dairy-free, gluten-free and hypoallergenic, making it versatile for all people to consume. The powder has clean ingredients, 20 grams of protein per serving and two flavors—chocolate and vanilla. It will be available on my website in April!
WR: Does it provide the same muscle-building and protein benefits as other powders on the market (like whey)?
DK: Absolutely. Pea protein is lighter and has branch-chain amino acids, so it can serve as a pre-workout [supplement]. It is high in lysine, which cannot be produced by our bodies and needs to be consumed through foods. Lysine provides us with molecules that convert fatty acids to energy and helps lower our cholesterol. It also helps with the formation of collagen, which goes into building our connective tissue. It helps with muscle building and muscle recovery.
RELATED: Our 4 Favorite Nutritional Bars
WR: How do you recommend athletes, specifically runners, incorporate pea protein into their diet?
DK: I believe that every body is different. You and I can do the same activities, eat the same food, but at the end of the day, how we digest and metabolize food is different. For some people, they like to have a protein powder drink before they work out; others have it after. Some can put protein powder into their smoothies and work out a few hours later. Others like to drink half a protein shake before they work out and drink the other half immediately right after their workout. There is not just one time or one way to incorporate Replenish Pea Protein into your diet—just how you see fit.
WR: What is your favorite recipe that incorporates Replenish Pea Protein Powder?
DK: I am really enjoying protein puddings! I mix my protein powder with just a touch of water or non-dairy milk and add a spoonful of nut butter or a handful of nuts to it. Sometimes I add 1/2 banana and cocoa nibs and finish it off with a sprinkle of cinnamon. See the recipe below:
RELATED: 2 Reasons To Make Smoothie Freezer Packs
Vanilla/Chocolate Replenish Pudding
1/2 frozen banana
1 serving Vanilla or Chocolate Replenish
1 tsp. cinnamon
1-2 Tbsp. nut butter
Non-dairy milk, as needed
Raw cocoa nibs, if desired
Mash 1/2 frozen banana with 1 serving of Vanilla or Chocolate Replenish. Add a dash of cinnamon to mixture. Mix in nut butter. Add just enough water or unsweetened, non-dairy milk until it has a pudding-like consistency.
Top with a sprinkle of raw cocoa nibs.