Hungry Runner Girl: Why We Should Hit The Track
Janae explains why runners should hit the track and get over the fear of speedwork!
Heading out the door? Read this article on the new Outside+ app available now on iOS devices for members! Download the app.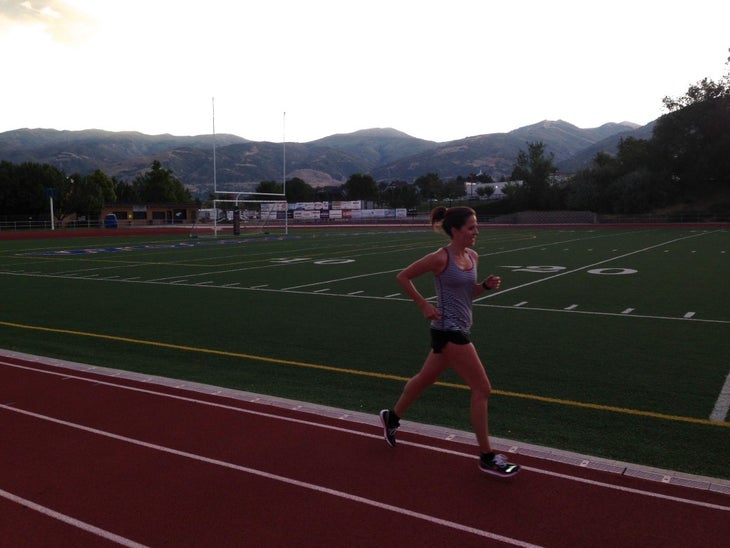 In the past I felt a lot of anxiety anytime I thought about doing speed work on a track. The fear of failure can easily become reality when you are trying to hit so many exact times during one workout. Last summer when my running coach sent me to the track to start a dreaded speed workout, I was nervous and anxious as usual. Somehow I got myself there and completed the workout successfully. Each week my coach sent me back for more speed work and over several months I learned to love the track for one main reason—>  it made me faster.
Were the workouts hard? Yes.
Did I push myself harder than ever before? Absolutely.
Did it pay off in the end? You betcha. I had a few new personal records in the 5k and half-marathon after a few months of doing speed work at the track.
Tracks are great because you don't have to deal with traffic, they are flat, the surface is softer and the distance is already measured out for you.
Not only does speed work help us to get faster because it builds strength in our legs and lungs, it also helps us to be mentally strong. Running in circles on a boring track strengthens runners mentally because if you can get through a tedious track workout, then running on the road will be a piece of cake. As we are racing, we can look back on our training and think about the hard workouts we did at the track. That should give us the confidence we need to know that we can accomplish our goals at a race.
There are five things that I think about during speed work that keep me going:
1. Doing a workout, staying strong, and finishing today will make race day feel so much better. Pain now = a little less pain on race day. The workouts I do at the track will help me to be better prepared for my next race.
2. I think about how tomorrow will be an easy day! I always follow a track day with a recovery day. Recovery is a nice, easy run or a complete rest day. That helps me to push myself during the workout because I know that working hard today means taking it easy tomorrow.
3. I remind myself that my brain is just telling me that I am exhaused, but my legs aren't actually going to fall off half-way through my 400m repeats. Your brain tells you that you are tired long before you actually need to quit.
4. One at a time. I keep my thoughts in the interval/repeat that I am currently running. I even trick myself and tell myself that I am JUST DOING THIS ONE (even when I have a few more to do). Thinking too far ahead about how many more you have to complete is scary. Just stick to thinking about the one interval that you are in, and by the time you are done with your recovery jog, you will be ready to do the next one.
5. I repeat what Mr. Eminem taught me in his song, 'Till I Collapse. "Find that inner strength, get that motivation to not give up and not be a quitter." I dig deep to bring out that inner strength that I know we all have.
Head over to the local track and start small with your speed workouts. Before you know it, you will be running mile repeats and getting faster and faster with each workout. Good luck! Take a friend with you because that always makes running even more fun.
And remember, speed work is supposed to be work.