Healthy Recipes Created For Cooking-Challenged Athletes
An entire day of recipes from the Racing Weight Cookbook that anyone can make.
Heading out the door? Read this article on the new Outside+ app available now on iOS devices for members! Download the app.
Eating healthy can sometimes be a challenge, especially for busy athletes who don't have the best culinary technique. But not knowing how to cook won't be an issue when it comes to preparing these healthy meals from Racing Weight Cookbook: Lean, Light Recipes for Athletes, by Matt Fitzgerald and Georgie Fear. The cookbook delivers 100 recipes targeted for athletes looking to manage their weight. Based on the principles of the best-selling Racing Weight, the complementary cookbook delivers dietary and culinary tips for every sort of chef. In fact, the book is separated into sections targeted for the athlete with varying levels of cooking experience.
These breakfast, lunch, and dinner recipes comprise a perfect day of healthy eating for runners who have limited cooking ability.
Breakfast: Oat Bran with Cherries and Almonds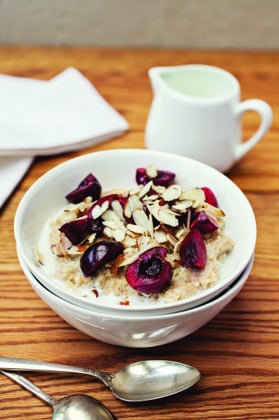 Serves 2
3 cups water
1 1/2 cups oat bran
2  cups fresh or frozen cherries
Pinch of salt
2 tsp. vanilla extract
2 tsp. sugar
2 Tbsp. almonds, slivered
Milk (optional)
In a saucepan, bring water to a boil over medium-high heat. Add oat bran and cook uncovered until the mixture begins to thicken, 5 to 10 minutes. Stir periodically to keep oat bran from sticking to the pan. While oat bran is cooking, cut each cherry in half and remove pit with a paring knife. Season oat bran with salt, vanilla and sugar and stir to blend. Remove from heat and divide between two bowls. Top with cherries and almonds and a splash of your favorite milk, if desired.
NUTRITION INFO: 422 CALORIES, 10g FAT, 74g CARBS, 13g FIBER, 15g PROTEIN
Lunch: Pear and Blue Cheese Salad with Walnuts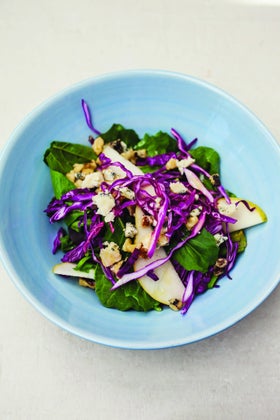 Serves 2
6   cups mixed salad greens, loosely packed
1/2  cup red cabbage, shredded
1  pear, thinly sliced
1/2  cup blue cheese, crumbled
1/4  cup walnuts, chopped
Arrange salad greens on a plate and top with cabbage, pear, cheese and walnuts. Serve with dressing of your choice, if desired.
NUTRITON INFO: 276 CALORIES, 17g FAT, 22g CARBS, 7g FIBER, 12g PROTEIN
Dinner: Beef and Butternut Squash Hash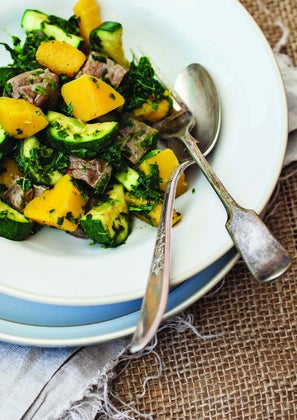 Serves 2
1/2  cup water
2 cups frozen butternut squash cubes
8  oz. London broil (top round beef), cubed
2  medium zucchini, chopped
2  cups frozen cut leaf spinach, thawed, moisture squeezed out
1/2  tsp. each salt, cayenne pepper and cinnamon
In a large frying pan, bring water to a boil over high heat. Add butternut squash when the water starts to boil. Cook for 5 minutes without stirring. Tilt pan over sink to drain any remaining water. Return pan to heat and add beef, zucchini, spinach, salt, cayenne and cinnamon. Cook, stirring, until beef is cooked through.
NUTRITION INFO: 293 CALORIES, 9G FAT, 20G CARBS, 5G FIBER, 29G PROTEIN