If You Want To Fuel With Real Food, Here's How
Learn proper kitchen nutrition so you can fuel up before, during and after your run with homemade eats.
Heading out the door? Read this article on the new Outside+ app available now on iOS devices for members! Download the app.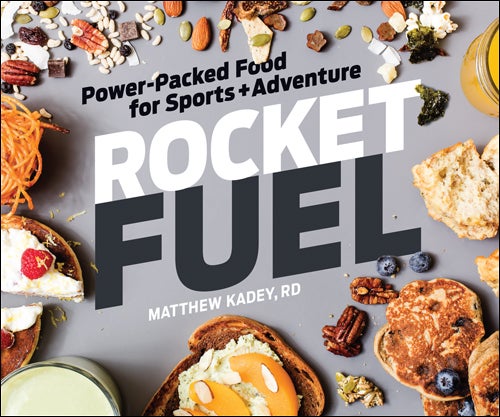 *REPUBLISHED WITH PERMISSION OF VELOPRESS FROM ROCKET FUEL: POWER-PACKED FOOD FOR SPORTS AND ADVENTURE BY MATT KADEY, RD. See more recipes at rocketfuelfoods.net.
No one food can make you fitter and faster—but the right combination of eats and drinks on a daily basis can made a big impact. Good nutrition over the long haul is a key aspect of successful training. In other words, think marathon, not sprint, when it comes to fueling. Despite the prevalence of the prepackaged food industry, a powerful movement is now afoot among athletes. More people are now ditching some of the store-bought stuff for made-with-love forms of performance nutrition that keep them naturally fit.
Athletes are becoming cognizant that healthy eating does not just apply to mealtime. Runners are asking: Why fuel with items made from high-fructose corn syrup, for example, when we could energize with local honey? There is increasing science to support the use of food you find in bulk bins and produce aisles to bolster endurance and strength. Case in point: A study in the Journal of the International Society of Sports Nutrition found that raisins were just as effective as carbohydrate-based energy chews at keeping runners' endurance levels up.
RELATED: 4 New Tips On Exercise And Nutrition
While eating real food like spinach may not give you the superhuman strength of a gravel-voiced sailorman, it's a vital aspect of overall power, speed and endurance. Sound nutrition also helps to prevent the injuries and illnesses that can arise from frequent training.
PRE-RUN
Preparing for a spirited run requires more than making sure your laces are tied tight. You should also fuel your body—150 to 300 of slow-releasing calories 30 to 60 minutes in advance. Topping off your energy stores will help you keep up the pace from the get-go. Consider optimal pre-workout nourishment your guarantee for the most productive workouts possible.
RELATED: This Pre-Workout Smoothie Can Fuel Your Next Run
MID-RUN
If you're going to be crushing some inclines or kicking up the dirt for a longer duration—more than 60 minutes—it can be helpful to bring along something tasty. Fueling your working body with extra calories during prolonged exercise prevents the drastic drop in blood glucose and muscle glycogen that can cause the dreaded bonk.
POST -RUN
Shortly after finishing a tough run, it's vital to flood your body with recovery nutrients as soon as possible. A dynamic duo of carbohydrates and protein work together to replenish energy stores and stimulate muscle repair, both of which will set you up for more charged-up runs down the road.
[velopress cta="See more!" align="center" title="More from the Book"]