Fuel Like A Lady
Research shows women and men have shockingly different sports nutrition needs.
Heading out the door? Read this article on the new Outside+ app available now on iOS devices for members! Download the app.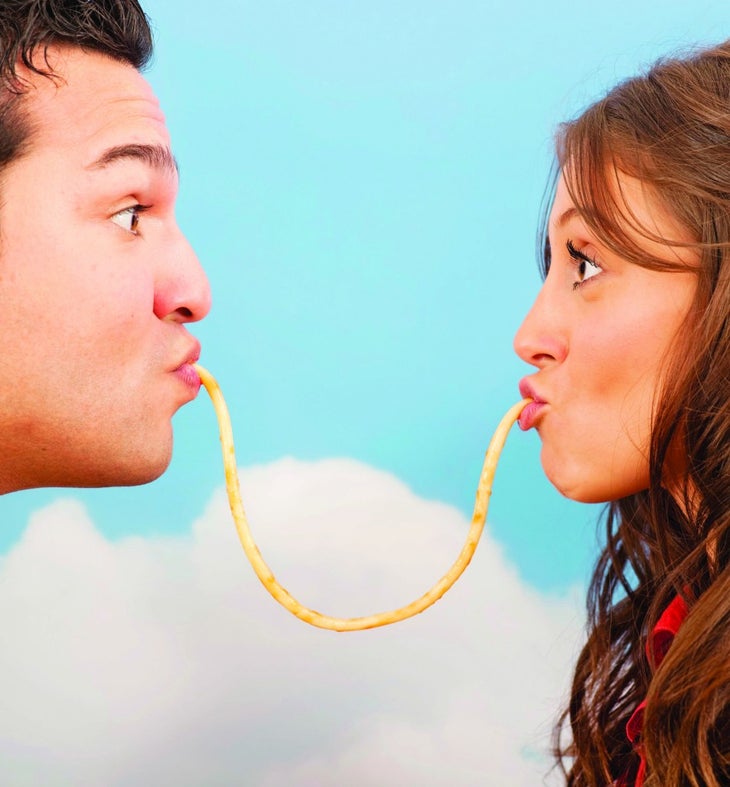 Chances are you've used a man's razor to shave your legs or borrowed a dude's (clean) pair of socks in a pinch. They get the job done—sort of—but are not exactly optimal for your everyday routine.
A growing field of research says we should feel the same way about our fueling.
"All sports nutrition research originated on male subjects, as women historically have been deemed too difficult to study due to the complexity of the menstrual cycle," says Dr. Stacy Sims, an exercise physiologist, nutrition scientist and founder of Osmo Nutrition. "Since this has been the norm, all the recommendations for nutrition and training have just been generalized to women, as the thought has been, Well, it's good enough."
But the thing is, largely because of that pesky cycle, there are distinct differences in the way men and women respond to sports nutrition—and that means sisters should fuel for themselves.
You're Hot—He's Not
When your estrogen and progesterone levels are at their highest (usually about two weeks before your period), your body experiences an 8 percent drop in plasma volume. Less of the "watery" part of blood means less cooling through circulation.
What it feels like: Hot and bothered—your body's core temperature is elevated before you even start exercising, which means you become fatigued and over-heated more quickly.
Combat: Stash your bottle in the freezer! Studies have shown a cold, slushy drink can lower core temperature and prolong exercise.
Maxed Out
VO2 max, or the maximum amount of oxygen you take in and utilize during exercise, is a major player in tough workouts. (There's a reason it's called sucking wind.) High levels of estrogen (which peak about five days before menstruation) alter your use of carbohydrates during exercise and increase your respiratory rate, making it difficult to hit the top levels of VO2 max.
What it feels like: That speed workout you nailed last week suddenly seems impossible.
Combat: During your run, hydrate with a workout beverage containing both glucose and sucrose—a variety of carbohydrates boosts the availability of fuel.
Dehydration Station
Progesterone competes for space in your blood with other hormones, including aldosterone (key for sodium balance) and arginine vasopressin (regulates water and thirst). When progesterone increases, it throws the other two out of whack, which can lead to dehydration.
What it feels like: PMS on steroids. Aside from dry mouth or thirst, symptoms of mild dehydration can include mood changes, increased fatigue and headache.
Combat: Sip on water or a low-calorie electrolyte drink throughout the day. Thirty minutes before heading out, hyper-hydrate with 16 to 32 ounces of a beverage containing both sodium and water.
Slim Pickings
Your guy eats ice cream every night and keeps his flat abs. Meanwhile, you work out every day and can't get lean. Physiologically, there's an explanation for that: A woman's body doesn't rebuild muscle as effectively.
What it feels like: Pain but no lean muscle gain.
Combat: After a workout, consume a smoothie with a big hit of protein to increase amino acids and promote muscle rebuilding.
Small Window
After a tough run, everyone's body acts like a sponge for nutrients to replenish those lost in sweat and to rebuild muscle. But while women need to fuel up within 90 minutes following a workout to recover properly, men have three to six hours!
What it feels like: If you don't eat much during your recovery window, you'll spend the rest of your day paying for it with insatiable hunger and fatigue.
Combat: Don't dawdle—eat! If it's a prolonged or intense workout, like your weekend long run, request—nay, demand—you finish at your favorite brunch spot. Choose a meal with 25 to 30 grams of protein, some carbohydrate and a dose of healthy fats.
THE BC EFFECT
As if our own hormones weren't enough, synthetic varieties—like those found in birth control pills—can complicate things even further. If the pill suppresses testosterone (which some do), it's harder to gain and maintain muscle.
FUEL FIT FOR A QUEEN
Stacy Sims' company, Osmo Nutrition, offers sports nutrition products tailored to women's physiological makeup. Learn more at osmonutrition.com.