6 Skin Treatments Using Food You Need To Try This Summer
These DIY beauty treatments for runners only use ingredients that you can find in your own kitchen. Trust us—they really work!
Heading out the door? Read this article on the new Outside+ app available now on iOS devices for members! Download the app.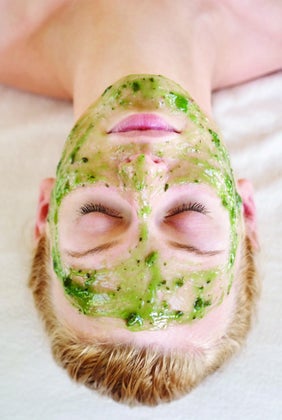 Even if you don't always follow it to the letter, you know that eating right is the best way to glow from the inside out—along with getting plenty of sleep and running regularly, of course! But did you know that those same healthy foods also do wonders when applied topically to skin and hair?
Food for masks
While not as popular as avocado toast, there are thousands of Instagram posts for #avocadomasks, and it makes sense—rich in fats and vitamins A and E, avocado is a ready-to-use, all-natural, moisturizing antioxidant for skin treatment. No trip to Sephora or the spa required!
When Alexis Wolfer was working at Lucky magazine, she began to see more and more products with recognizable food ingredients landing on her desk. Eventually she wondered, "Why aren't we going to the source?" That a-ha moment inspired her to launch the online women's magazine, The Beauty Bean, and return to school to study nutrition and explore how what we eat affects how we look.
Wolfer began mixing different foods and ingredients for masks, moisturizers and beauty treatments. She soon discovered that not only were her treatments much less expensive than standard beauty products, they were also more effective.
"People are most surprised by how well food beauty treatments work," says Wolfer, who is also the author of The Recipe for Radiance: Discover Beauty's Best-Kept Secrets in Your Kitchen and Radiant Bride: The Beauty, Diet, Fitness, and Fashion Plan for Your Big Day, two books that put beauty remedies in women's hands. "Friends may be skeptical at first, but even women who work in the beauty industry are amazed at how good it is."
Given all of the foods we have available, there's a cornucopia of choices. Fats, like coconut oil and avocado oil, are good moisturizers. Full-fat Greek yogurt is great for mild exfoliation. Milk is also good for soothing irritated skin. Anything with an orange hue (think sweet potatoes, carrots and squash) is rich in vitamin A, which works in the same way as prescription retinols when used topically. Wolfer recommends using organic sweet potato baby food as an easy way to get the benefits without all the prep work. And lemon juice can help to fade sunspots. This is just for starters! With so many options, Wolfer was kind enough to share a few of her favorite recipes.
Related: Coconut Oil Can Replace These 8 Beauty Products
Recipes for runners
Essential Face Mask: Mix 1 Tbsp. raw honey and 1 Tbsp. full-fat Greek yogurt. Apply to face, let sit 15–20 minutes and rinse. Wolfer likes this mask for its abilities to even skin tone, increase cell turnover and exfoliate—all while hydrating without clogging pores. It's great for those who spend a lot of time in the sun and also helps to calm acne (honey is antibacterial and yogurt is packed with skin-clearing probiotics) without increasing sensitivity to sunlight.
Happy Hour Pre-Game Face Mask aka Age-Reversing Wine Mask: Whisk an egg yolk with a fork, then mix in an equal amount of red wine (even the last dregs of a bottle will do!). Apply to skin with a pastry brush, let sit for 15 minutes and rinse. It helps to tighten and brighten your face while moisturizing as well. For an extra boost, use the reserved egg white to temporarily tighten fine lines and pores. Use your finger to apply a thin layer to under your eyes, on your nose or anywhere else that could use a bit of tightening. Let sit until dry, about 7 minutes, and then rinse. These two treatments deliver a refreshing boost before (or after!) a night out.
Compress for Under-Eye Circles: Cucumber slices may be the go-to for under-eye hydration, but vitamin K–rich parsley and kale are the veggies you need to erase under-eye circles. Purée equal amounts of parsley and kale in a food processor or blender. Make a compress by putting the mixture in a cheesecloth. Squeeze out excess liquid, refrigerate to chill and place over closed eyes for 5 minutes.
Moisturizer for Head to Toes: All raw or cold-pressed cooking oils will work for moisturizing dry skin. They also have vital nutrients with anti-aging properties and help with skin tone. Avocado oil is one of Wolfer's favorites, but it does have a scent. Coconut oil is a good gateway product for those new to do-it-yourself beauty. If the scent of an oil is too strong, Wolfer recommends adding essential oils to make for a more spa-like, less kitchen-like experience. Try adding rose essential oil to coconut oil for a dreamy and effective moisturizer.
Sunspot-Banishing Toner for Face and Hands: Mix equal parts sake with fresh-squeezed orange juice. Apply to skin, much like a toner, at night before bed. Japanese geisha have used sake for centuries to help lighten and prevent brown spots. Keep it in the fridge.
Balm for Chapped Lips: The solution is as easy as applying raw honey to your chapped kisser. In addition to being a humectant, raw honey promotes healing, never goes bad and has antibacterial and antiseptic properties. Let it sit for 10 minutes and lick off!
Related: 5 Common Summer Skincare Issues And How To Handle Them
Beauty beware
One caution Wolfer points out is the shorter shelf life for homemade treatments as compared to products purchased in a store. Just as with the food you eat, beauty treatments made from food don't last forever. "You don't have the expectation of a pint of blueberries that they'll last on a steamy shelf," the 32-year-old says. "Kind of like with food, stick to your instincts. When blending ingredients, go by the product with the earliest expiration date, and use common sense when it comes to changes in smell, consistency, etc."
As for how to store your kitchen creations, Wolfer says that in the most luxurious of settings, you would have a mini-fridge in your bathroom. But it's more realistic and practical to have some dedicated shelf space in the kitchen fridge. The beauty maven also likes to store her products in glass jars and uses a clean spoon or cotton swab to remove product from the jars, since your fingers (and whatever is on them) can accelerate spoilage.