Here's A Daily Skincare Routine For 4 Different Skin Types
What's the quickest way to perfect skin? Get personal! Tailor your routine to your unique skin type and light up the room.
Heading out the door? Read this article on the new Outside+ app available now on iOS devices for members! Download the app.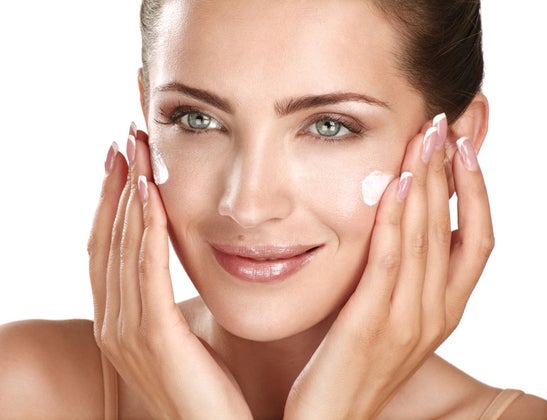 As a runner, you know what you need to do to get your body in tip-top shape. However, there is one part of you that could probably use a little TLC: your face. Outdoor running can be harsh on your complexion due to intense sun and wind exposure. According to dermatologists, the best way to prevent damage is to discover your skin type and find products to match.
STEP 1: Find Your Skin Type
Not sure what sort of skin you have? Here's an easy guide to the four most common types:
Dry…Your skin typically feels parched and tight after you wash it. Even if you moisturize in the morning, patches will become flaky within a few hours. You also tend to have chapped lips.
Oily…Your face is oily almost all over. It's not unusual for you to have to blot or powder several times a day to keep shine at bay.
Combination…Your nose, chin and forehead are oily, but the skin around your eyes and your cheeks often feels dry.
Sensitive…Your cheeks flush easily and you experience a burning sensation when you wear certain products.
STEP 2: Develop a Daily Skincare Routine

Dry Skin
Cleanse. The key is not to overdo it. Harsh face washes will strip your skin, so go for something creamy. Kavitha Reddy, M.D., a Boston-based dermatologist, likes Cetaphil Gentle Skin Cleanser ($12, drugstore.com).
Moisturize. Opt for creams that feel thick to the touch, like Clinique Dramatically Different  Moisturizing Lotion ($14, clinique.com).
Protect. Apply sunscreen all over your face and body on top of your moisturizer about 30 minutes pre-run to ensure it is absorbed. Dermatologist and runner Amy A. McClung, M.D., likes Aveeno Protect + Hydrate SPF 30 ($11, aveeno.com).
Go the extra mile. McClung recommends targeting cellular damage, caused by too much sun exposure, by investing in a serum like Skinceuticals C E Ferulic ($153, skinceuticals.com).

Oily Skin
Cleanse. Choose a gel- or foam-based cleanser that washes away oil and dirt. Reddy recommends Neutrogena Oil-Free Acne Wash ($6, neutrogena.com) and suggests washing your face immediately after a run to remove sweat and other buildup.
Moisturize. Skip the cream unless your skin feels dry to the touch, Reddy says. If you do need a bit of extra moisture, use a light formula, such as Cetaphil Dermacontrol Oil Control Moisturizer ($14, drugstore.com).
Protect. Sunscreen is important no matter what your skin type. For oily skin, avoid anything too thick that will clog pores, says McClung. Look for oil-free products like EltaMD UV Daily Broad-Spectrum SPF 40 ($29, drugstore.com).
Go the extra mile. If breakouts bog you down, check out a prescription-level acne treatment. Chicago area–based dermatologist, Amy Derrick, M.D., recommends talking to a doctor about possible treatments that can reduce the amount of oil your skin produces.

Combination Skin
Cleanse. The goal is to remove dirt and oil without irritating the drier parts of your face. McClung suggests cleansing with a wipe, such as Neutrogena Makeup Remover Cleanser Towelettes ($7, neutrogena.com), before your run, then using a foam wash, like CeraVe Foaming Facial Cleanser  ($12, drugstore.com), after your workout and at night.
Moisturize. Skip your T-zone and use a light moisturizer, such as Neutrogena Oil-Free Moisture ($10, neutrogena.com), on your cheeks and eye areas only.
Protect. One bonus of this skin type: You're likely able to tolerate most sunscreens. Choose one that won't sweat into your eyes while running. McClung's fave is Elta MD UV Sport Waterproof SPF 50 ($20, drugstore.com).
Go the extra mile. Remove dead skin cells and even out your tone by exfoliating up to twice a week withBiore Pore Unclogging Scrub ($7, drugstore.com) or Clinique 7-Day Scrub Cream ($20, clinique.com).

Sensitive Skin
Cleanse. According to Derrick, many runners have sensitive skin from years of sun damage and windburn. If this sounds familiar, use a mild face wash like Aveeno Ultra-Calming Foaming Cleanser ($7, aveeno.com) and avoid products with salicylic acid, which can thin the skin's protective barrier.
Moisturize. Derrick says women often mistakenly assume sensitive skin is dry, but it's just as possible to have oily sensitive skin. She recommends applying a moisturizer, like CerVe Facial Moisturizing Lotion PM ($13, drugstore.com), to dry areas only.
Protect. Sunscreen is a must, but formulas containing helioplex and mexoryl will create chemical reactions that may irritate your skin. Opt instead for titanium dioxide– or zinc–based screens, physical blockers that can actually soothe skin. Neutrogena Pure & Free Sunscreen ($12, neutrogena.com) or Aveeno Baby Natural Protection Face Stick ($10, aveeno.com) are both excellent choices.
Go the extra mile. Laser treatments work! Sensitive-skinned women are often plagued by tiny but visible blood vessels that cause facial redness. McClung says these veins can easily be removed with a few zaps from your derm.