Heading out the door? Read this article on the new Outside+ app available now on iOS devices for members! Download the app.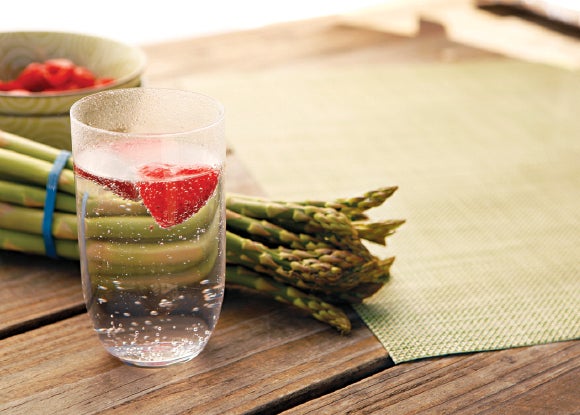 Local produce nourishes your body and protects our earth. Follow these simple steps to eat seasonally
Spring is the perfect time of year to clean out your diet by filling up on seasonal foods. "Not only does fresh, local product taste better," says Lisa Tartamella Kimmel, RD, a dietician at Yale University, "it also earns top honors for nutritional value since it's generally harvested at its peak ripeness." Think about it this way: would you rather eat a strawberry that has traveled by truck and plane from Mexico in frigid February or one that you picked at a nearby farm in the heart of summer?
Eating food that travels a minimal distance to reach your kitchen has global benefits as well. "Buying locally and in season saves the environment from the wear and tear of shipping foods thousands of miles, and it directly supports local farmers instead of dealing with a middle man," says Kimmel. Another perk? Locally grown food is often less expensive due to lower transportation and production costs. Here's how to give your fridge a seasonal makeover . . .
Go Online
The United States has a number of different climate zones, so what's in season when will vary depending on your exact locale. In late May, lettuce and tomatoes are at their peak in Connecticut, but in Colorado you'll find fresh rhubarb and asparagus.
Consult your computer before planning your menu to find out what's ripe in your neck of the woods. Sustainable Table's website (sustainabletable.org) allows consumers to search for in-season produce by state and season. Find out where to shop using Local Harvest's zip code search (localharvest.org). Visit this site to seek out farmers' markets and Community Supported Agriculture (CSA) opportunities that provide weekly produce packages from nearby farms.
Make Friends
Whether it's a farmer, grocer or butcher, take the time to speak with the person selling your food. Claire Thomas, the host of ABC's "Food for Thought" and founder of the Kitchy Kitchen blog, says, "When you develop these relationships you know where your food comes from." Ask the provider what is freshest that week or if the produce is organic. You can also think outside the market and get personal with a non-commercial grower. "There is a joke that if you become friends with a gardener, you'll get zucchini left in your mailbox," says Thomas. Offer to bake your green thumb a zucchini loaf with her bounty, and she'll be sure to share.
Pick a Star Ingredient
Choose one food item at its peak, then shape your meal around it, recommends Jesse Schenker, chef and owner of Recette restaurant in New York City. Schenker prefers to wait until he sees what his produce purveyors bring before building his menu. "They'll stop in with a bag of peas that were just shucked. I'll eat them raw and they'll be so sweet I'll start thinking of a pea soup or salad," he says. You can do the same at home by walking around your local market to taste produce or chat with the sellers before deciding what's for dinner that night.
Cook Simple
When you use fresh ingredients, let them shine. "If you have something that's ripe and delicious, you don't have to do a lot to it," says Thomas. On the other hand, if you buy your produce out of season, you're going to have to put in some time (and money in the form of additional ingredients) to mask its weak flavor. "Have you ever eaten a peach in December? You have to add sugar and butter to get some semblance of flavor out of it," Thomas explains. "At the same time of year, you could have fresh pears with five times the flavor." Less work, healthier and cheaper? We'll have what she's having!
---
Grilled Caesar Salad
Courtesy of Claire Thomas
Serves 4
1 sprig rosemary, chopped
2 cloves garlic, minced
2 Tbsp. olive oil
4 slices Italian bread
2 heads romaine lettuce, halved
Parmigiano Reggiano, for finishing
Salt & pepper, to taste
Dressing:
1 egg
2 Tbsp. lemon juice
2 oil-preserved anchovies
2 cloves garlic, minced
1 Tbsp. whole-grain mustard
¼ cup extra virgin olive oil
Salt & pepper, to taste
Prepare a hot grill. In a bowl, mix the rosemary, garlic and 1 Tbsp. olive oil. Cut the bread into ½-inch-thick slices. Brush slices with the olive oil mixture and sprinkle with salt and pepper. Grill until slightly charred on each side. Cube grilled bread to form croutons.
Drizzle the romaine halves with 1 Tbsp. olive oil and grill until slightly marked, about 20 seconds. Coarsely chop the romaine heads and mix with croutons in a large bowl.
To make the dressing, whisk all of the ingredients together, adding salt and pepper to taste. Drizzle dressing over the salad, and shave a few slices of Parmigiano on top to finish.
Nutritional info per serving: 278 calories, 6g protein, 23g fat (3g saturated), 12g carbohydrates, 2g fiber, 211mg sodium
____________________________________________________________________
Amy Levin-Epstein is an award-winning freelance writer who has been published in a number of magazines, including Glamour, Self and Pregnancy.
Image Credit: MyUnionHouse Photography