Family Dinner Night: Lentil Potato Soup
This soup is a kid-friendly pleaser and is perfect for leftovers!
Heading out the door? Read this article on the new Outside+ app available now on iOS devices for members! Download the app.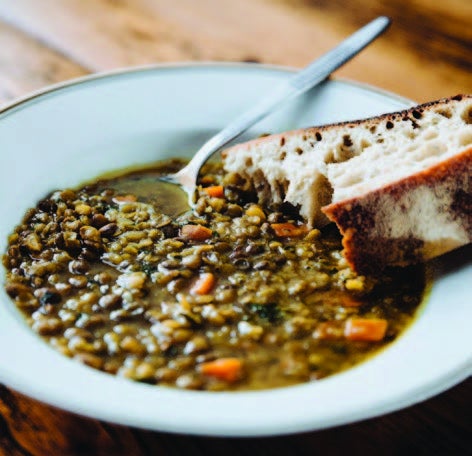 WR's former cover runner Lindsey Hein (outforaruntraining.com) created this soup with her husband and makes it every other week for dinner, while using the leftovers for lunches. The lentils provide a good source of vegetarian protein and "the potatoes bring the carbohydrate game." Her 2-year-old son, Marshall, likes to help by washing the vegetables while mom chops. Lindsey says the process makes him happier to eat all those veggies. He also likes spicy food, but this may be too hot for some little taste buds.
Lentil Potato Soup
Serves 8–10
Olive oil
1 medium onion, chopped
1 cup chopped carrots (4 or 5 medium carrots)
1 cup chopped celery (3 or 4 medium stalks)
1½ cups chopped small golden potato
1½ cups chopped sweet potato
1 cup chopped butternut squash (half of a butternut squash)
1 jalapeño, seeded and finely diced
48 ounces veggie broth
½ Tbsp. onion powder
½ Tbsp. garlic powder
1 tsp. red pepper flakes
1 tsp. salt
½ tsp. black pepper
½ Tbsp. oregano
½ tsp. cayenne pepper
½ tsp. cumin
1 Tbsp. paprika
½ cup mushrooms
1 cup green lentils
2–3 cups spinach
2–3 cups kale, chopped (5 big leaves)
2 cups water (if needed)
In a large stock pot, heat a healthy amount of olive oil to sauté veggies. Add onion, carrots, celery and cook until soft. Be careful to have enough oil and heat low enough that the onions do not caramelize—that will change the flavor profile. Add potatoes, squash, and jalapeno and continue to sauté for 15 to 20 minutes. Add broth, seasonings and mushrooms. Cover and continue to cook over low heat for 25 to 30 minutes. Once potatoes soften, add lentils, spinach and kale, and stir it all together. Cook on low heat covered for another 30 minutes to soften the lentils. Season more and add some water as needed. Serve with cornbread.
Related: Try This Simple And Delicious Tomato Sauce