Is This The New Post-Run Mental Cooldown?
Coloring has exploded as a stress reliever among adults, so is it the new meditation tool among runners as well? We explore.
Heading out the door? Read this article on the new Outside+ app available now on iOS devices for members! Download the app.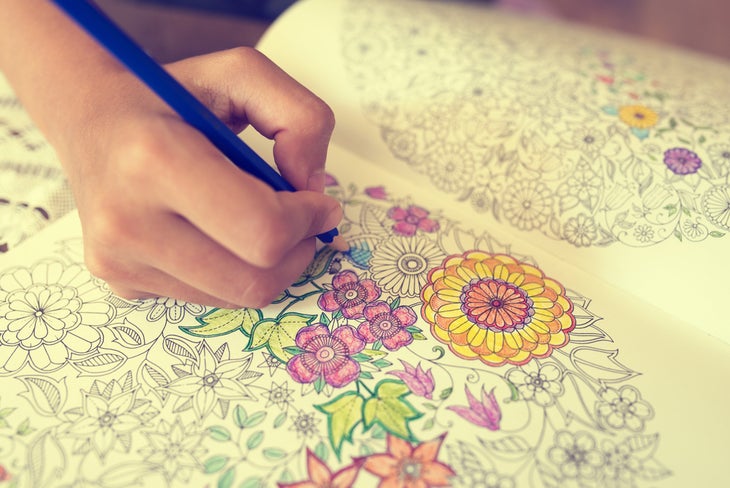 Over the past year, adult coloring books have become increasingly popular. From fashion and floral to stress relieving patterns—adult coloring books range by all different types of interests. Big brands, such as Crayola, are also getting in on the action by creating new products designed as a form of therapy and relaxation. With everyday stressors balancing work and life, people are using coloring books to help become more creative and feel inspired, to reduce anxiety, insomnia, and overall feel less stress.
Health Benefits Of Coloring
Researchers are exploring the health benefits and positive outcomes from engaging in creative arts. According to a 2005 study conducted at Knox College, the journal of the American Art Therapy Association concluded that coloring a mandala—a circular form associated with meditation and spiritual transformation—for 20 minutes decreased anxiety. It was noted in the report that in comparison, free-form drawing did not have the same impact. Similar to mediation, coloring enables people to regain focus. One consumer states that when she had trouble falling asleep or needed a boost of inspiration, she would pull out her coloring book.
Coloring As A Form Of Therapy
According to the American Art Therapy Association, art therapy is "a mental health profession in which people use art media, the creative process, and the resulting artwork to explore their feelings, reconcile emotional conflicts, foster self-awareness, manage behavior and addictions, develop social skills, improve reality orientation, reduce anxiety, and increase self-esteem." Similar to Lindsay's experience, people are looking to adult coloring books as a form of release, reflection and mindfulness.
Play Is Good For The Soul At Any Age
When we're children, play is essential for brain development. Building blocks, abstract shapes, noises, and yes, coloring, all help us engage and form cognitive awareness. As adults, there is no difference. Author and psychiatrist Stuart Brown, MD, has been studying play for decades. He believes that everyone, from adolescence to adulthood, needs to incorporate play into his or her everyday lives. Brown calls play a "state of being," "fun and pleasurable." He believes that the focus is on the actual experience, not on accomplishing a goal itself.
Coloring is just one example of play that adults can engage in at any moment. It offers a relief of tension, a page full of possibilities that stimulates creativity, while relaxing the mind and body.
How To Pick Your Coloring Book
As the market grows with options of adult coloring books, pencils, markers and crayons, it can be rather overwhelming when choosing your materials. That is the last thing you need — another overwhelming task when you're looking for relaxation.
Beginners should skip using crayons and instead opt for colored pencils. Because many of the coloring books have intricate designs, colored pencils or fine point markers will give you much more flexibility as you move among the illustration.
As we mentioned, there are coloring books out there for everyone. Johanna Basford's "Secret Garden" is an Amazon bestseller, known for its magical world of flora and faun. Others feature topics such as: cityscapes like London, pocket-sized books for on-the-go relaxation, and even Pixel illustrations giving the artist a chance at animation.
Many of us are unable to express ourselves creatively in our daily routine. Coloring books offer you the ability to escape and reignite imagination. Whether it is an evening of swapping that trashy television show for a scenic illustration, a break at work to discover inspiration, or a mechanism to reduce anxiety; adult coloring books offer a variety of health benefits that bring more mindfulness into our lives.
Jamé Heskett M.D. fights the aging process both inside and out. As a wife, a mother of three children, Dr. Heskett has spent her 24-year career focused on women's health and longevity issues. She intimately understands the needs of women in their pursuit of well-being and preservation of youthful vitality. Today's woman is looking for health and beauty solutions that are gentle, highly effective, have minimal downtime, and natural results. Through the most advanced proven technologies and 20 years of experience, Dr. Heskett is able to provide her clientele a comprehensive strategy or "Path" to suit their individual needs.