Why You've Been Cleaning Your Water Bottle All Wrong
Runners beware: You can outrun other racers, you can outrun your PR, but you can't outrun the germs festering inside your water bottle!
Heading out the door? Read this article on the new Outside+ app available now on iOS devices for members! Download the app.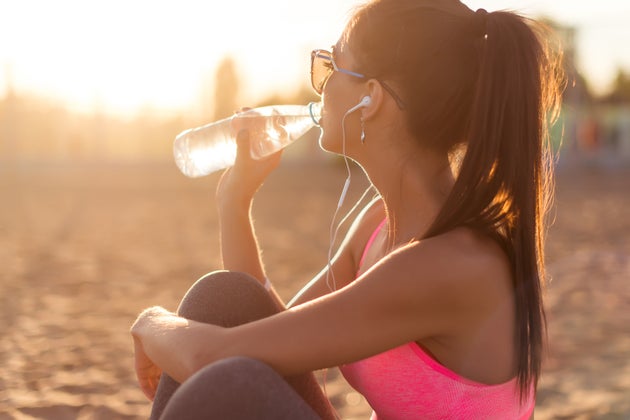 We have some bad news: your water bottle can be a breeding ground for bacteria, thanks to the sealed lid and droplets of water that form at the top. And unfortunately, the quick, daily rinse so many of us do doesn't totally get rid of those pesky germs. What's more—a recent study by TreadmillReviews.net has revealed how many germs are actually lurking in your water bottle.
The Shocking Results
Based on the 12 water bottles tested, researchers found that reusable drinking bottles can be crawling with an alarming number of viable bacteria cells: more than 300,000 colony-forming units per square centimeter (CFU/sq cm). What?!
To get a sense of what this really means, the average pet toy has less than 3,000 CFUs. That basically means it could be safer to lick your dog's toy instead of taking a swig from a not-properly-cleaned water bottle.
RELATED: You Won't Believe The Germs Lurking At The Gym
Glass vs. Stainless Steel vs. Plastic
A glass or stainless steel water bottle is a much better choice than plastic; plastic tends to be a bigger breeding ground for bacteria. However, glass is dishwasher safe, which is an ideal way to sanitize your bottles. There are also fewer crevices and tough-to-clean spots on these types of bottles, making it easier to fully scrub out all those germs.
"Unlike aluminum and stainless steel, glass requires no liner and doesn't transfer unwanted tastes to beverages," says Roy Mabrey, CEO of Lifefactory, who manufactures water bottles.
In addition, some find stainless steel is ideal for active individuals because it's lighter than glass, keeps water cool and is less prone to bacteria than plastic. "Higher-quality stainless steel is smooth and non-porous, eliminating pockets where bacteria can reside," explains Lucas Alberg of Hydro Flask. "This means that products like ours, which are made from pro-grade 18/8 stainless steel, retain less bacteria and as a result, less odors and residual flavors,"
Water Bottle Cleaning Tips
Be sure to run your water bottle through the dishwasher or hand wash it thoroughly after every use. Use warm water and soap to thoroughly rinse your bottle. Or you can use one Tablespoon of bleach per quart of water to sanitize your water bottle. Use a clean towel to clean and dry the water bottle. Leave the lid open to allow it to dry completely.
RELATED: How To Clean Your Hydration Backpack