Caramel Chai Cheesecake
You won't believe this cheesecake is vegan! It will be perfect for Thanksgiving dessert.
Heading out the door? Read this article on the new Outside+ app available now on iOS devices for members! Download the app.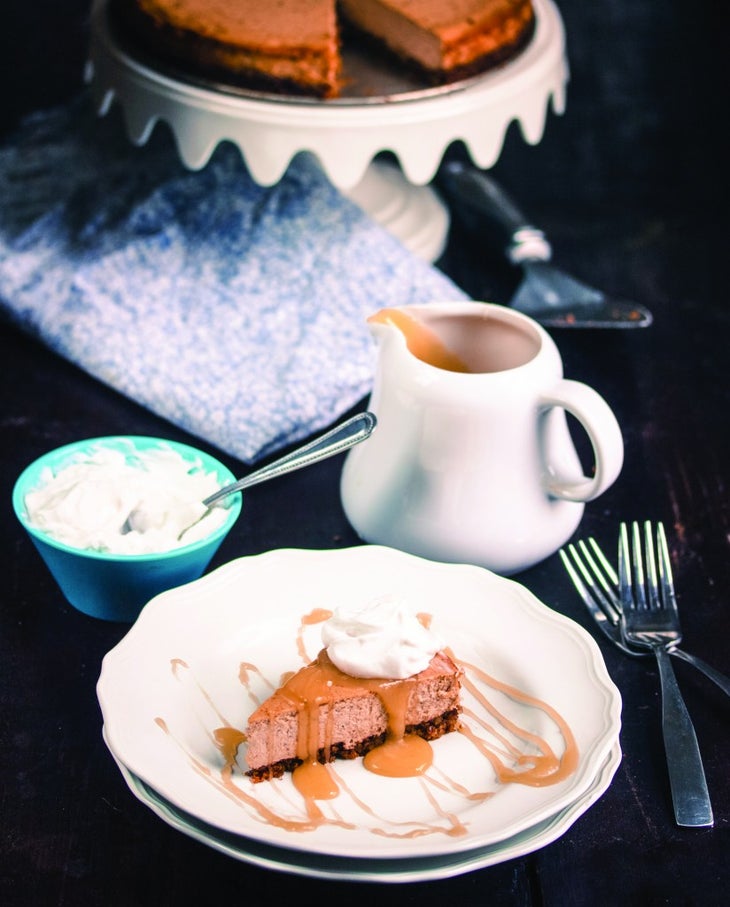 Caramel Chai Cheesecake
This vegan version of the classic dessert is pure decadence. Serve it with a piping-hot mug of chai for the ultimate spicy indulgence. Want to see more dessert recipes that you won't believe are vegan? Pick up the November/December issue of Women's Running on newsstands or iTunes.
Serves 10
Crust
6 oz. pecans
3 Tbsp. melted nondairy margarine
3 Tbsp. sugar
2 Tbsp. superfine brown rice flour
Filling
1 (350g) package extra-firm silken tofu
3 (8-ounce) tubs nondairy cream cheese, such as Tofutti
2/3 cup packed light brown sugar
5 Tbsp. superfine brown rice flour
1/4 tsp. sea salt
1 tsp. cinnamon
1/8 tsp. allspice
1/4 tsp. ground black pepper
1/4 tsp. ground cloves
1/8 tsp. cardamom
1 tsp. vanilla extract
Topping
1 recipe Caramel Sauce (recipe follows)
Preheat oven to 400 degrees. Pulse the pecans in a food processor, just until crumbly. Stir in the rest of the crust ingredients and press (using hands dusted with superfine brown rice flour) into an 8-inch springform pan. Bake for 10 minutes and then remove from the oven.
Place all the ingredients for the filling into a food processor and blend until very smooth, at least 5 minutes. Spread onto the prepared crust and bake in preheated oven for 15 minutes. Reduce heat to 250 degrees and allow cheesecake to bake an additional 60 minutes. Turn oven off and let cool for up to 2 more hours while remaining in the oven.
Chill in refrigerator overnight and then make the Caramel Sauce just before serving, so that you have hot caramel sauce on a cold cheesecake. Top with sweetened whipped coconut cream. Store in airtight container in refrigerator up to 4 days.
Caramel Sauce
This easy caramel sauce was created for topping the Caramel Chai Cheesecake but is also incredible over ice cream—vegan or not.
Makes 1 cup
1 cup brown sugar, packed
1/2 cup nondairy margarine
1/4 cup almond or coconut milk
1 1/4 tsp. vanilla extract
In a 2-quart saucepan, whisk together the ingredients and warm over medium heat. Cook, stirring, just until the mixture has thickened to a creamy caramel sauce consistency, about 5 minutes.