Being A Runner With A Stupid Autoimmune Disease
Sometimes you don't feel like being inspired; you just want to make it through the next run.
Heading out the door? Read this article on the new Outside+ app available now on iOS devices for members! Download the app.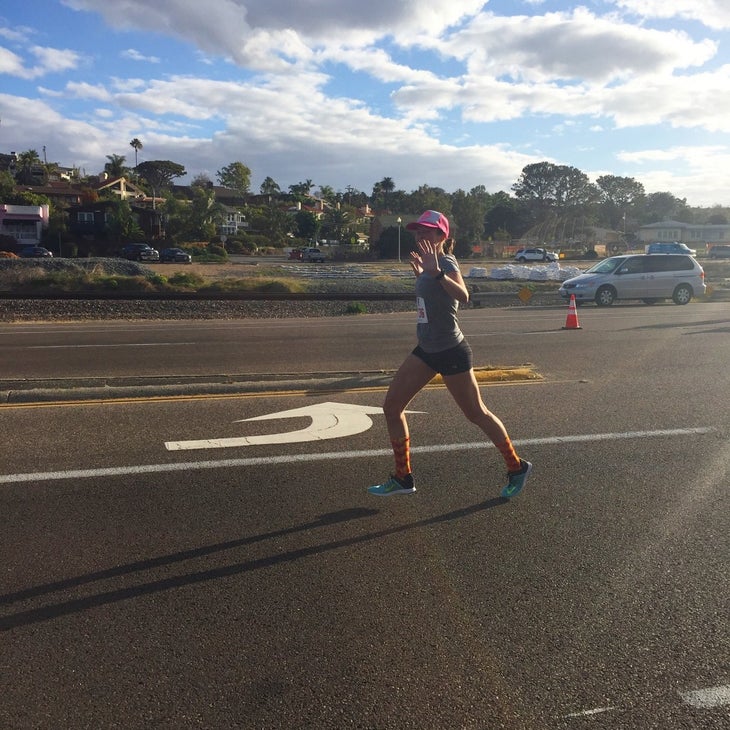 Since starting the B-12 supplements, my energy has improved, and I recently surprised myself with a 10K PR at our local turkey trot.
"This is the range of normal B-12 levels. So you're below the low end of normal, which makes me think there might be another autoimmune at play here."
It immediately boiled my blood to hear those words come out of my doctor's mouth. I'm pretty sure one autoimmune is enough, kthanks. While she calmly explained that my ulcerative colitis does not affect the area of my small intestine that absorbs B-12, all that I could hear in between the words she spoke was, Crohn's. Crohn's. What if I have effing Crohn's? This, of course, was part overreaction (okay, mostly overreaction), part frustration (another day, another pill) and part relief to finally kind of understand all the symptoms I've been having for months: Fatigue. Hallucinations (in the form of the craziest dreams I've had in my life). Incontinence (yeahup). Forgetfulness (ask any of my friends). Depression…depression.
"So during your next scope, I want to check your small intestine and make sure it's not another issue. For now, let's try supplements."
I left the office in a neutral state of mind—kind of caring but also just not having the energy to give a damn. She did make a great point. At least we figured it out before Boston training starts. Yay, lucky me.
Supplements…they are probably just something I should have taken all along, but often they make me feel pretty crappy. Forget that I've been terribly bloated for four days and wearing dark colors and jackets to hide it; it's just another daily pill-popping sess to add to the schedule. I'm more fatigued thinking about having to add another alarm to my phone, and I'm angry that I'm apparently in dire need of something that others might view as just a "trendy" pre-race ritual.
Of course, those aren't fair thoughts to have. It's not anyone's fault that I've been heaving through every run, battling through the haze of no sleep and sore legs. That's just the unpredictability of this gut demon living inside of me. I can't blame anyone else for my poor mood and inability to forgive myself for skipping a run while the rest of my world is out doing two-a-days without breaking a sweat. I can't point fingers at the healthy ones for giving me ulcerative colitis and not joining the private pity party I throw myself a couple times a year. Although I do try to…every single day.
But the run—oh, the run. That is the lifeline—the lifeline of every patient who has ever been told to do, expect or want "less." As I catch my ponytail flying in my peripherals and feel that salty bead of sweat slide down my forehead, I remember that I am not here to live with my disease and everything it might throw my way. I am here to live outside of it. As I squint into the sun—my sunglasses were a casualty of forgetfulness this morning—I imagine screaming spectators lining that final stretch toward that towering finish structure on Boylston Street. I think of my parents, pouring tears into their screams at seeing me finish the Boston Marathon. Run faster, Caitlyn. You may have received not-so-good news, but you know you always finish with a 6:45 and this is no exception.
Related: 10 Ways Marathon Training Is Different Than Half Training
I remember what it took to get to this point—the trials and errors with, and ultimately the forfeit of, more nutrition during my first marathon back in January. The decision to run on empty in order to avoid a race-ruining flare is still haunting me; I made it to Boston on fumes, something I'm way too good at. The obsession with body image and what "perfect" means has steadily declined over the last few years, but it's still fresh in my mind.
As I slowed down to a walk, stopping at my usual finish line, hands on my thighs, staring heavy at the concrete, I think of a day I'll never forget. I walked 200 meters from the beach bathrooms to the ocean, with the assistance of my then-boyfriend, deeply freaked out about being that far from the toilet. I weighed hardly 110 pounds for my 5'8" frame and couldn't speak without taking extended breaths in between words. My skin was pale from lack of sun, my cheeks sunken from lack of nutrition. I had been clawing my way out of a six-month-long flare, and that day on the sand was my first day to the beach all summer. It was September nine years ago.
Suddenly this morning's doctor's appointment felt more like a high-five than a kick to the ground. She did make a great point. At least we figured it out before Boston training starts. $%#& yeah!
This post was inspired by multiple requests to write how I really feel running with my ulcerative colitis, sans fluff and rainbows. Tweet @caitpilk with your thoughts!