Say Goodbye To Gut Issues With These Tips And Tricks
No one knows the struggles of a disruptive gut like a runner. Here you'll find everything you need to know to keep your gut healthy.
Heading out the door? Read this article on the new Outside+ app available now on iOS devices for members! Download the app.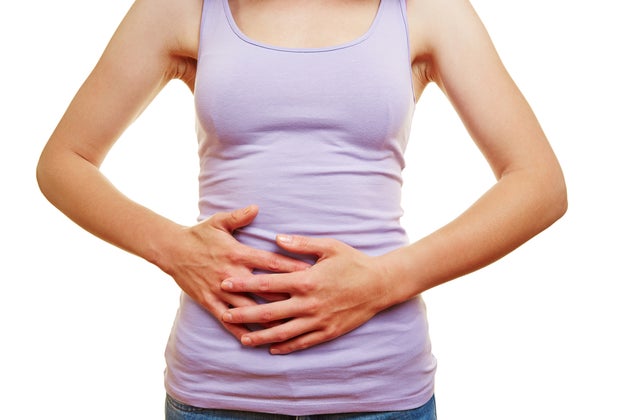 I'm sure you've been in the situation where your tummy starts to rumble a quarter of the way through your run and the next thing you know, you're heading home instead of getting in your planned mileage. No one knows the struggles of a disruptive gut better than a runner. Luckily, having a troubled tummy is not something you just have to suffer through. Emerging research is providing a better understanding of the gut and what keeps it healthy and happy. Let's make 2017 the year we banish gut issues and run freely.
The Microbiome
Gut health no longer refers to just normally digesting food. Scientists have delved into a whole new world of gut research, starting with the microbiome. The human body is full of microbes—mostly bacteria and viruses—that make up the microbiome. The amount of microbes in the body is so astronomical that they outnumber human cells 10:1. Every person's microbiome is unique to them and play into a person's genetic material. In 2008, the National Institute for Health set up the Human Microbiome Project in an attempt to classify the genes within the microbiome and determine how they may affect human health. Scientists believe that a variety of factors, including stress, diet, sleep patterns and exercise routine, affect the health of your microbiome. The microbiome plays a large part in a runner's digestion and immune health. A healthy microbiome can promote good digestive health and fend off illness.
Probiotics
Quite simply, probiotics are the "good bacteria" that live in your gut. With over 100 trillion bacteria and many different strains, the right mix of probiotics in the gut is imperative to a healthy microbiome, but sometimes things get out of whack. Eating an unhealthy diet, having too much stress in your life or undergoing a harsh round of antibiotics can cause probiotic imbalances and make you sick. Without the right mixture of probiotics, you may have some regular digestive issues that can affect your running performance. Also, since 70 percent of the immune system lives in the gut, you may become more susceptible to the dreaded common cold.
Foods For A Healthy Gut (And When To Eat Them)
Prebiotic rich foods: Certain foods actually feed the bacteria in our gut and encourage probiotics to flourish. These types of foods, known as prebiotics, are found in vegetable, fruits, whole grains and a certain type of fiber, called inulin. Inulin is prevalent in chicory root, Jerusalem artichokes, jicama, garlic, onions, and asparagus. Because inulin can cause some digestive distress in some people, it's better to enjoy things with inulin during a post-run recovery meal.
Probiotic rich foods: While we tend to think of probiotics as supplements, a few foods naturally contain active probiotics, such as miso soup, tempeh, sauerkraut, kimchi, kefir and kombucha. Because this list is a bit obscure with some foods that may not sit well during a run, try incorporating these foods into your off days or after a run. Or if this list of foods doesn't suit your palate, try a daily probiotic supplement. There are many brands on the market, but choose ones that have billions of live cultures and multiple strains.
Gut Health Tips
Although you may feed your gut right and get your daily dose of probiotics, there are still things that can go wrong. Use these tips to ensure your gut stays happy and healthy in 2017:
Visit a doctor if you have any persistent ailments. It's no fun to live with chronic digestive issues, pain or nutrient deficiencies. If you have any of these symptoms, visit a gastroenterologist to make sure there's not a larger issue.
Meet with a Registered Dietitian to create a meal plan that works for you. Some people have more sensitive stomachs than others, so there's no one-size-fits-all nutrition plan. Get help from a professional.
Don't eat immediately before a run. No matter what you put in your stomach, if you're chomping on something as you head out the door, it's a recipe for cramps and pain. Give yourself at least 30 minutes to digest a simple carb, like an apple, or 1-hour for a more complex carb, like whole wheat bread.
Know your food sensitivities. Although we all want to possess an iron-clad stomach, some of us just can't enjoy certain foods. It's important to pay attention to foods that may bother you, such as dairy, gluten or high fiber foods like beans, and avoid those foods.