A Healthy Twist On Classic Apple Pie
Why, yes, I'll have another slice, please! Well, maybe one is enough.
Heading out the door? Read this article on the new Outside+ app available now on iOS devices for members! Download the app.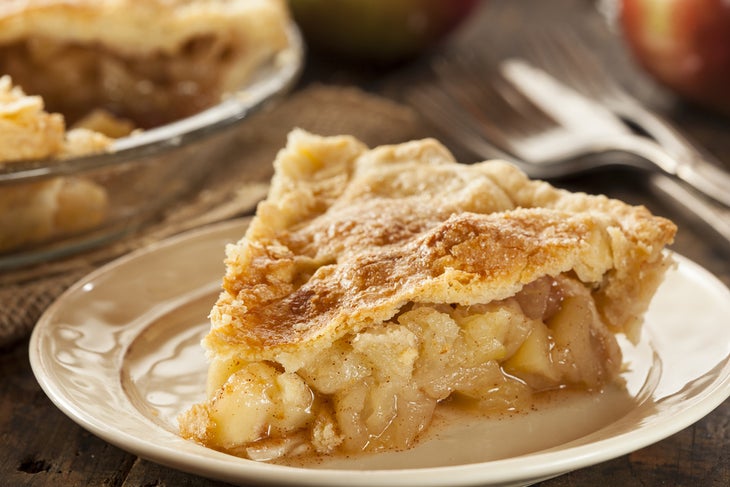 Excerpt reprinted with permission from Eat Clean, Stay Lean (Rodale, 2015) from the Editors of PREVENTION and Wendy Bazilian, DrPH, RD
What Is Clean Eating?
Unlike traditional and fad diets, eating clean isn't just shopping for one food label or eating a specific way, where you give up gluten or dairy, or start slashing calories, carbs or sodium. While the term means different things to different people, the root of it all is the effort to consume as many whole foods as possible that have undergone as little processing as possible—foods that look and taste like they came fresh out of the ground or from a tree, a farm, the ocean or even someone's kitchen, not like they are fresh off the conveyor belt of a factory. Eating clean means choosing foods that don't have a ton of (or any) added chemicals like pesticides, herbicides, preservatives or artificial sweeteners, flavors, and colors. For many, eating clean also means trying to eat organic and local whenever possible. A diet rich in unprocessed whole foods automatically increases your intake of vitamins, nutrients, minerals and phytochemicals, and decreases unhealthy fats, added sugar, excess sodium, chemicals, pesticides and preservatives. In short, clean eating is a simple and delicious way to stay lean, healthy and feeling great. But clean eating isn't just about health and weight loss—it's about enjoying more of the foods you eat every day. Clean eating opens your diet up to a delicious and fresher array of flavors and textures.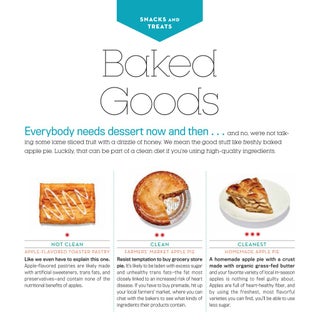 Cinnamon Apple Pie with Oat Crumb Crust
Courtesy of Eat Clean, Stay Lean (Rodale, 2015) from the Editors of PREVENTION and Wendy Bazilian, DrPH, RD
Makes 8 servings
Prep time: 25 minutes
Total time: 1 hour 25 minutes
Crust:
3⁄4 cup rolled oats
1⁄2 cup chopped walnuts
2 tablespoons pure maple syrup
1⁄4 cup coconut oil
Pinch of sea salt
Filling:
2 tablespoons coconut oil
6 Pink Lady apples, sliced
8 pitted Medjool dates, soaked in warm water for 30 minutes
2 tablespoons cinnamon
Pinch of nutmeg
Pinch of ground cloves
1 teaspoon fresh lemon juice
2 tablespoons orange juice
Heat the oven to 350°F.
Make the crust: Place the oats, walnuts, maple syrup, coconut oil, and salt in a blender or food processor and pulse until the oats are broken up but not powdery. Add 1 tablespoon water and pulse a few times until the dough sticks together. Scrape into an 8- or 9-inch pie plate and press into the bottom and up the sides.
Bake the crust until light brown, about 25 minutes. Leave the oven on and increase the temperature to 375°F.
Make the filling: Heat 1 tablespoon of the coconut oil in a large skillet over medium heat. Add the apples and cook until golden and just soft, about 15 minutes.
Drain the dates. Add them to a blender along with the cinnamon, nutmeg, cloves, lemon juice, orange juice, 3 to 4 tablespoons fresh water, and the remaining 1 tablespoon coconut oil in a blender and process until smooth. Pour over the apples and gently toss to coat.
Pour the apple mixture into the pie shell and bake until the pie is golden, about 40 minutes. Let cool completely before serving.
Other recipes from this book:
Why Chocolate Pudding Can Be Healthy For You